James H. "Buck" Harless Stadium
Introduction
Completed in 2011 and located on Mingo County's "Miner Mountain" at an elevation of 2200 feet, this stadium is named in honor of local entrepreneur and donor James H. "Buck" Harless. The stadium is home to the Mingo Central Miners, a high school created by the consolidation of Matewan, Williamson, Burch, and Gilbert high schools. With a seating capacity of six thousand, this is one of the largest high school stadiums in West Virginia.
Images
An aerial view of the James H. "Buck" Harless Stadium showing off the full entirety of the facility.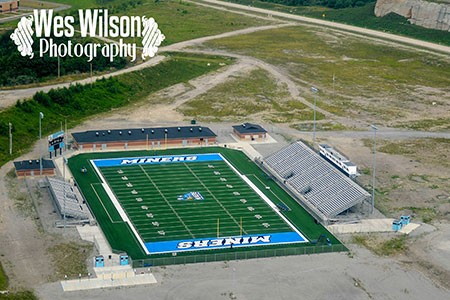 Another view of the football stadium showing off the intensity of the middle logo and the light blue end zones.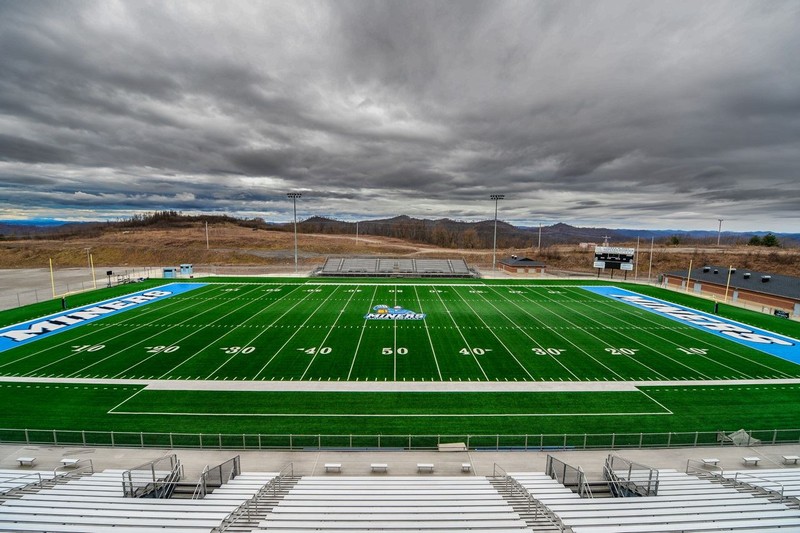 Backstory and Context
James H. Harless Stadium, also known as "The Buck," stands amongst the clouds at the top of a mountain in Mingo County. "The Buck" was created thanks to a $7.2 million donation by Mingo County entrepreneur James Harless who lived from 1919 to 2014.

Mingo Central Comprehensive High School opened in 2011 and this stadium has been the home of the school's football team since that time. The school's soccer teams began playing games at the stadium beginning with the 2016-17 season. In first seven seasons, the Miners made the playoffs in every season but one and amassed an overall record of (71-22) and a home record of (39-8). In the 2016-17 school year, the school won its first state championship title.
Over the years "The Buck" has slowly been opened up to be used by more sporting events as well as community events. It has been the venue for multiple high school football all-star games over a span of years. over time the baseball team has also made the stadium the scene for their practices. "The Buck" has also hosted multiple Special Olympics games throughout its existence. Non-sporting events have occurred here as well such as many religious events such as concerts, guest speakers, and open nights of praise and worship.
Sources
Wilson, Wes. Wes Wilson Photography. . Accessed November 01, 2018. https://weswilsonphotography.smugmug.com/.

Wilson, Wes. Program History. Mingo Central Football. . Accessed November 01, 2018. https://www.mingocentralfootball.com/overall-history.

James H. 'Buck' Harless Stadium. Stadium Connection. May 29, 2018. Accessed November 01, 2018. http://www.stadiumconnection.com/stadium.php?id=1703.