A. Philip Randolph Square
Introduction
Established by the city of New York as A Philip Randolph Square in 1964, this small urban park commemorates the life of one of the 20th century's most influential labor and civil rights leaders. Randolph led the largest African American labor union and planned a protest against racial segregation that led to the first federal action outlawing racial segregation since the era of Reconstruction. He also worked alongside Martin Luther King Jr. to plan the 1963 March on Washington. As the leaders of the all-Black Brotherhood of Sleeping Car Porters, Randolph secured better working conditions. Today, he is most famous for pushing President Roosevelt to issue Executive Order 8802 which barred racial discrimination by companies that contracted with the government. Randolph Square was previously known as Dewey Square from 1922 to 1964 in honor of Spanish American war naval commander George B. Dewey.
Images
Randolph was a graduate of Cookman Institute in Jacksonville. This school was established in 1872 and was the first institute of higher education for African Americans in Florida.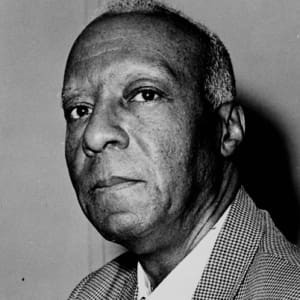 The park was previously named in honor of a naval leader in the Spanish American War.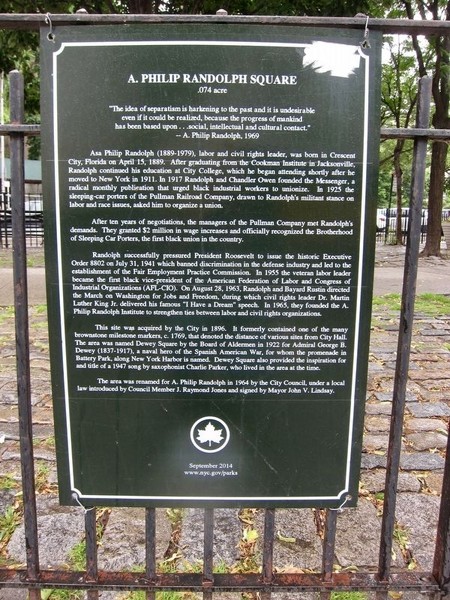 Learn more about A. Philip Randolph with this book by Cornelius Bynum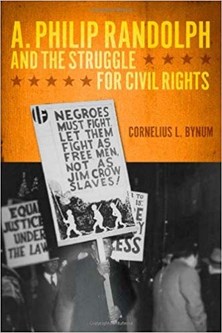 Backstory and Context
Asa Philip Randolph took steps in order to issue a higher pay for shipyard workers, elevator operators, and many more African American workers who were treated unfairly in work places. Randolph founded the first labor union for African American workers in 1937 called Brotherhood of Sleeping Car Porters. In efforts to gain President Roosevelt's attention and end racial discrimination, segregation, low pay wage and many other issues; Randolph planned a march to protest. This protest consisted of nearly 250,000 participants, making it the largest mass movement of Black Americans since Marcus Garvey's Universal Negro Improvement Association of 1920.
Later, in 1955 to be specific, Randolph became the vice president of AFL-CIO (American Federation of Labor and Congress of Industrial Organizations). After continuing his protests, he formed the Negro American Labor Council in 1959 alongside George Meany. After organizing the landmark protest that inspired President Roosevelt to issue Executive Order 8802, he also placed the Youth Marches for Integrated Schools. His pathbreaking work inspired the planning of the 1963 March on Washington that concluded with Martin Luther King Jr.'s most iconic speech.
Randolph was presented with the Presidential Medal of Freedom by President Lyndon B. Johnson. In his memory, the A Philip Randolph Institute in Washington DC works to study the roots of poverty. Randolph passed away at his home in New York City while working to finish his autobiography. Asa Philip Randolph's remains are held at the A. Philip Randolph Institute.
Sources
1. "A. Philip Randolph Square Historical Marker." Historical Marker, 10 July 2017, www.hmdb.org/marker.asp?marker=105314.
2. "A. Philip Randolph." Biography.com, A&E Networks Television, 19 Jan. 2018, www.biography.com/people/a-philip-randolph-9451623.
3. Hine, Darlene Clark, Hine, William C., Harrold, Stanley. The African-American Odyssey. Pearson, 2018.
Additional Information