Toledo Club
Introduction
The Toledo Club was founded in the early 1880s as the Draconian Club by leading Toledo businessmen who had previously been meeting informally around town. The Toledo Club finished building its first clubhouse in 1889, and after growing membership made it possible to create this impressive structure, the members voted to create a dedicated club building at the present location that reflected their view of Toledo and themselves as leaders of a city on the make. The building was designed by architect Lawrence Bellman in the late Georgian Revival style and was made from Harvard brick and Indiana limestone. Numerous celebrities, including future presidents such as Herbert Hoover and Franklin Roosevelt, have visited the club over the years.
Images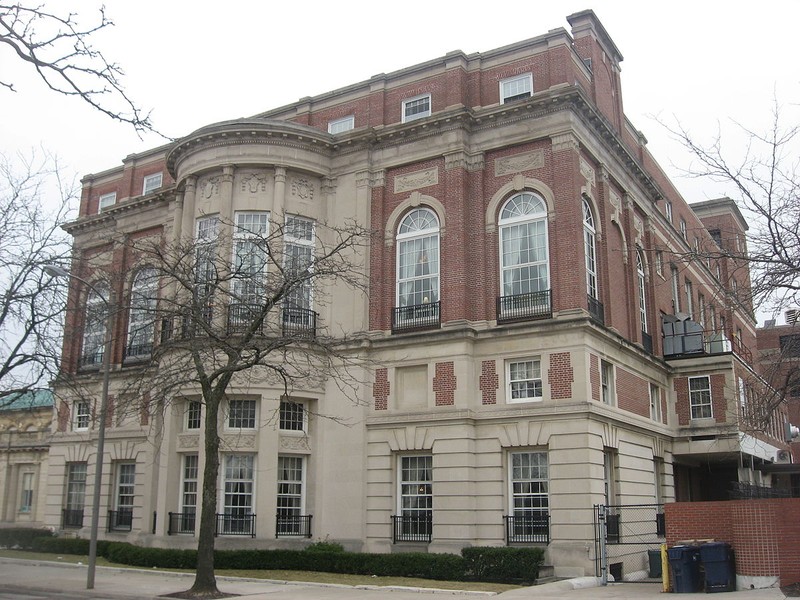 The Toledo Club's former location on Madison Avenue, around the turn of the century.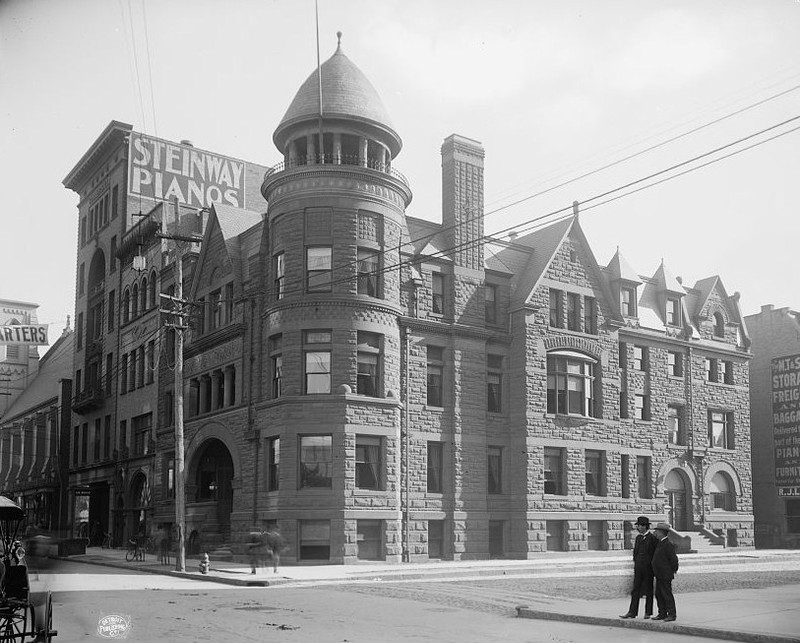 Backstory and Context
In 1879, Toledo businessman David Ross Locke came up with the idea for a formal club for himself and other Toledo elite to discuss trade and other matters. Locke was then voted the first president of the "Draconian Club" on May 15, 1882. Other members included Edward Libbey (co-founder of the Libbey Glass Company and the Toledo Museum of Art) and Morrison R. Waite (the seventh chief justice of the United States Supreme Court).
In 1889, the club changed its name to the Toledo Club and moved into its first building on the corner of Madison Avenue and Huron Street. The Toledo Club became well known as important business deals and the entertaining of guests such as Congressman William McKinley and other future presidents took place behind its walls.
Twenty-five years after it was built, the Toledo Club outgrew its original home. The club's members then decided to buy property on Madison Avenue and 14th Street and build a new meeting place. The club met in the Old Tavern Hotel and the Hotel Secor until the new building was completed on June 15, 1915, at a cost of $500,000.
Since then, a number of changes have taken place at the Toledo Club. In 1920, the club opened its main dining room to women. Four years later, an athletic wing was added for $172,000. The wing included a swimming pool, gymnasium, and basketball court. A bowling alley and five squash courts were later added. The club building has also been updated and renovated over the years.
Sources
History of The Toledo Club. Toledo Club. Accessed November 01, 2018. https://toledoclub.clubhouseonline-e3.com/Club-Info/About-Us/Club-History.aspx.


Additional Information