Madame Walker Theatre Center
Introduction
Named after the first female millionaire Madam C.J. Walker, the building was an important center of activity for the African American community for decades until the neighborhood began to decline in the 1950s. Mrs. Walker, originally named Sarah Breedlove; made a name for herself as a millionaire from selling hair-growth products and for her avid support for civil rights. She made her mark on the movement towards equality in the early years of the 1900s when she began a lawsuit to protest discrimination in a theater. In addition to the lawsuit she also urged the decry of lynchings in the south as well as join a delegation that went to Washington to protest the War Department's segregationist policies to President Woodrow Wilson.
Images
The Madame Walker Theatre Complex is now home, not only to a theatre, but also a full performing arts center.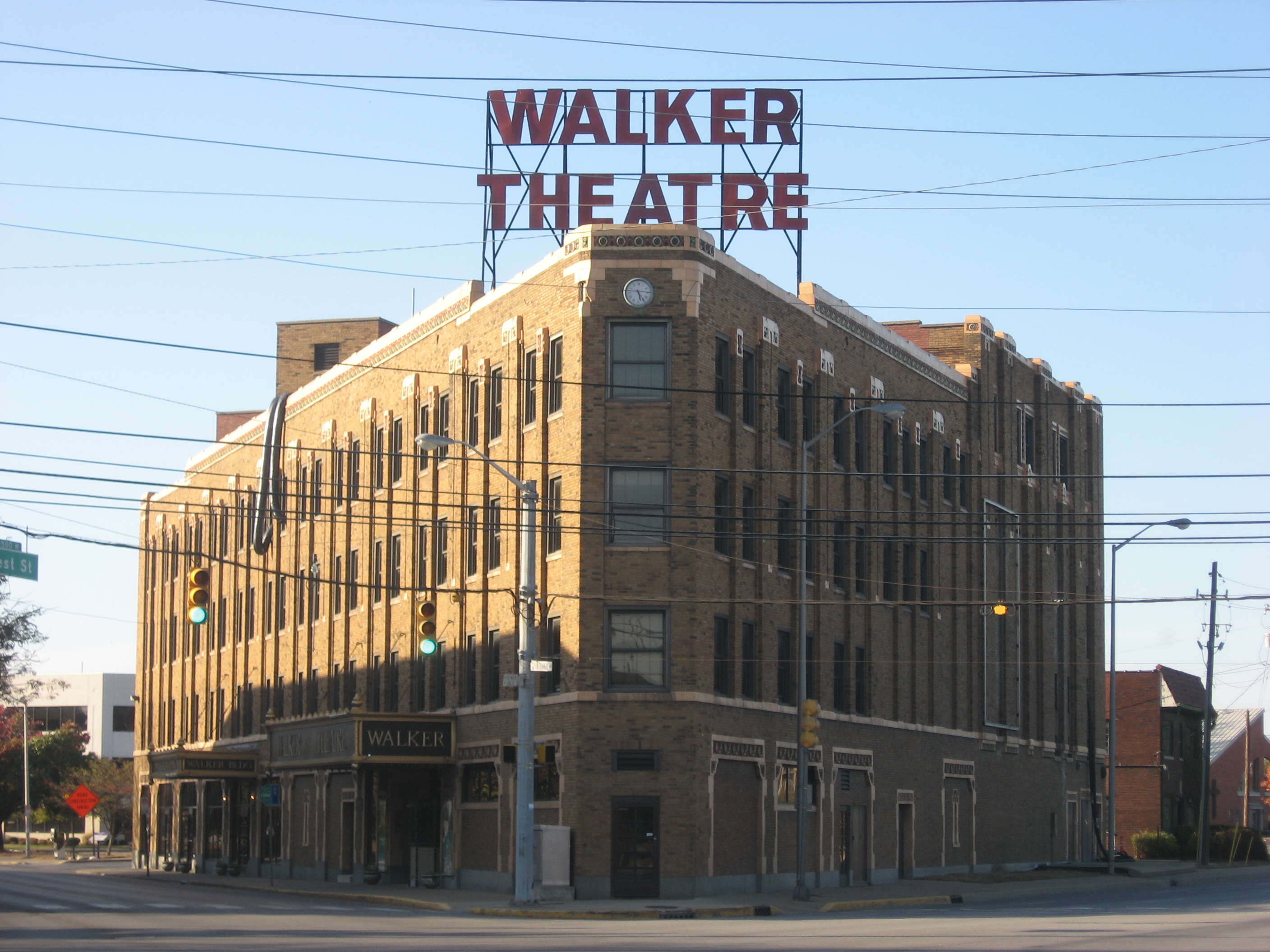 The restored interior of the Walker Theatre.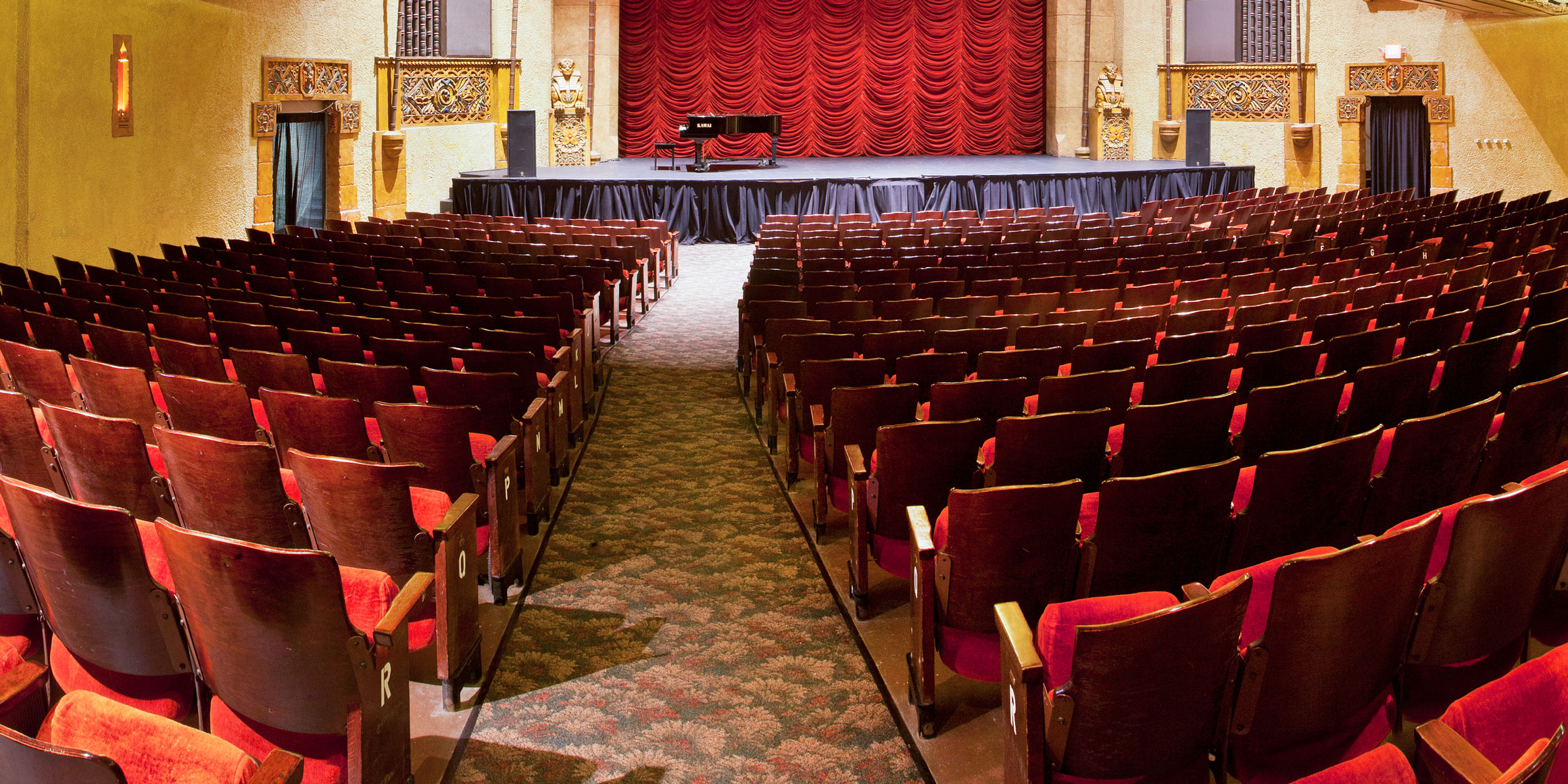 Gallery space within the Walker Theatre Complex is used to display the work of its students.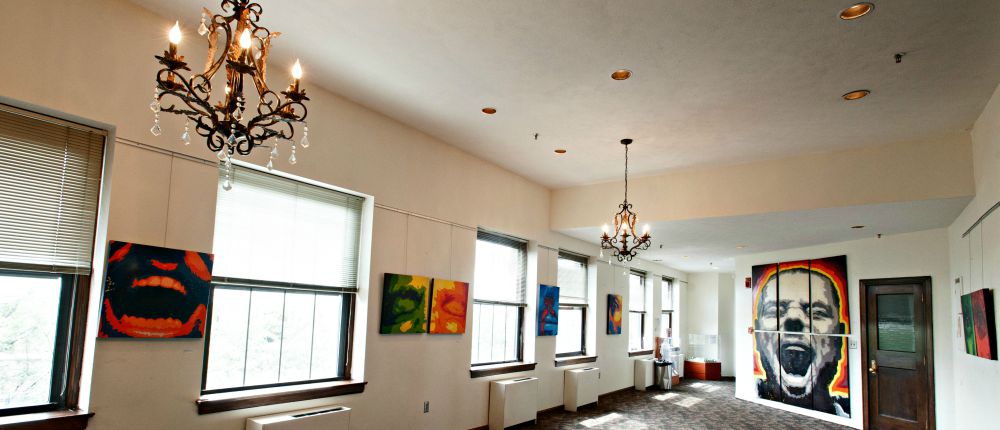 Madame Walker (second from left) with George Knox (far left), publisher of the Indianapolis Freeman, Booker T. Washington (third from left) and the board of the Indianapolis YMCA.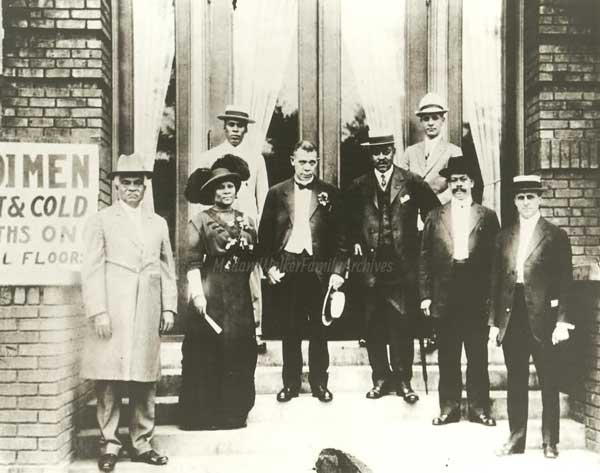 On the left, graduates of the Walker Beauty School from the class of 1939 and on the right is the Walker Theatre Building from the 1920s.

Backstory and Context
During the course of African American history, there have been several African American figures who have made an impact based on how much they put in and how much they brought out for others to benefit from. One of these Individuals was Madame Walker who became one of the first African American millionaires in the United States . The Madame C. Walker Theater in St. Louis, Missouri is one such impact of her legacy. While it is not a direct site where a major or moderate event occurred that helped bring about a different change in American society, the theatre itself is a monument dedicated to both the memory of Madame C.J. Walker and the heart of African American Culture in the city of St. Louis. The story of Madame C.J. Walker is one of triumph and charity to many who remember her and those who are continually inspired by her example as a leader and giver. A self-made millionaire who made her fortune through her cosmetic business that she started through scratch, Madame Walker was just as much an activist as those who were apart of the everyday struggle.
The Saga of Madame C.J. Walker began on December 23rd 1867 when she was born Sarah Breedlove a daughter of former slaves Minerva Anderson and Owen Breedlove in the community of Delta Louisiana. By the time she was seven years old her mother passed away from cholera and her father died a short time afterward and as a result of this tragedy Mrs. Sarah Breedlove moved in with her oldest sister Louvinia and her husband Willie Powell who was by all accounts a very abusive individual. In the year of 1881 when Sarah was 14 Sarah married a man named Moses McWilliams and had one daughter named Leila. However unfortunately her marriage to McWilliams would come to a tragic end when Moses was mysteriously killed. While there is no record as to the causes of his death it is believed that Moses McWilliams had died from lynching or from a race riot. Following her husband's death and the death of Reconstruction, Sarah and Leila moved to the city of St. Louis where she her brothers were staying. To put her daughter through school, Sarah took up a job as a washerwoman in which she endured the pain of having to work long hours for very little profit in order to ensure that her daughter was taken care of. "Living on 1.50 a day as a laundress and cook, Sarah struggled to send Leila to school-and-While joining the A.M.E. Church."
It was during these arduous years that Sarah Breedlove began to feel the fear of uncertainty about what awaits in her and her daughter's future so long as they continued to live in these dire conditions. "As I bent over the washboard and looked at my arms buried in soap suds, I said to myself; What are you going to do when you grow old and your back gets stiff?" It was also during this period of time in history when Americans lacked indoor plumbing and electricity which limited their hygiene to a large degree with a lot of people including women going bald. "During the early 1900s, when most Americans lacked indoor plumbing and electricity, and bathing was a luxury. As a result many other women were going bald because they washed their hair so infrequently." However in the year 1904, Sarah met Annie Turno; a chemist from Illinois who invented a hair growing substance known as "the Great Wonderful Hair Grower" at the St. Louis World Fair. Sarah used Mrs. Turno's product and in more than a year later her hair grew completely back to its original state. As a result of this, Sarah then began to work for Mrs. Turno as saleswoman selling Turno's products from door to door.
However despite her new job Sarah left Mrs. Turno's business and moved to Denver to start her own business of hair care products. Denver was an excellent choice speaking from a business standpoint; this can be said because Denver had the highest rate of damaged hair among African American women. It was during this time frame that African Americans were unable to find work in any particular field which in turn caused them to turn to sharecropping and other menial jobs. "Blacks in the turn-of-the-century America were excluded from most trade unions and denied bank capital, resulting in trapped lives as sharecropper's menial, low-wage earners." Mrs. Breedlove then opted to start her own business out of her hair-care products, during which time she remarried a man named Charles Joseph Walker and therefore her name became known as "Madame C.J Walker." This was a common notion for many African Americans during the post-reconstruction era because of the lack of employment opportunities available because of their skin color. "One of the only ways out, as my colleague Nancy Koehn and others reveal in their 2007 study of Walker, was to start a business in a market segmented by Jim Crow." Following the year of 1910, Madame Walker and her family moved to Indianapolis, Indiana and it was from there that Madame Walker's business took off. She built a factory, hair salon and beauty school for training her technicians. "She and C.J. began traveling around the country, recruiting agents to sell Wonderful Hair Grower and other merchandise."
Mrs. Walker's business soon became an instant success; more and more parlors under her company began appearing across the country to the point where it became like a wild forest fire. "Walker hair parlors began springing up all over the United States. Madame Walker was soon on the road again, recruiting agents in Ohio and nearby states." The Success brought on by Madame Walker's business soon spread to other countries in the Caribbean including Cuba, Jamaica and Costa Rica. While Madame Walker was preoccupied with her work she was nevertheless dedicated to the promotion of Civil Rights for African Americans throughout her life. This can be said, because her contributions to the movement toward equality for African Americans and women included, providing a sum of five-thousand dollars towards the NAACP anti-lynching fund (an equivalent to sixty-five thousand dollars by today's standards), she began a college in Pittsburgh named in honor of her daughter called Leila College and she stressed the importance of women to be economically, and professionally independent. However despite the enormous amount of success she experienced, Madame Walker's fast-paced lifestyle soon began to take a huge toll on her health. On May the 25th 1919 Sunday morning, Madame C.J Walker died of high blood pressure at the age of 51 with her company's leadership was turned over to her daughter.
Her legacy of pursuing equality for others in her community was erected into the now treasured Madame CJ Walker Theater in downtown Indianapolis. The theater was brought up prior to Mrs. Walker's death in 1919, the construction of the building itself was completed by her daughter A'Lelia in December 1927. The Building was placed strategically at the center of a predominantly African American neighborhood and in doing so became the heart of African American Culture in the city of Indianapolis throughout the 1920s to the 1950s. During the late 1950s however, the building began to decline along with the neighborhood. However, by the 1980s a group of volunteers began to bring back the theatre through preserving its' function as a center of Culture for all Americans. The name of the theatre was later changed to the Madame Walker Building Urban Life Center, which began a non-profit organized rebuilding of the theatre. In 1988, the theatre now called "The Madame C.J. Walker Theatre Center "was finally reopened. Since its establishment, the Madame C.J. Walker Theatre Center has been a non-profit company that put forth all its efforts towards preserving the legacy of Madame Walker herself as well as providing cultural education, support for entrepreneurship and empowering youth to become the next generation of leaders.
Sources
Gates, Henry Loius Jr. "Madam Walker, the First Black American Woman to be a Self-Made Millionaire." Public Broadcasting System. Accessed February 12, 2017. http://www.pbs.org/wnet/african-americans-many-rivers-to-cross/history/100-amazing-facts/madam-walke...
Stille, Darlene, R., Madame C.J. Walker: Entrepreneur and Millionaire, Minneapolis: Compass Point Books, 2007.
"About Us: Come, Rediscover the Walker." The Walker Theatre. Accessed February 12, 2017. http://www.thewalkertheatre.org/about/about-us
Additional Information