Calvary Baptist Church
Introduction
Established in 1890 Calvary Baptist has long been one of the religious and social centers of Oklahoma's City's Black community. Martin Luther King Jr. spoke at meetings at this church which was constructed in 1921. Cavalry Baptist congregants and leaders played an important role in the civil rights sit-ins that led to the integration of 175 restaurants throughout the city. In the late 1950s and early 1960s, Calvary was the place where protesters met before and after the protests despite bomb threats and the church's insurance company declaring that they would no longer cover the building if it continued to host civil rights meetings.
Images
Cavalry Baptist Church was established in 1890 and this church sanctuary was built in 1921.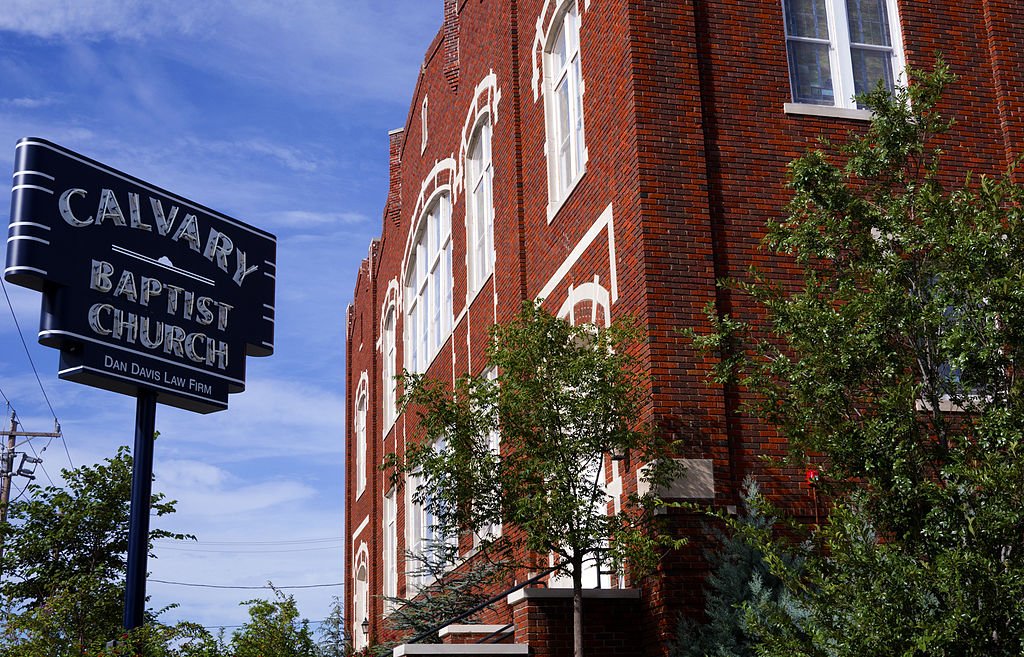 Backstory and Context
African Americans first came to Oklahoma as both enslaved persons and members of Native American tribes during the forced removal of American Indians from Georgia and the American Southeast. Calvary Baptist Church dates back to the period of Oklahoma statehood. The congregation was established in 1890 by African Americans who arrived in the area from Tennessee. By 1900, this small congregation joined African American Baptists from California and officially adopted the new name of Calvary Baptist Church.
African American architect Russell Benton Bingham designed this church which was built in 1921 in the "Deep Deuce" neighborhood of Oklahoma City. During the era of segregation, the neighborhood was surrounded by Black-owned hotels and other establishments that were operated by Black entrepreneurs for members of the Black community. Ralph Ellison, the author of The Invisible Man grew up in this neighborhood and based some of his writings on his experiences in this part of the city.
Following its construction, the church served as both a religious and social center for African Americans. In the late 1950s students and church members joined Black leaders like Clara Luper a former teacher, in challenging segregation. Members of Calvary Baptist Church began a series of nonviolent protests with the support of the Oklahoma City NAACP Youth Council. On August 19th 1958, Black students in Oklahoma City launched a sit-in at Kat's Drug Store in downtown Oklahoma City. Sit-ins continued for an arduous period of six years from 1958-1964 and leaders like Luper were arrested multiple times for their participation in these protests.
Sources
Chiat, Marilyn, J. America's Religious Architecture: Sacred Places for Every Community, New York, NY: John Wiley and Sons Inc, 1997. Oklahoma City African Americans Sit-In for Integration 1958-64, http://nvdatabase.swarthmore.edu/content/oklahoma-city-african-americans-sit-integration-1958-64 Oklahoma Historical Society ,Oklahoma History Center 800 Nazih Zuhndi Drive, Oklahoma City, OK 73105-7917 Raymond, Ken, Endangered Black History: Past and Present Collide in Deep Deuce, Oklahoma History Center and More, ndepth: Stories of The Ages, accessed November 10, 2014, http://ndepth.newsok.com/Black-history/oklahoma-city/# The African American Civil Rights Movement in Oklahoma, http://www.okhistory.org/kids/crexhibit Williams, Scott. Church Diversity: Sunday the Most Segregated Day of the Week, Green Forest, AR: New Leaf Publishing Group, Inc., 2011.
Additional Information