Willie Nelson Statue
Introduction
Dedicated on April 20, 2012, this eight-foot bronze statue honors the career of Austin native Willie Nelson. Artist Clete Shields depicted the musician with his famous guitar "Trigger" resting on his knee to convey the country artist's style and personality, while the choice of dedication date offers a tribute to one of Nelson's favorite pastimes and causes. The statue was commissioned by Austin's Capital Area Statues.
Images
Willie Nelson performing beside of his statue in Austin, TX during the unveiling.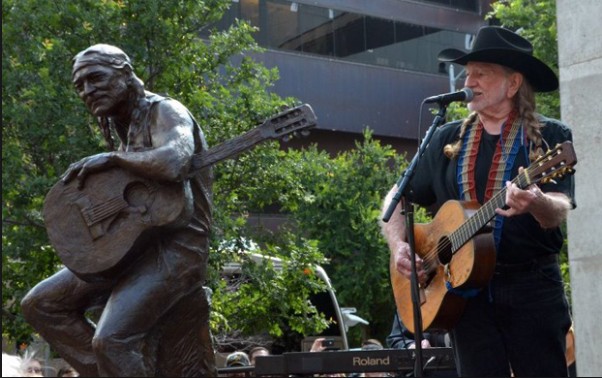 View of Wille Nelson statue from the front.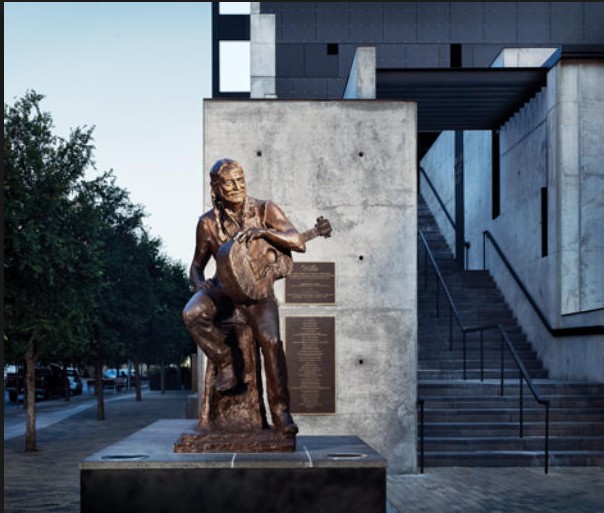 Willie Nelson at a Photoshoot for Time magazine.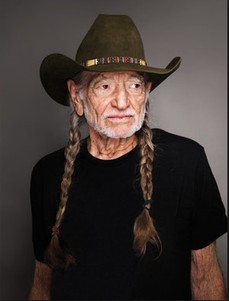 Willie Nelson as a child in Texas

Willie Nelson admiring the Statue the day of the dedication.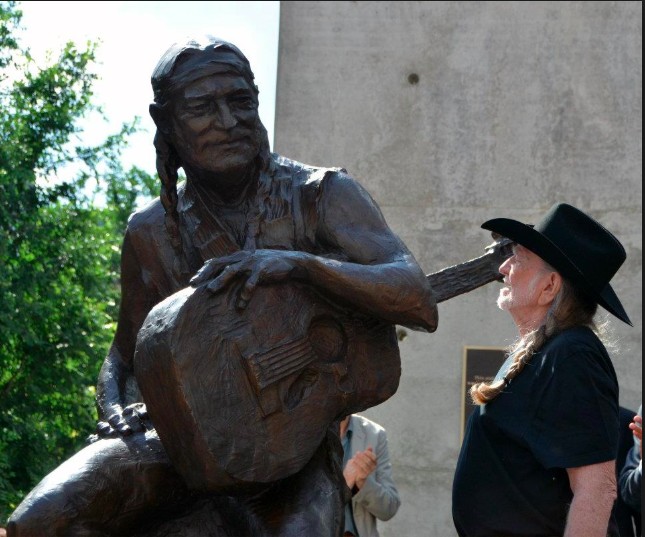 Willie Nelson posing with his well known guitar " Trigger" beside of his statue in Austin, Texas.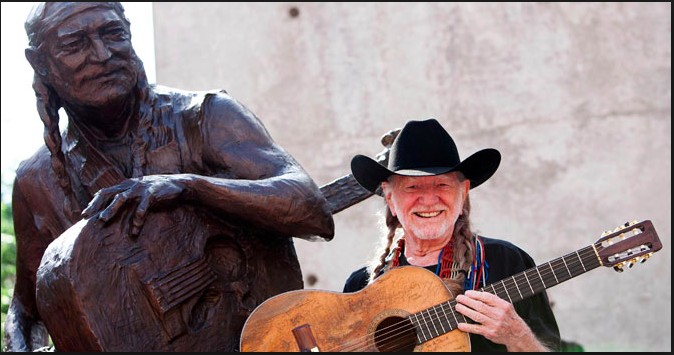 Backstory and Context
Willie Nelson is globally recognized as a cannabis activist, animal rights activist, country artist, and has touched many lives with his music and oversized personality. Willie Hugh Nelson was born April 29, 1933 in Abbott, Texas to Myrle and Ira Nelson, and was raised by his grandparents along with his older sister, Bobbie.
As a child, Willie was raised in a local Methodist church where his grandmother introduced him to music. The first songs Willie learned were from the church hymn book. His grandparents, who were also involved in music, encouraged Willie and his sister Bobbie to play instruments and sing. Raised during the Great Depression, Willie didn't receive his first guitar until the age of six, and he soon began writing his own lyrics and musical pieces. After Willie began playing religious music regularly, he joined a gospel band known as Bud Fletcher and the Texans which already included his sister as the pianist.
  After graduating high school, Willie enlisted in the United States Air Force, where he was stationed in Lackland, San Antonio. He was honorably discharged due to continuous back problems a year later. Willie then began his studies at Baylor University, where he participated in the farming program. To make ends meet, Willie began selling encyclopedias door to door. During this time in his life, Willie never lost his love for music. He began working as a disc jockey for local radio stations. Although passionate about farming and agricultural studies, Nelson left Baylor and began pursuing his musical career again. 
  By 1960, Nelson moved to the famous country music city, Nashville, Tennessee. He began his career as a songwriter for Pamper Music. In the same year, two of Willie's songs became hits for other country artists. The famous Faron Young's "Hello Walls" and Patsy Cline's "Crazy" were both in the Top 10 country hits. Willie worked hard in Nashville to earn his place in country music but didn't succeed due to his lack of traditional voice in Nashville country music. When producers became interested in Willie, they tried to take away his unique qualities. He wouldn't allow others to strip him of his personality, voice, or his reputation of being a "hard-living" man. His reputation and stubbornness actually led him to fame. The majority of country music fans loved Willie's unique personality and voice, which broke country music's conservative mindset. His hard-living attitude and heavy drinking led him to become "One of the Original Outlaws." 
   In 1970, Willie returned to Texas where he settled in Austin. Once there, his music career began growing as he played in local venues regularly. While in Austin, he began hosting Fourth of July picnics which are now one of the biggest events in the city. After years of growing the picnics, the Fourth of July picnics began to reflect a more festival-style venue and included performances from the other "Original Outlaws", Kris Kristofferson and Waylon Jennings. Because of Willie's contributions in growing the city of Austin's country music scene, the Texas State Senate declared July 4th to be Willie Nelson Day. By 1975, Willie released his first album that gained his success, Red-Headed Stranger, which included his No. 1 country hit "Blue Eyes Crying in the Rain." This led to his first Grammy award for best country vocal performance. From there his musical career flourished. 
   After many years of success in country music, he began forming more political views and bringing more issues to the public's attention. He and other famous musicians organized the Farm Aid Concert which was and still is a benefit concert used to raise money for farm owners so they can keep their land and run their farms. Nelson also supports multiple animal activist groups such as the Society for Protective Animal Legislation, Best Friends Animal Society, and the Animal Welfare Institute. Along with his efforts to help farmers and animals, he also is strongly active in promoting the legalization of cannabis in the United States. 
   Willie is one of the many influential men in music and politics today. His mellow mindset and love for others has influenced many Americans to follow in his footsteps. His strong influence in Austin, Texas led to the creation of his own personal statue dedicated on April 20, 2012. The statue stands 8- foot tall, and weighs about a ton. The statue was created by artist Clete Shields, who was brought into Texas to sculpt Willie by Austin's Capital Area Statues. The statue sits on the corner of downtown's Willie Nelson Boulevard. Austin's Capital Area Statues committee believed that, "He just embodies Austin's self-defined status as the Live Music Capital of the World." Willie attended the dedication, playing a few songs by the statue as well as thanking the city of Austin with a few kind words, "I would like to thank the city of Austin, Texas for this great honor. Thank you for the statue. Thank you for the street and thank you for the W hotel. 4/20 is a good day." 
Sources
Willie Nelson. Wikipedia. October 21, 2018. Accessed November 03, 2018. https://en.wikipedia.org/wiki/Willie_Nelson.
Halperin, Shirley. Willie Nelson Statue Unveiled in Austin on 4/20. The Hollywood Reporter. April 21, 2012. Accessed November 02, 2018. https://www.hollywoodreporter.com/news/willie-nelson-statue-austin-420-314774.
Hall, Michael. Willie Nelson Statue, Austin. Teas Monthly. August 01, 2012. Accessed November 02, 2018. https://www.texasmonthly.com/articles/willie-nelson-statue-austin/.
Additional Information