The Robert Louis Stevenson Monument
Introduction
Robert Louis Stevenson, the author of classics such as "Treasure Island" and "Dr. Jekyll and Mr. Hyde," lived in San Francisco for a short period between 1879-1880. While there, he struggled with his writing career and eventually fell severely ill. After his recovery, he married and soon departed for Napa. However, in remembrance of the author's time in San Francisco, this monument to him was erected in 1897.
Images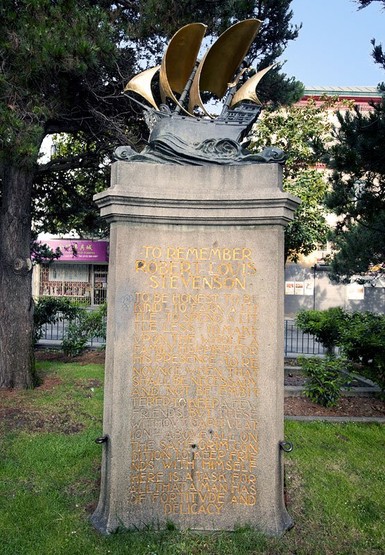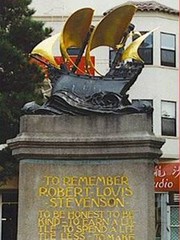 Front view of the monument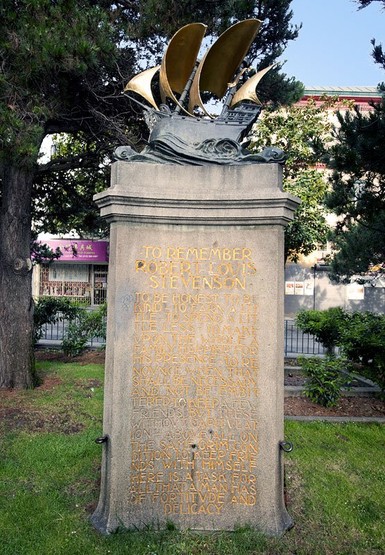 A close up of the monument and its inscription.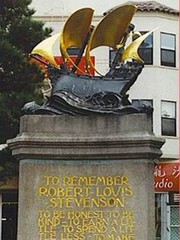 Backstory and Context
The Robert Louis Stevenson Memorial was erected in San Francisco, California, in 1897, nearly three years after the author's death, to honor his memory, legacy, and the brief period he lived in the city. It was originally designed by landscaper Bruce Porter and architect Willis Polk. The monument still remains standing to this day. Engraved on the monument is an excerpt from Stevenson's travel memoir, Across the Plains, which reads: 
"To be honest, to be kind - to earn a little, to spend a little less - to make upon the whole a family happier for his presence - to renounce when that shall be necessary, and not be embittered - to keep a few friends but these without capitulation - above all on the same grim condition to keep friends with himself - here is a task for all that a man has of fortitude and delicacy."
During his time in San Francisco, between December 1879 and March 1890, Stevenson lived near what is today Portsmouth Plaza at 608 Bush Street. His time in San Francisco was not particularly fruitful or pleasant. Upon his arrival from Monterey, California, following his partial recovery from a critical illness, he discovered he would now have to live on less than $0.40 a day as he struggled to begin his writing career. Subsequently, he once again became critically ill and was eventually nursed back to health by his soon-to-be wife, Fanny Van de Grift. Upon his recovery, the two soon married and departed to Napa.
Today, the monument is a popular site for literary tourists.
Sources
San Francisco Points of Interest: To Remember Robert Louis Stevenson. NoeHill in San Francisco. . Accessed October 01, 2018.
Letter to Sidney Colvin, January 1880, The Letters of Robert Louis Stevenson, Volume 1, Chapter IV. 
https://noehill.com/sf/landmarks/poi_r_l_stevenson_portsmouth_plaza.asp.
Robert Louis Stevenson in San Francisco. RobertLouisStevenson.org. Accessed September 22, 2018. http://robert-louis-stevenson.org/california/.
Additional Information