Commodore Perry Hotel (Commodore Perry Motor Inn)
Introduction
The Commodore Perry Hotel was the last large hotel built in downtown Toledo until the late 1970s. The hotel was popular with celebrities and politicians until its closure in 1980. In the late 1990s, work began to turn the Commodore Perry Hotel into an apartment building, which it remains today.
Images
At the Commodore Perry Hotel, Elvis Presley got into a fight in the lobby (part of a publicity stunt), Bob Hope sang at his son's wedding, and presidents Harry Truman and Ronald Reagan stayed the night.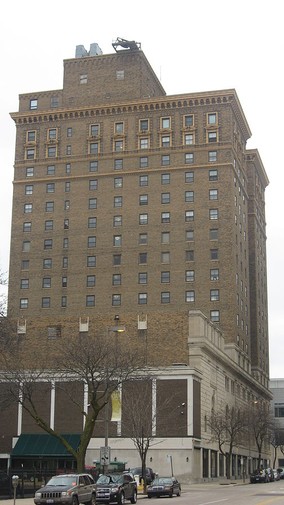 A rendering of the Commodore Perry Hotel on a postcard, undated.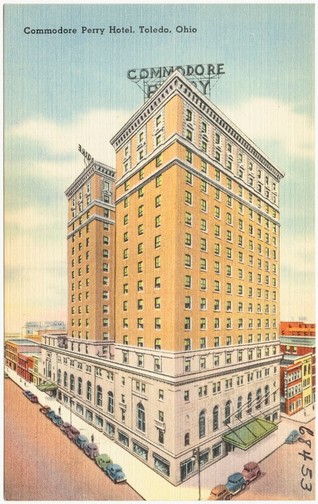 Backstory and Context
The Commodore Perry Hotel, named for the War of 1812 veteran, was a luxury hotel popular with movie stars, professional athletes, gangsters, and other wealthy patrons. Businessmen George Jones and Willard Webb built the hotel for four million dollars. It was believed to have been the largest hotel between Chicago and Cleveland at the time of its completion in 1927. A hotel chain took over the Commodore Perry Hotel in 1934.
Irishman Victor Giles owned the hotel in the 1970s. As the rest of downtown Toledo began to suffer economically, so did the Commodore Perry Hotel, which closed in 1980. In 1996, work began to convert the hotel into an apartment building.
Sources
Welcome to Commodore Perry Apartments in Downtown Toledo, OH. Commodore Perry Apartments. Accessed October 26, 2018. https://www.commodoreperryapartmenthomes.com/.

Troy, Tom. Questions linger over Commodore Perry. Toledo Blade. December 29, 2002. Accessed October 26, 2018. https://www.toledoblade.com/local/2002/12/29/Questions-linger-over-Commodore-Perry/stories/200212290024?abnpageversion=evoke.

Speck, William D. Toledo: A History in Architecture: 1914 to Century's End. Images of America. Charleston, SC. Arcadia, 2004. Via Google Books.


Additional Information