Franklin Park Zoo
Introduction
Once considered the "crown jewel" of Boston's Emerald Necklace Park System, the Franklin Park Zoo has over a century of history as Boston's largest and most prominent zoo. Franklin Park is one of two zoos managed by the non profit organization "Zoo New England", and it benefits the New England and beyond not only recreationally, but also conservationally. Today, the zoo's mission is to "inspire people to protect and sustain the natural world for future generations by creating fun and engaging experiences that integrate wildlife and conservation programs, research, and education."(1) However, the zoo's mission and shape have shifted from its debut in 1912 to today, and the zoo's development has a storied history.
Images
This Black and white photo taken in 1978 shows the typical structure of an animal cage during this time at the Franklin Park Zoo. (Historic American Buildings Survey, By: Jack Maley, Photographer May 31, 1978 TYPICAL FELINE CAGE - Franklin Park Zoo)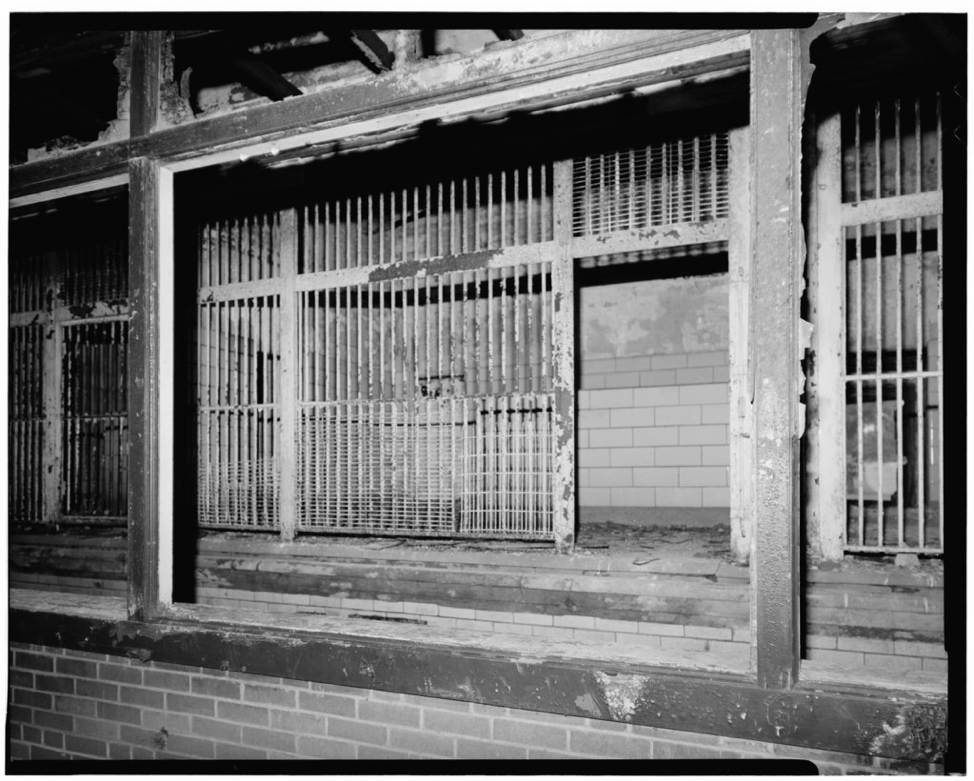 This historic photo from 1975 features a zookeeper inside the animal exhibit with a peacock and elephant, one of the zoo's most popular animals. (Peter H. Dreyer slide collection, Collection #9800.007, City of Boston Archives, Boston)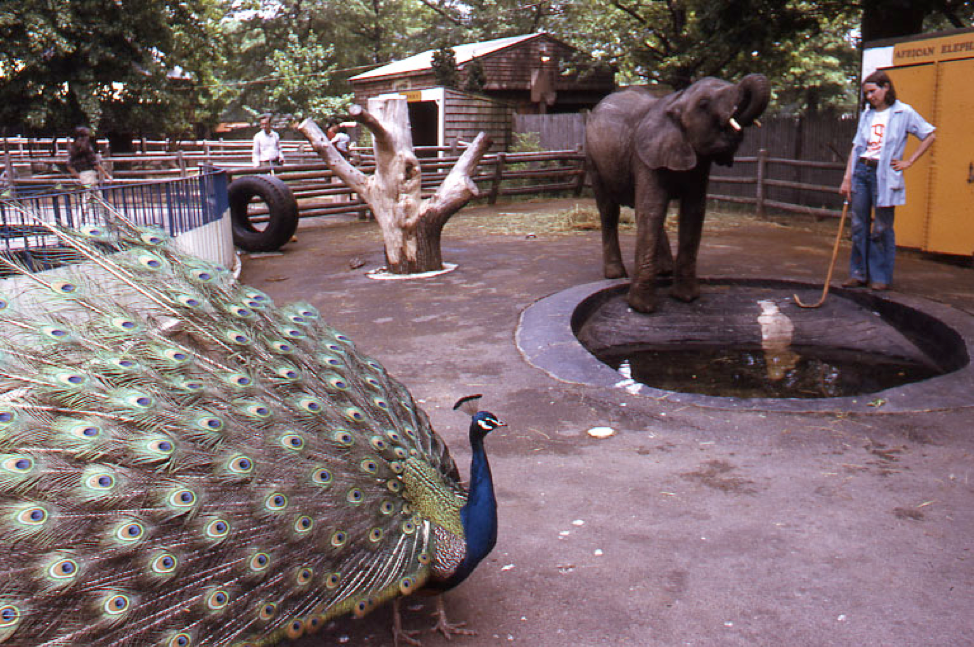 This photo taken in 2006 shows the entrance to the Franklin Park Zoo, a popular destination for Boston tourists. (By: Bev Skyes, [https://commons.wikimedia.org/wiki/File:Entrance_(138686979).jpg], Source: Wikimedia Commons)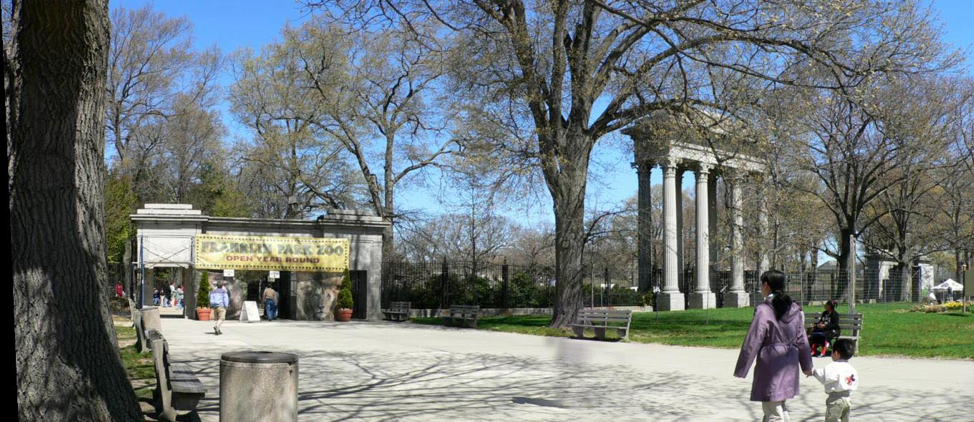 Backstory and Context
In 1885 Frederick Law Olmsted, who was responsible for designing Boston's extensive park system, drew up a plan for West Roxbury Park. He did not plan on having a zoo there. Instead, his designs for West Roxbury Park--later renamed Franklin Park in honor of Benjamin Franklin--included a naturalistic area that would incorporate animals such as deer into the park's landscape.2
Despite Olmsted's wishes, as attendance waned in the first few decades of the park's creation, Mayor James Michael considered the possibility of introducing a traditional zoo into the park and sponsored estimates for a zoological gardens. Satisfied with the results, the Boston Parks Department ended up hiring Arthur Shurtleff in 1910 to draw more visitors to the park. Shurtleff designed and oversaw the construction of the Franklin Zoo for two years before its eventual completion in 1912.3
After purchasing bears from Germany and Yellowstone National Park, the zoo opened its first exhibit on October 3, 1912, drawing 10,000 people to the opening ceremony. The next year, a birdhouse and aviary joined the bear dens, attracting even more visitors to the park. Offering free admission, the zoo enjoyed numerous visitors over its first decade of operation, bringing in over 2 million people in 1920.4
Despite its initial success, the zoo fell on hard times after 1920. The Great Depression and subsequent rationing during World War II limited available financial resources and supplies respectively, leaving zookeepers struggling with exhibit upkeep.4 Indeed, Shurtleff suggested closing the bear dens in 1954, leading to the transfer of two polar bears in 1966 and the ultimate closure of the exhibit in 1970.5
As the Franklin Park Zoo fell into disrepair, the Metropolitan District Commission, a state agency, took over in 1958. Under the MDC, the zoo opened numerous new exhibits, such as the Children's Zoo in 1962 and an African themed building in 1989.6 The MDC also separated the zoo from the rest of the park, installing fences and gates and began charging admissions.
The final change in management came in 1991, when Governor Weld passed legislation to create Commonwealth Zoological Corporation, which would privately manage the zoo. The CZC later changed its name to Zoo New England in 1997.7
Under Zoo New England, the zoo is now committed to conservation and education, offering school and Scout programs, summer camps, educational tours, and adult learning programs including a lecture series.8 The zoo also collaborates with the National Wildlife Foundation to offer unique "Nature Play" spaces - playgrounds integrated with the landscape and made of vegetation instead of metal or plastic.9 Franklin Park Zoo's conservation efforts are diverse, ranging from the re-introduction of Mexican wolves into the wild to anti-poaching efforts and missions to protect giraffes, apes, cheetahs, snow leopards, tamarins, and Panamanian frogs.10
However, the zoo is still not without its critics. An op-ed published in The Tufts Daily notes that the zoo is often empty: "I thought more and more about the extreme lack of people. Is it like this every day? How is the zoo staying afloat?"11 While at the time of its opening the zoo's exhibits were cutting-edge, and the bear dens were described in the Boston Globe as "the finest in the world", the zoo has struggled to maintain its national prominence. John Linehan, current president and CEO of Zoo New England, admitted to the Globe that "It frustrates me. I know it's not a great zoo yet."12
Another recent obstacle the zoo has faced is the "Boston Camel" confusion of March, 2018. An unknown caller reported that a camel had escaped from the zoo, which sent multiple police units to the scene. Later, the zoo announced that no camel had ever escaped.13 In response, a Twitter account, @CamelBoston, posted several humorous fictional updates from the camel's perspective.14
Planning a visit to the zoo? Be sure to check for seasonal shows, hours, and exhibits on their official website, http://www.zoonewengland.org/. Tickets are 15% off when purchased online.
Sources
1"About Zoo New England | Zoo New England." Accessed October 25, 2018.
2The Landscape Architect's Guide to Boston: Franklin Park." American Society of Landscape Architects. Accessed October 25, 2018.
3Julie Arrison, Franklin Park (Charleston, SC: Arcadia Publishing, 2009). P56.
4Rebeca Oliveria. "JP History: Franklin Park Zoo turns 100." Jamaica Plain Gazette. January 20, 2012.
5Julie Arrison, Franklin Park (Charleston, SC: Arcadia Publishing, 2009). P74.
6"The Landscape Architect's Guide to Boston: Franklin Park." American Society of Landscape Architects. Accessed October 25, 2018.
7About Zoo New England | Zoo New England." Accessed October 25, 2018.
8"Educational Programs, Camps and Classes | Zoo New England." Accessed October 25, 2018. http://www.zoonewengland.org/discover/.
9"Nature Play | Zoo New England." Accessed October 25, 2018. http://www.zoonewengland.org/discover/nature-play/.
10"Around the Globe | Zoo New England." Accessed October 26, 2018. http://www.zoonewengland.org/protect/around-the-globe/.
11Zigmond, Evan. "Out on the Town: Franklin Park Zoo - The Tufts Daily." University Wire, 2018, pp. University Wire, Oct 1, 2018.
12"Why Doesn't Boston Have a Better Zoo? - The Boston Globe." BostonGlobe.com. Accessed October 25, 2018.
13"Camel Escapes Franklin Park Zoo: Reports False Says Zoo." Jamaica Plain, MA Patch, March 24, 2018.
14"Boston Camel (@CamelBoston)." Twitter, Twitter, 26 Mar. 2018, twitter.com/CamelBoston.
Additional Information