Walker Convocation Center and Earl Francis Lloyd Statue
Introduction
The statue was unveiled in 2014 of the former West Virginia State University Yellow Jacket basketball player, Earl Francis Lloyd, at the Walker Convocation Center on the WVSU campus. The college erected the statue to show their appreciation for Earl Francis Lloyd who after playing for the university became the first Black basketball player in the NBA in 1950. He would also go on to become the first Black professional basketball player to win an NBA championship in 1955, the first Black assistant coach for an NBA team, and be inducted into the Naismith Memorial Basketball Hall of Fame in 2003. His accomplishments shredded the racial divide in basketball and paved the way for many more African Americans to follow in his footsteps. After his basketball career, he started community outreach programs in Detroit, Michigan for underprivileged children. He passed away due to disease in 2015, but he is remembered by his wife, three sons, and four grandchildren.
Images
Statue to commemorate Earl F. Lloyd erected at West Virginia State University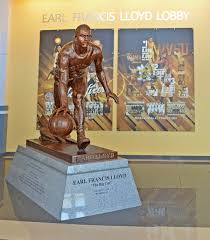 Earl Lloyd in his infamous Syracuse Nationals jersey in which he helped the team to win a NBA championship in 1955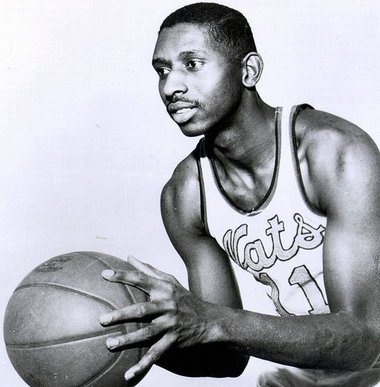 Earl F. Lloyd and his NBA championship team of 1955, Syracuse Nationals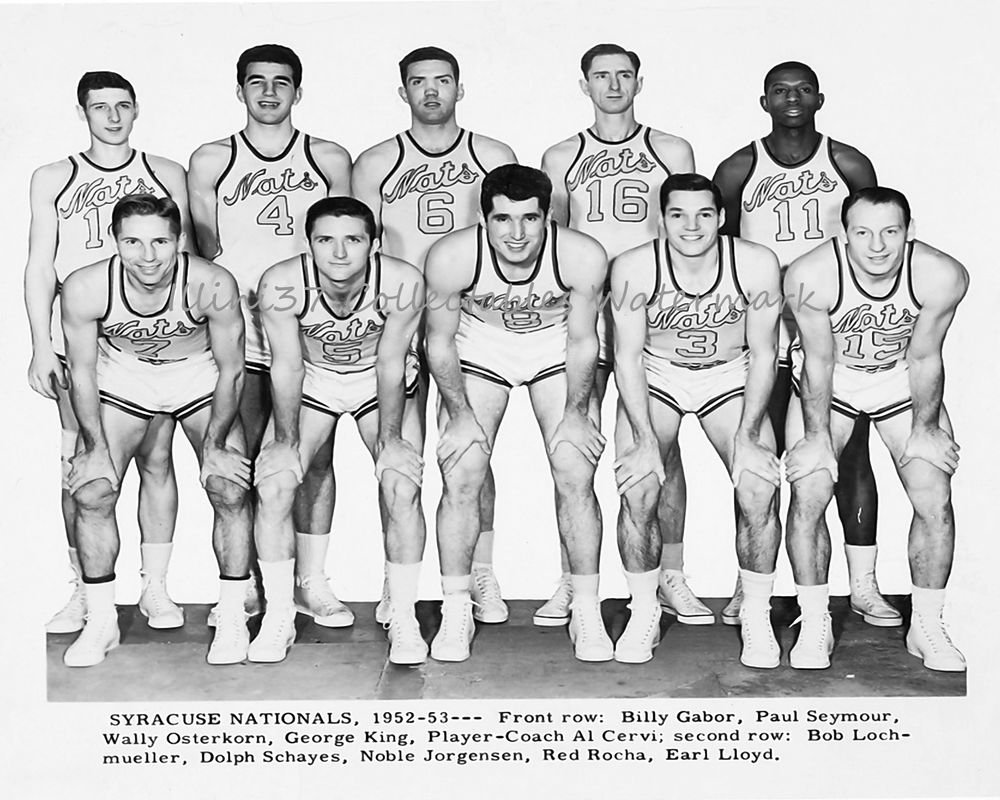 Backstory and Context
Earl Francis Lloyd was born on April 3, 1928 in Alexandria, Virginia. His talents of playing basketball began early by playing in his neighborhood. His basketball career began while in high school, which would later lead to being recognized by colleges. He was named to the All-South Atlantic Conference three times and twice to the All-State Virginia Interscholastic Conference while in attendance at the segregated Parker-Grey High School. After graduation from high school in 1946, he received a scholarship to play basketball at West Virginia State University (WVSU).
Earl Lloyd's college basketball career started fast post high school graduation. He led the West Virginia State University Yellow Jackets to two CIAA Conference and Tournament championships, the first in 1948 and the second in 1949. During his senior year he led the Yellow Jackets back to the CIAA Conference and Tournament but ended in second place. Throughout his entire collegiate career Earl Francis Lloyd was named All-Conference three times and All-American twice for his outstanding performance on the court. The most memorable basketball year for Lloyd was when he led the WVSU Yellow Jackets to be the only undefeated team in the United States for the 1947-1948 season.
His fame is for being the first Black basketball player to play in a game in the NBA, but there were also two other Black players drafted in 1950 as well. His team just happened to play first according to schedules and he would be bestowed the honor of being the first to play in a game for the Washington Capitols on October 31, 1950. In this history-making game, Lloyd (nicknamed "Big Cat") would score six points being not only the first Black basketball player to play in the NBA but to also be the first Black player to score points in the league. He went on to play for nine seasons that included 560 games, but the seasons would be divided where he was drafted for the Korean War by the U.S. Army. After serving for America in the war, he returned to basketball and won the NBA title in 1955 with the Syracuse Nationals. He would stay with Syracuse for six more seasons before trading to Detroit for his last two seasons before retirement in 1961.
After Lloyd's retirement he would continue with basketball but as a coach for the Detroit Pistons in 1971, becoming the first African American to coach in the NBA. Post-coaching he worked in Detroit as a job placement administrator for the public school system in the 1970s and 1980s. While he worked he also did volunteer work and ran programs for underprivileged children in the area. In the 1990s he was a director for the manufacturing company Bing Group maintained in Detroit. He was inducted into the Virginia Sports Hall of Fame in 1993, the CIAA Hall of Fame in 1998, and the Naismith Memorial Basketball Hall of Fame in 2003. Lloyd retired again in 1999 and moved to Tennessee with his wife where they lived together until his death in 2015 from disease.
Sources
Earl Lloyd: American Basketball Player. Encyclopedia Britannica. 01/01/2005. 10/30/2018. https://www.britannica.com/biography/Earl-Lloyd
Earl Francis Lloyd. SportsMakers. 3/16/2007. 10/30/2018. http://www.thehistorymakers.org/biography/earl-francis-lloyd-41.
Davis, Calvin. Earl Francis "Big Cat" Lloyd. I for Color. 01/26/2012. 10/30/2018. http://iforcolor.org/earl-lloyd-athlete/.
Additional Information