Jacob K Javits Center
Introduction
The Javits center is one of the most prestigious convention centers in the United States. This unique building was named after the prominent New Yorker, Senator Jacob K. Javits. This prominent New York icon became a wildlife sanctuary, a community partner and a federal nexus with up-to-date ideas in business and pop culture connected under one green roof.
Images
The center is built mainly with glass.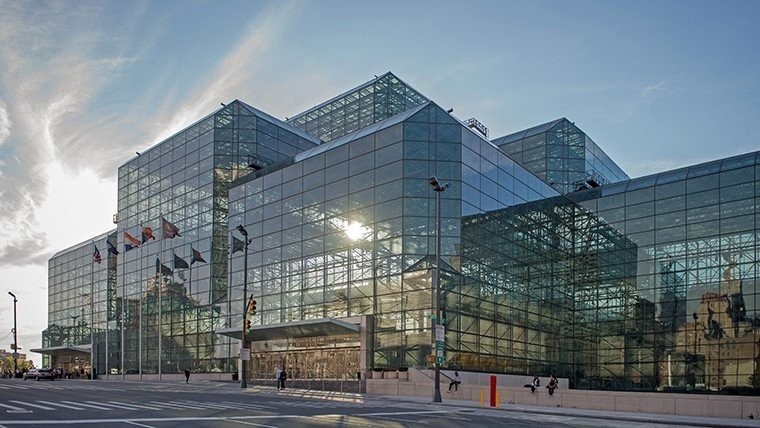 The green roof is about seven acre of sedum and rocks which absorb approximately seven million gallons of water. It also helps to reduce heat in the building.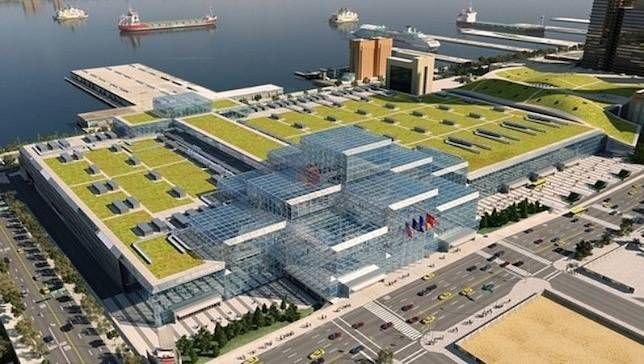 Backstory and Context
The Javits Center is an architectural vision built in the Hell's Kitchen neighborhood of Manhattan. This once controversial Center is now a booming business establishment. The construction of Javits Center started in 1980 and was completed in 1986. The building covers 1,800,000 square feet of land, and is the 12th largest center in the United States. It also houses 840,000 square feet of exhibits. On April 13, 1986, it was opened to the public. It is operated and maintained by the New York City Convention Center Operating Corporation.
Jacob Koeppel Javits, who served the state of New York for 30 years as a state Attorney General, Congressman and Senator, was born on May 18, 1904, and raised on the lower east side of Manhattan. He graduated from George Washington High School in 1920, and attended Columbia University night classes. He continued his education at New York University Law School, where he gained his Jurist Doctor Degree. During his years of public office, Javits showed a deep commitment to social issues. The Javits Center is designed to continue Senator Javits' legacy of public service.
This Center is one of the busiest in the nation, and host popular events, such as the New York International Auto Show and the New York Comic Con. The Javits Center generates 2 billion dollars in economic activity for New York State and New York City every year. This center accommodates almost 40,000 companies to host events such as tradeshows, conventions, and special events. Everything an organization needs is under one roof.
Furthermore, it is home to 26 species of birds, five species of bats, arthropods, honeybees, and microbes. The Javits Center is a wildlife paradise with a safe environment for every creature, but especially for birds. In 2017, the honeybee hives were put in place on the southern part of the roof, and the Javits Center harvested 250 ounces of pure nectar that year.
The Green Roof contains sedum and low- lying rocks, as well as plants grown in Syracuse, New York. Whenever it is warm, the plants are bright green however when it is fall/winter the plants change their color from red to orange. This state-of-the-art, 7-acre green roof digests up seven million gallons of water annually, which helps to reduce heat in the building.
While the primary objective of the center is to create economic activity, the Javits Center has endeavored to become a leader in sustainability. The second largest home to a green roof in the United States also helps enhance the quality of life for their workers and people who live nearby. The wildlife habitat helps to reduce carbon footprint through universal energy management, and extended cooperation with local universities, scientist and students. The Javits Center strives to be an example to other convention centers throughout the country.
Sources
Eckes, Suzanne E. "Jacob K. Javits Gifted and Talented Students Education Act." Encyclopedia of Education Law. doi:10.4135/9781412963916.n206.
http://www.javitscenter.com/
Abualfaraj, Noura, Joseph Cataldo, Yara Elborolosy, Daniel Fagan, Sloane Woerdeman, Tyler Carson, and Franco Montalto. "Monitoring and Modeling the Long-Term Rainfall-Runoff Response of the Jacob K. Javits Center Green Roof." Water10, no. 11 (2018): 1494. doi:10.3390/w10111494.
https://media.mnn.com/assets/images/2015/03/Javits-GreenRoof.jpg.653x0_q80_crop-smart.jpg
http://facaderetrofit.org/assets/uploads/images/resized/Jacob-K-Javits-Convention-Center.jpg
Additional Information