King Bhumibol Adulyadej Birthplace Monument
Introduction
King Bhumibol Adulyadej was the 9th king to rule in the Chakri Dynasty of Thailand. Also known as King Rama IX, he was a revered ruler who was worshiped by his people and considered a father to the country of Thailand. The square in Cambridge was commisioned to pay respects to His Majesty, who was born at Mount Auburn Hospital in Cambridge, Massachusetts on December 5, 1927. At the time, he was the only ruling monarch to have been born outside of their country. Since his passing on October 13, 2016, the square has been used as a place for Thais in the New England area to mourn.
Images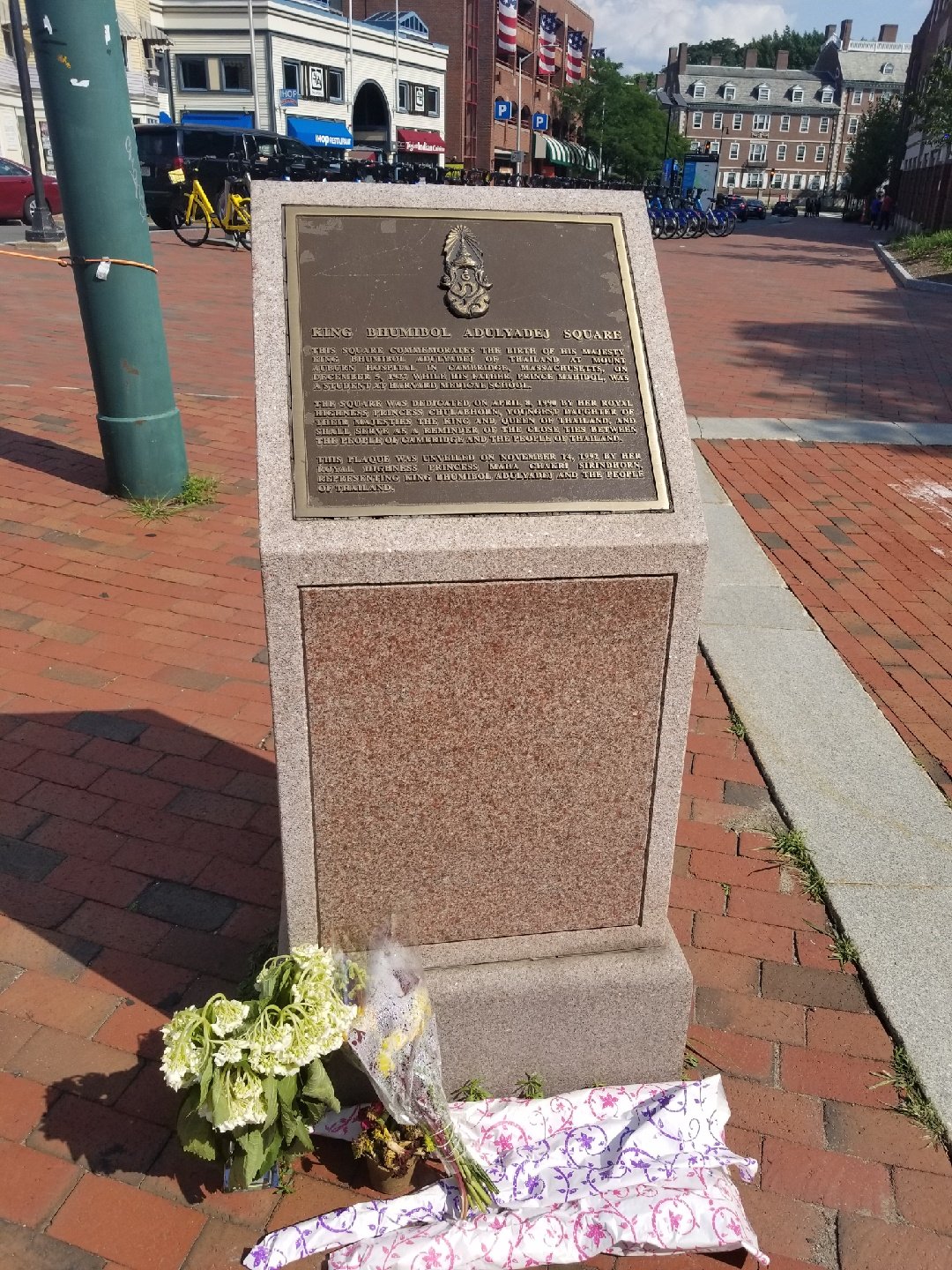 Royal portrait of King Bhumibol Adulyadej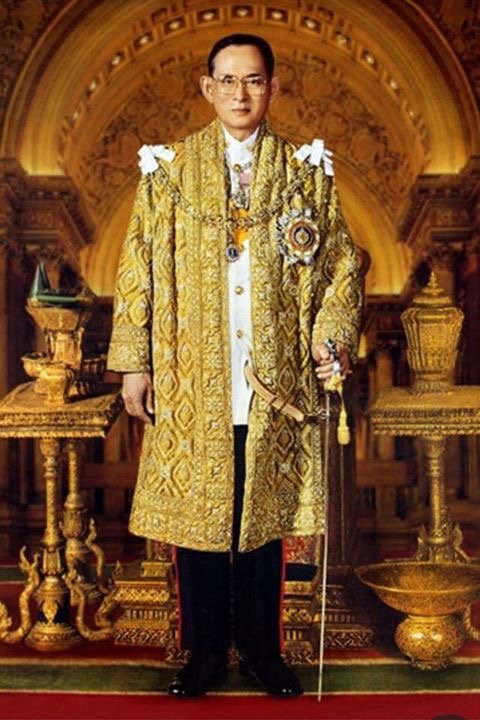 Backstory and Context
King Bhumibol Adulyadej was born on December 5, 1927, to Prince Mahidol Adulyadej of Songkhla, who was attending Harvard University and Princess Srinagarindra, an alumna of Simmons College, at Mount Auburn Hospital. He was the only American-born monarch in history. King Bhumibol went on to receive his education from primary through university level in Lausanne, Switzerland, where his mother moved their family after his father died.
Bhumibol succeeded to the throne when his older brother was found dead with a gunshot wound; it remains unclear whether his death was a suicide, murder, or accident as there are many theories on what really happened. Bhumibol did not take the throne immediately and had a reagent rule for him while he finished his studies in Switzerland.

When Bhumibol finally took the throne on May 5, 1950, he became the 9th ruler in the Chakri Dynasty, becoming known as King Rama IX. While the monarchy in Thailand is constitutional and does not hold any real power in politics, King Rama IX was respected by his people so much that they would occasionally urge him to step in when there was political instability. Thailand is a country that has suffered immense political instability since its 1932 revolution including approximately 17-19 coup d'é·tat. Because of the Monarchy's lack of legal authority, the King usually avoided getting involved with political manners. He used his leadership and authority in other means to better the lives of his people. He was considered the father of the Kingdom and even though his family is one of the richest monarchies in the world he started over 3,000 education programs geared towards agriculture, health, and the environment. Projects such as The royal Doi Tung Development Project helped incentivize poor villagers whose wealth relied on growing opium to re-educate them in other fields of work to create jobs and an economy not reliant on opium. His focus was not on those who were rich and successful in the Kingdom but he instead worked to help the poorest and most vulnerable Thais. HIs dedication to the Thai people and detachment from the material world further pushed the movement of idolizing him as a "Buddha" like figure that the Thai people worshiped. Thai Royalty also keeps their personal lives very private which is upheld with Thailands lese majeste, the strictest in the world. This helps add the idea that the King is revered as a "Buddha" like figure since there can be no bad press about him.

His highly respected role in Thai culture and society was so embedded into Thai citizens everyday lives that the effects of his passing can still be seen in the country today. The monument serves as a place for Thais and Thai-Americans to show their respect for the king. The square was originally dedicated by his youngest daughter, Her Royal Highness Princess Chulaporn on April 8th, 1990 and was unveiled by Her Royal Highness Princess Maha Chakri Sirindhorn on November 14th, 1992. While the square has always been a popular spot for Thais to visit, it grew in significance after the passing of the late king on October 13, 2016. The King held an important place in Thai people's hearts and the square became a symbolic place for people to grieve. Every year on the anniversary of the Kings passing there is an event held for Thais to pay their respects. Flowers can be found placed on the monument year round.
Sources
King of Thailand Birthplace Foundation http://www.thailink.com/ktbf/KingSquare/renovation.htm.

The Editors of Encyclopaedia Britannica. Bhumibol Adulyadej. Britannica. . . https://www.britannica.com/biography/Bhumibol-Adulyadej.

Hulme, Kyle. Born in The USA: Thailand's Beloved King and His American Connections. Culture Trip. March 10, 2018. . https://theculturetrip.com/asia/thailand/articles/born-in-the-usa-thailands-beloved-king-and-his-american-connections/.

Crossette, Barbara. Bhumibol Adulyadej, 88, People's King of Thailand, Dies After 7-Decade Reign. The New York Times. October 13, 2016. . https://www.nytimes.com/2016/10/14/world/asia/thai-king-bhumibol-adulyadej-dies.html.


Additional Information