Funkwerks
Introduction
Nationally-recognized craft brewery in Fort Collins, CO known for its saisons and sours. Small, but packs a punch!
Images
Funkwerks Flight (posted October 21, 2018 on Instagram, @funkwerks)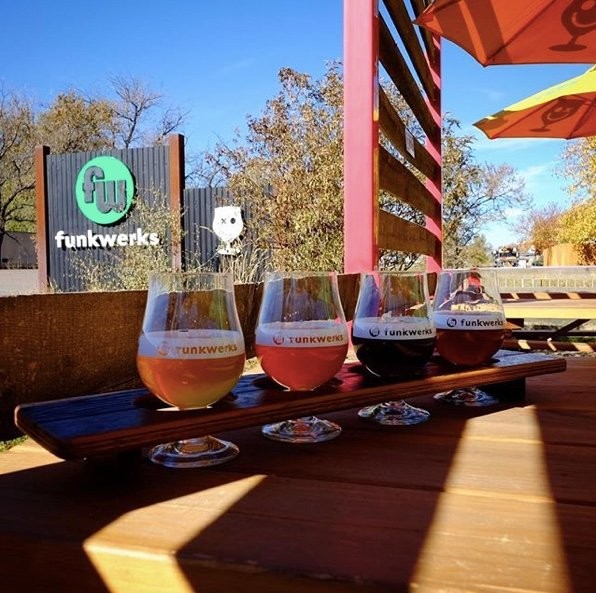 Funkwerks' Awards from the Great American Beer Fest (posted September 16, 2018 on Instagram, @funkwerks)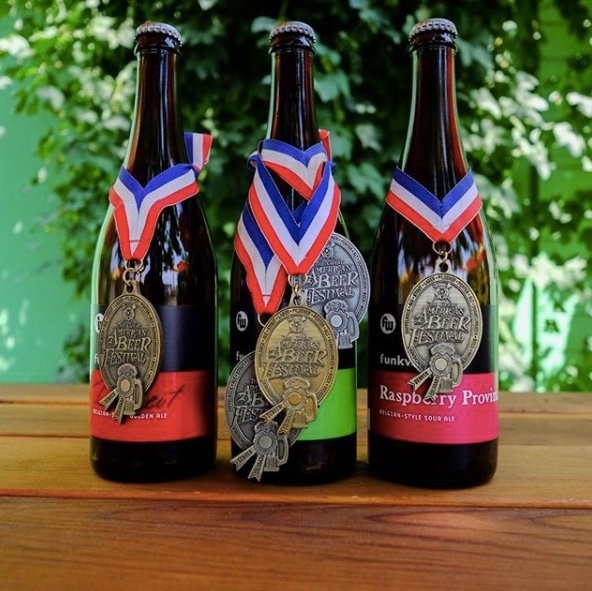 Backstory and Context
Founders Gordon Schuck and Brad Lincoln first opened their doors in December 2010 introducing Fort Collins to an experiential brewery specializing in Saisons, Sours, and Belgian Ales. Prior to even opening the doors to Funkwerks, Schuck was already winning national recognition for his home-brewed Saison: Saisons are known for their dry, fruity profiles that originated from farmhouse ales created in the summer. "Werks" translates to "industries" in German, and "Funk" refers to the funky characteristics of the beer that Schuck and Lincoln sought to create. Together, it creates Funkwerks: the funky beer industry in Fort Collins, CO.

Funkwerks is nestled alongside the Cache La Poudre River, and is one of the many breweries in Northern Colorado to contribute to the Colorado Water Trust (CWT) to support the River's restoration in the North Shields Ponds area. Partnered with Odell, New Belgium, Pateros Creek and Zwei Breweries, the beer moguls contributed $37,000 towards the Colorado Water Trust.

Funkwerks started off on a great foot, already making a name for themselves within the Fort Collins community. Located just down the street from Odell and Horse & Dragon, Funkwerks makes for a great stop on your next brewery tour.

Sources
Stokes, John. Breweries, Colorado Water Trust Partner to Support City's Poudre River Restoration. City of Fort Collins. . . https://www.fcgov.com/news/?id=5074.

Funkwerks. . . www.funkwerks.com.


Additional Information