The Pawtucket Times Building
Introduction
The five-story, Colonial Romanesque Revival style, Pawtucket Times Building was completed in 1895 and served as the headquarters of the Pawtucket Times, the longest running newspaper in Pawtucket history. The paper started in 1885 as an evening paper during a time when cities of this size usually had several numerous competing newspapers. the Pawtucket Times emerged as the most commercially successful of nearly twelve other papers in the city. The times remained independent and locally owned until 1957 when it was acquired by New England Newspapers Incorporated.
Images
1897 Photo of the Times Building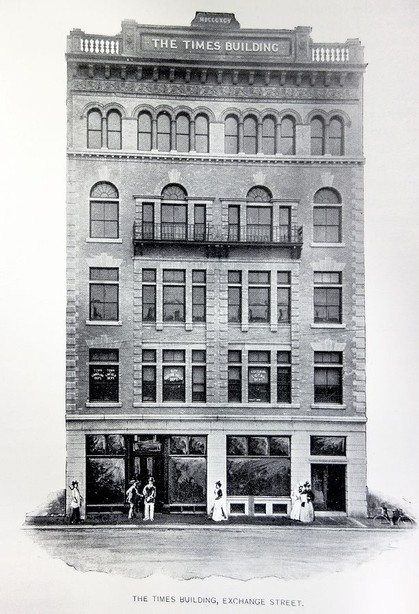 2009 Photo of the Times Building. The Times publishes in a different building but still uses this building for its offices.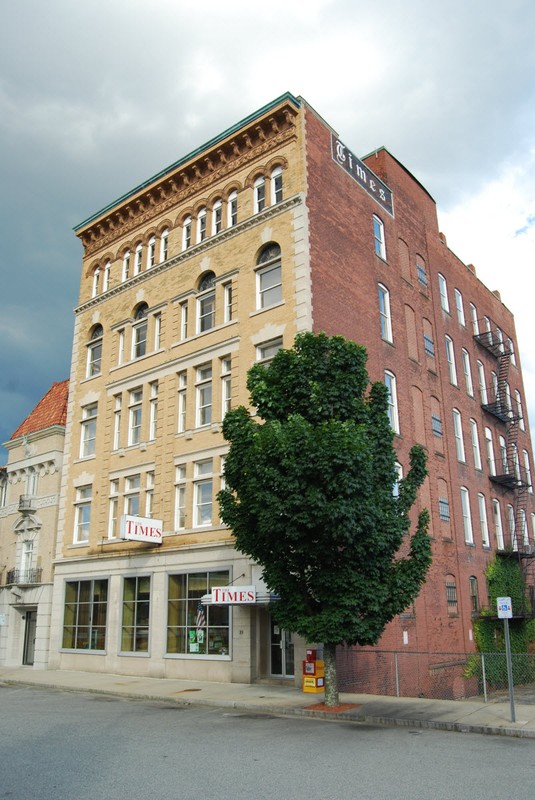 Backstory and Context
This building served as the headquarters to the Pawtucket Times, the longest running newspaper in Pawtucket's history. George O. Willard founded the paper in 1885 as an afternoon daily, known as The Evening Times. David O. Black, manager of the Providence Telegram, purchased the paper five years and built up its circulation. The newspaper initially operated at 170 Main Street in Pawtucket before Black commissioned the now-historical building in 1895 as the newspaper's new home; the first publishing at the building occurred on March 1, 1896.
Typical of numerous 19th-century urban centers, newspapers were prevalent. Roughly a dozen various newspapers operated in Pawtucket during the period when the Times emerged, but most of them failed quickly. When the Times first published in 1885, success quickly followed, especially after David 0. Black purchased the paper in 1890. Circulation numbers in 1885 amounted to 3,500, which rose to nearly 15,000 the first year after Black took the helm.
Four generations of the Black family managed the Pawtucket Times before selling it in 1957 to New England Newspapers Inc., which later transitioned to Ingersoll Publications. And then in 1989, the Journal Register company purchased Ingersoll and controlled the Times as part of that operation until 2007, when the company sold the Times to Rhode Island Suburban Newspapers.
The Pawtucket Times Building, in conjunction with the adjoining Pawtucket Elks Lodge Building, stands as one of few remnants of genuinely urban streetscape remaining in Pawtucket. As noted in the nomination form to the National Register of Historic Places, "Vertically, the five-story facade follows the traditional three-part formula of base (stone and glass ground floor), body (the three middle floors of yellow brick with limestone trim), and cap (the attic story with its ornate terra-cotta). The specific details of the facade are classically inspired as well, although there is a distinctly Colonial Revival flavor in the middle three stories."
Sources
Cavanaugh, Kathryn J. "Nomination Form: The Pawtucket Times Building." National Register of Historic Places. Accessed October 17, 2018. https://npgallery.nps.gov/GetAsset/ecfb9cbc-9683-4d28-b1a4-29791ada6230/

--- --- --- "Nomination Form: Downtown Pawtucket Historic District." National Register of Historic Places.. June 30, 2006. https://npgallery.nps.gov/NRHP/GetAsset/NRHP/06001227_text

Downtown Pawtucket Historic Walking Tour. Pawtucket Foundation. . Accessed October 17, 2018. https://www.pawtucketfoundation.org/_resources/common/userfiles/file/Student%20Projects/WalkingTourText6.pdf.

Photo Sources

1897 Photo of the Times Building: An Illustrated History of Pawtucket, Central Falls, and Vicinity by Robert Grieve (1897). - An Illustrated History of Pawtucket, Central Falls, and Vicinity by Robert Grieve (1897)., Public Domain, https://commons.wikimedia.org/w/index.php?curid=39804412

2009 Photo of the Times Building: Marcbela (Marc N. Belanger) - Own work, Public Domain, https://commons.wikimedia.org/w/index.php?curid=7231510
Additional Information