Main Street Bridge in Pawtucket, Rhode Island
Introduction
Pawtucket's Main Street Bridge was erected in 1858 and spans the Blackstone River at Pawtucket Falls. Although it is only forty feet wide, this bridge continues to serve as one of the primary river crossings in Pawtucket and is believed to be the oldest operating highway bridge in the state. The Main Street Bridge is also the first masonry bridge to span the river and replaced several wooden structures that date back to the early 1700s.
Images
Pawtucket Falls and Main Street Bridge.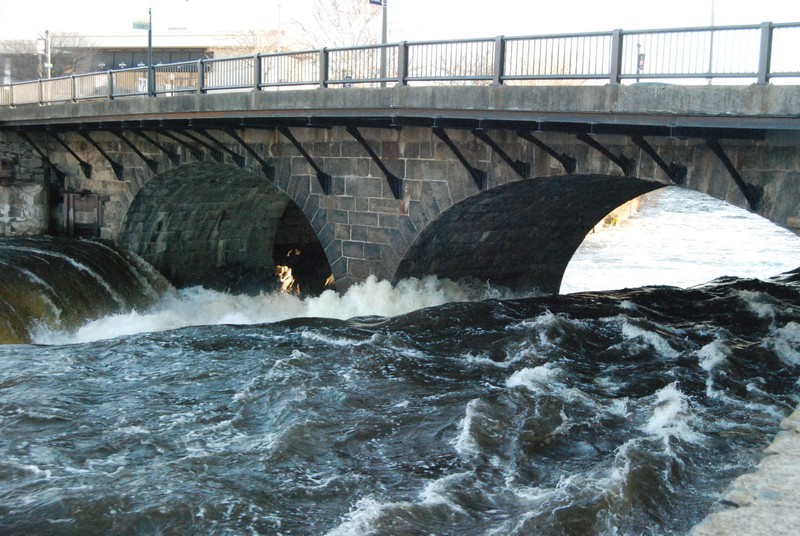 Pawtucket Falls & Main Street Bridge (Postcard)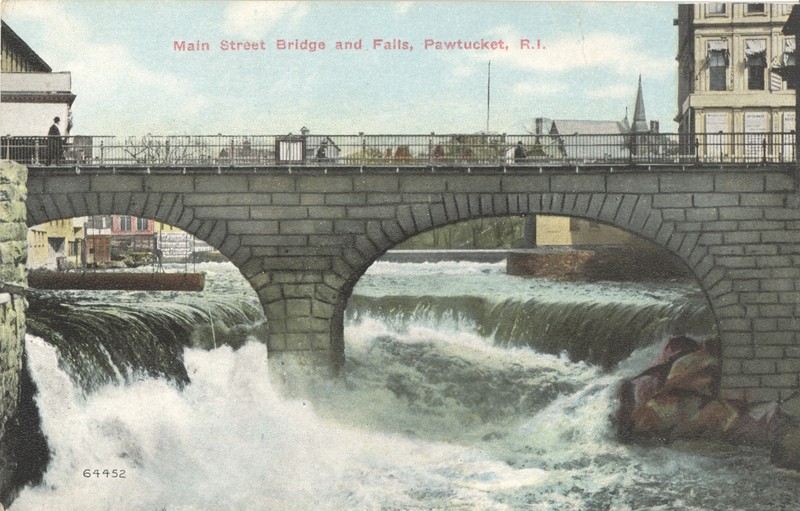 2009 Photo, Pawtucket Falls and Main Street Bridge.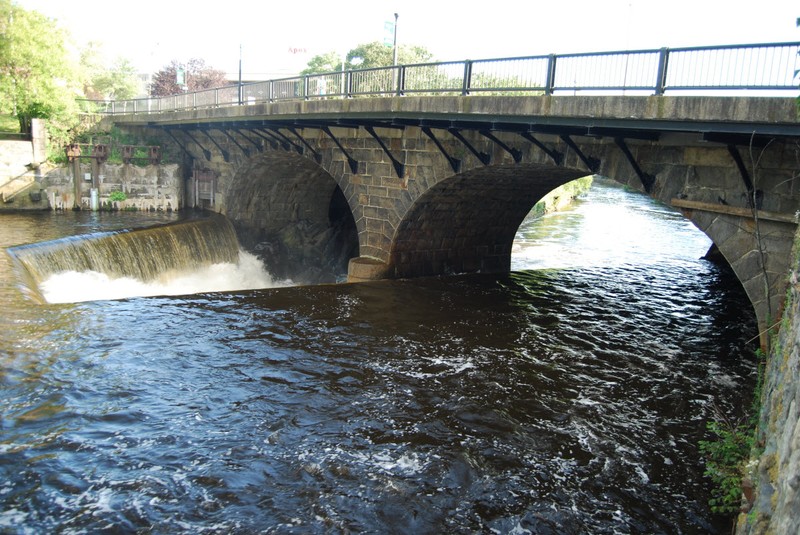 Backstory and Context
The city derives its name from Native Americans who referred to the area as "Pawtucket" and crossed the shallow portions of the river which also served as a source of fish and fresh water. "Pawtucket" in the native language of the Wampanoag and Narragansett nations means "great falls," referring to the falls for which the historic bridge (built 1858) now crosses and the reason for the town's name. Before construction of the first bridge -- a wooden structure built in 1713, which allowed for easy access across the river, Native Americans and earlier settlers fished and crossed the shallow whitewater above the falls. Today, the bridge serves highway traffic so that to look at the falls and the bridge is to view several centuries of history as well as the frequent societal changes associated with European settlement and modernity.
The current Main Street Bridge was completed in 1858, but bridges were erected in this location as early as 1713. Records indicate settlers constructed wooden bridges in 1735, 1807, 1817, 1832, and 1843 before finally building the current structure made of stone just before the U.S. Civil War; it is believed to now be the oldest major highway bridge still operating in Rhode Island.
To evolution of the automobile forced engineers to renovate the bridge to accommodate for highway traffic, notably in 1968 when it was widened and modernized. However, the masonry that serves as its foundation remains largely intact from its nineteenth-century construction, a testament to better engineering that developed in that period.
Sources
"Colonial History." The Joseph Bucklin Society. Accessed October 16, 2018. http://bucklinsociety.net/colonial-history/.

"Main Street Bridge and Falls, Pawtucket, R.I.," Rhode Island's Golden Age of Postcards, accessed October 16, 2018, http://library.providence.edu/spcol/postcards/items/show/42.

Roper, Stephan J. "Nomination Form: Main Street Bridge." National Register of Historic Places. December, 1980. http://www.preservation.ri.gov/pdfs_zips_downloads/national_pdfs/pawtucket/pawt_historic-resources-of-pawtucket-text.pdf . Note: Portion concerning the bridge is found on pages 111-112 of the original document.

Photo Sources
Pawtucket Falls and Main Street Bridge: From https://bridgehunter.com/ri/providence/9660/

Pawtucket Falls and Main Street Bridge (Postcard): http://library.providence.edu/spcol/postcards/items/show/42

2009 Photo, Pawtucket Falls and Main Street Bridge By Marcbela (Marc N. Belanger) - Own work, Public Domain, https://commons.wikimedia.org/w/index.php?curid=7231501


Additional Information