National Afro-American Museum and Cultural Center
Introduction
The National Afro-American Museum and Cultural Center is housed in a modern building that features 10,000 square feet of exhibit space. Exhibits and programs educate the public about African American history, art, and culture. Permanent exhibits trace the history of the Black experience in the United States from freedom in Africa to enslavement in America, the experience of slaves and free people of color in the colonial and antebellum period, the end of slavery and the Civil War, the quest for equality during the era of Jim Crow, and the quest for civil rights from World War II to the present.
Images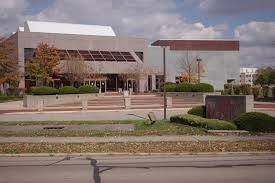 Backstory and Context
A movement to create a national museum dedicated to African American culture and history began in earnest during the 1970s. The Ohio state legislature approved a bill to create such a museum in Wilberforce but the museum still relied upon private rather donations. In 1987, these fundraising efforts paid off when the 10,000 square foot museum opened its doors.
Sources
Ohio History Connection: http://www.ohiohistory.org/museums-and-historic-sites/museum--historic-sites-by-name/national-afro-american-museum--cultural-center/exhibits-collections
Additional Information