Historic Spanish Point
Introduction
Historic Spanish Point is a museum complex that includes a visitor center housed in a former school building (the building is now home to the Osprey Library the Sarasota County History Center), a prehistoric Native American archaeological site (consisting of a burial mound and a shell midden), a historic homestead house, a citrus fruit packing house, and nature trails. The history center features exhibits about Spanish Point and a museum store. Visitors can take a self-guided or guided tour of the grounds. Boat tours, lectures, and art classes are also offered. In 2020, the museum merged with the Marie Selby Botanical Gardens to be its southern campus. The main campus is located in Sarasota.
Images
The former Osprey School is now home to the Osprey Library the Sarasota County History Center.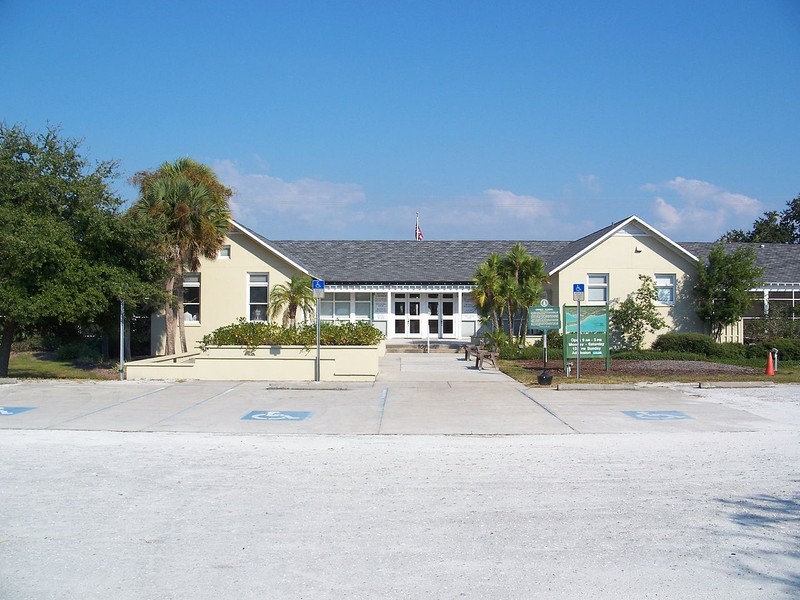 Backstory and Context
The archaeological site dates from the Later Archaic to the Late Woodland periods (3,000 BC-1,000 AD), and is one of the largest prehistoric sites on Florida's east coast. Excavations of the midden (a trash pile with shells, bones, etc.) revealed that ancient Floridians took advantage of the abundant wildlife, eating lots of seafood and hunting game such as deer and raccoons, and collecting fruits and berries. Archaeologists also determined that they lived in thatched huts and made tools from wood, shells, and bones. It appears that they abandoned Spanish Point around 1,000 AD and to date no evidence exists indicating contact with Europeans.
The homestead was established by pioneer John Green Webb for his family, who moved to Florida to acquire land offered under the Federal Homestead Act. After arriving in Florida, they heard about the property from a Spanish trader who told them about a fertile "high point" of land that jutted into the Little Sarasota Bay. This was how the Webbs named the site Spanish Point. They grew citrus, vegetables, and harvested sugar cane. To process this food, they built a packing house, which is still standing.
The Webbs sold their homestead to wealthy businesswoman and philanthropist Bertha Palmer, who continued to farm and also bought more land to cattle ranch. She preserved the buildings and created lawns and gardens. Her descendants owned the property until 1980 when they donated it to the Gulf Coast Heritage Association, which operates the historic site. 
As for the Osprey Library building, it was constructed in 1926 and was one of five schools established around this time to offer schooling to the growing population. It operated as a school and then a teaching center until 1989. It was designed in the Spanish Colonial Revival style and has been well maintained. It was added to the National Register of Historic Places in 1994.
Sources
"Historic Spanish Point." The Historical Marker Database. Accessed October 15, 2018. https://www.hmdb.org/marker.asp?marker=60326.
"Historic Spanish Point Campus." Marie Selby Botanical Gardens. Accessed October 15, 2018. https://selby.org/about/history.
Schwarz, Rebecca S. "Osprey School." National Park Service - National Register of Historic Places Nomination Form. July 15, 1994.https://npgallery.nps.gov/GetAsset/564ce652-cc4c-4b70-ae14-6744e8e3167e.
Image Sources
Wikimedia Commons: https://commons.wikimedia.org/wiki/File:Osprey_FL_school01.jpg

Additional Information