Trinity Episcopal Church (Toledo)
Introduction
Trinity Episcopal Church was chartered in 1842 and moved into its first building in 1845. Its present home, which was finished in 1866, is one of the oldest buildings in Toledo that has been in continuous use. Today, the congregation still meets in this Gothic-style structure, which was designed by architect C. C. Miller.
Images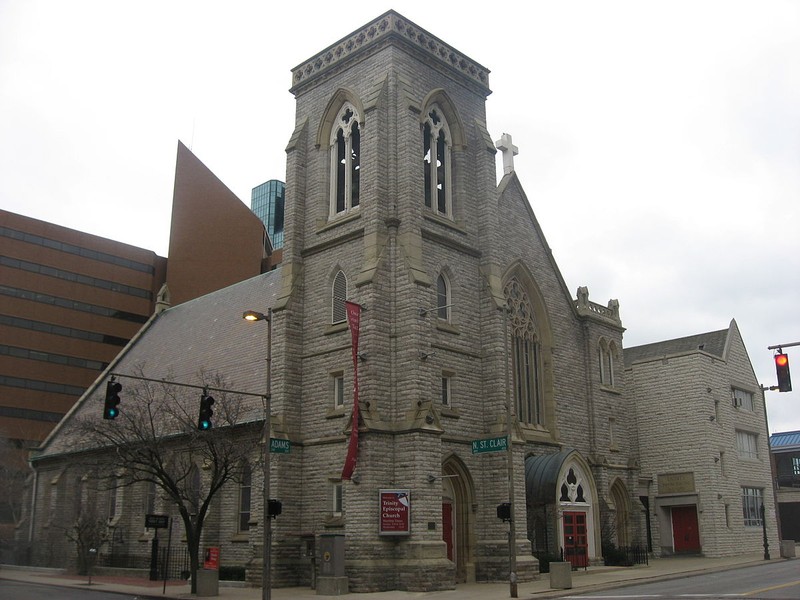 Backstory and Context
Trinity Episcopal Church services date back as far as 1837. They were held in private homes and government buildings until the church was constructed. The congregation bought property on Adams and St. Clair Streets for one dollar in 1844. The next year, the original church was completed in the New England style. The present-day Gothic-style church was built from 1863 to 1866. It was added to the National Register of Historic Places in 1983.
The church's history is closely tied to other parts of Toledo. In the 1850s, firemen had access to the church's bells so that they could sound an alarm that would be heard throughout the city. In 1903, Trinity allowed the local Greek Orthodox congregation to meet in their chapel while an Orthodox Church was being built. Trinity Episcopal Church also founded nine Episcopal mission churches in the Toledo area.
Sources
Our History. Trinity Episcopal Church. Accessed October 11, 2018. https://www.trinitytoledo.org/welcome/our-history/.

OHIO - Lucas County. National Register of Historic Places. Accessed October 11, 2018. https://nationalregisterofhistoricplaces.com/oh/lucas/state2.html.


Additional Information