Sarasota County Courthouse
Introduction
Constructed between 1926 and 1927 and designed by influential local architect Dwight Burns in the Mediterranean Revival Style, this historic courthouse has been listed on the National Register of Historic Places since 1984. The courthouse was needed following the creation of Sarasota County in 1921 by residents who supported separation from Manatee County and the leaders of the state of Florida. This decision reflected the growth around Sarasota Bay and led to the partition of Manatee County. At this time, Sarasota was best known as the winter home of the Barnum and Bailey Circus.
Images
The courthouse was designed by local architect Dwight Burns whose Mediterranean Revival style of building design both reflected and reinforced the designs of other Florida architects.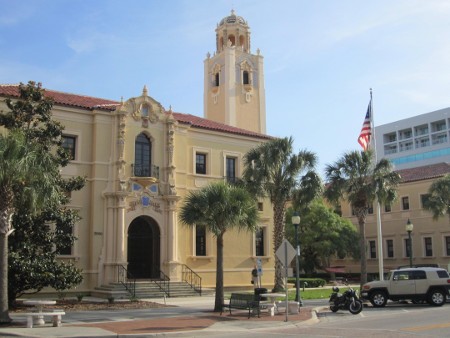 This postcard appears to date back to the era when the courthouse was constructed.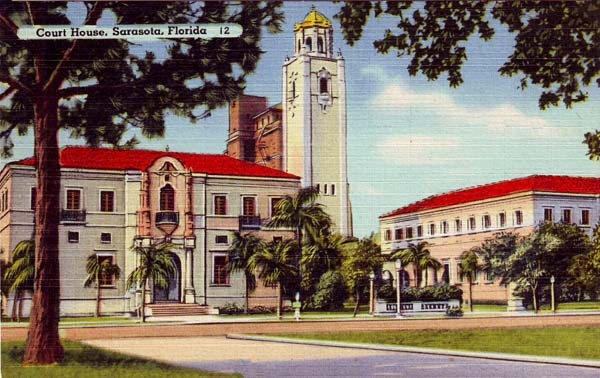 Backstory and Context
The word Sarasota may derive from the word used by the indigenous Calusa to describe dancing. The courthouse offers a blend of Spanish colonial styles with Baroque elements and was one of the largest buildings in the area at the time of construction. Sarasota owed much of its development to Owen Burns and Andrew McAnsh who were local developers and the builders of hotels and other properties. Tourism has remained one of the central aspects of the Sarasota economy along with the creation of retirement communities and agriculture.
Sources
Garfinkel, Richard. Sarasota, in A Guide to Florida's Historic Architecture. Gainesvile, FL. University of Florida Press, 1989. p.118-120


Additional Information