The Old Fort
Introduction
The Old Fort is a historic site featuring a replica of Fort Wayne, which was built in 1815 and the third fort that protected and secured this strategic area from Native American tribes. The site is a public park so anyone can visit at any time. Historic Fort Wayne operates the site, offering a variety of educational, interactive programming year round. The fort consists of several structures: the commander's quarters, a hospital, blockhouses, the main gate/enlisted quarters, and the officer's quarters. There is also a complex of structures that comprise a village where a Blacksmith shop, woodworker shop, bakery, and homes and shops of Indian traders. A modern building has restrooms and meeting space. Old Fort volunteers dress up in period clothing and perform various demonstrations, such as woodcarving.
Images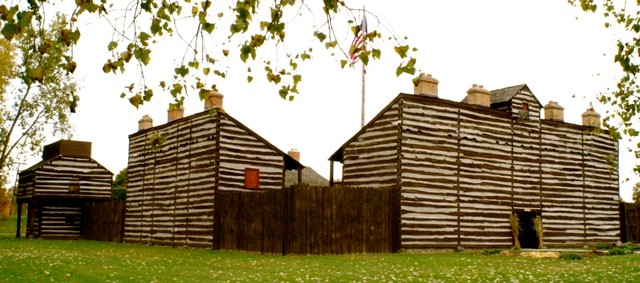 Backstory and Context
The first Fort Wayne was built in October 1794. It is named after Major General "Mad" Anthony Wayne, who led the American force that had recently defeated a confederation of Native American tribes and a contingent of British soldiers at the Battle of Fallen Timbers, which occurred on August 20th near Toledo, Ohio. At the time, there was a Native American settlement in what is now the city of Fort Wayne. It was abandoned following the battle and Wayne ordered a fort to be built there to establish a permanent American presence in the region. It appears that it was located at the intersection of Clay and Berry Streets.
During the War of 1812 (1812-1815), Native American forces besieged the fort from September 5-12. Despite their best efforts, they failed to capture the fort and retreated on the 12th. That same day, Territorial Governor William Henry Harrison, who would become the 9th President of the United States, arrived with a large relief force and officially ending the siege. The fort remained garrisoned until 1819 as it was no longer needed.
Historic Fort Wayne was originally established in 1964 and opened the site in 1976. After disbanding in 1989, then it reformed again, this time as a volunteer organization in 2004.
Sources
"History." The Old Fort. Accessed April 9, 2019. https://oldfortwayne.org/about-us/history.
Additional Information