Mountain Creek Waterpark (formerly known as Action Park 1978-1996, 2014-2015)
Introduction
Mountain Creek Waterpark is located on the site of what was known as Action Park, which opened in 1978 as one of America's first modern water parks. Action Park's most successful years were in the 1980s when the park was notorious for poorly built, unsafe rides, underage employees, and was responsible for the fatalities of six people. Action Park closed in 1996, and under new ownership in 1998, was reopened as Mountain Creek Waterpark. In 2010, the park was sold to the original owners who decided to change the name back to Action Park in 2014. Two years later, though, the name was dropped and since then, it has been known as Mountain Creek Waterpark.
Images
Action Park's Tidal Wave Pool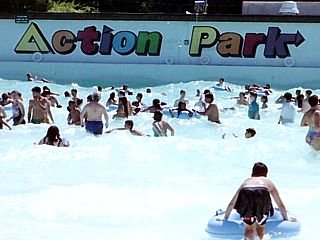 Mountain Creek's High Tide Wave Pool

Action Park visitors ride the Alpine Slides in the 1980s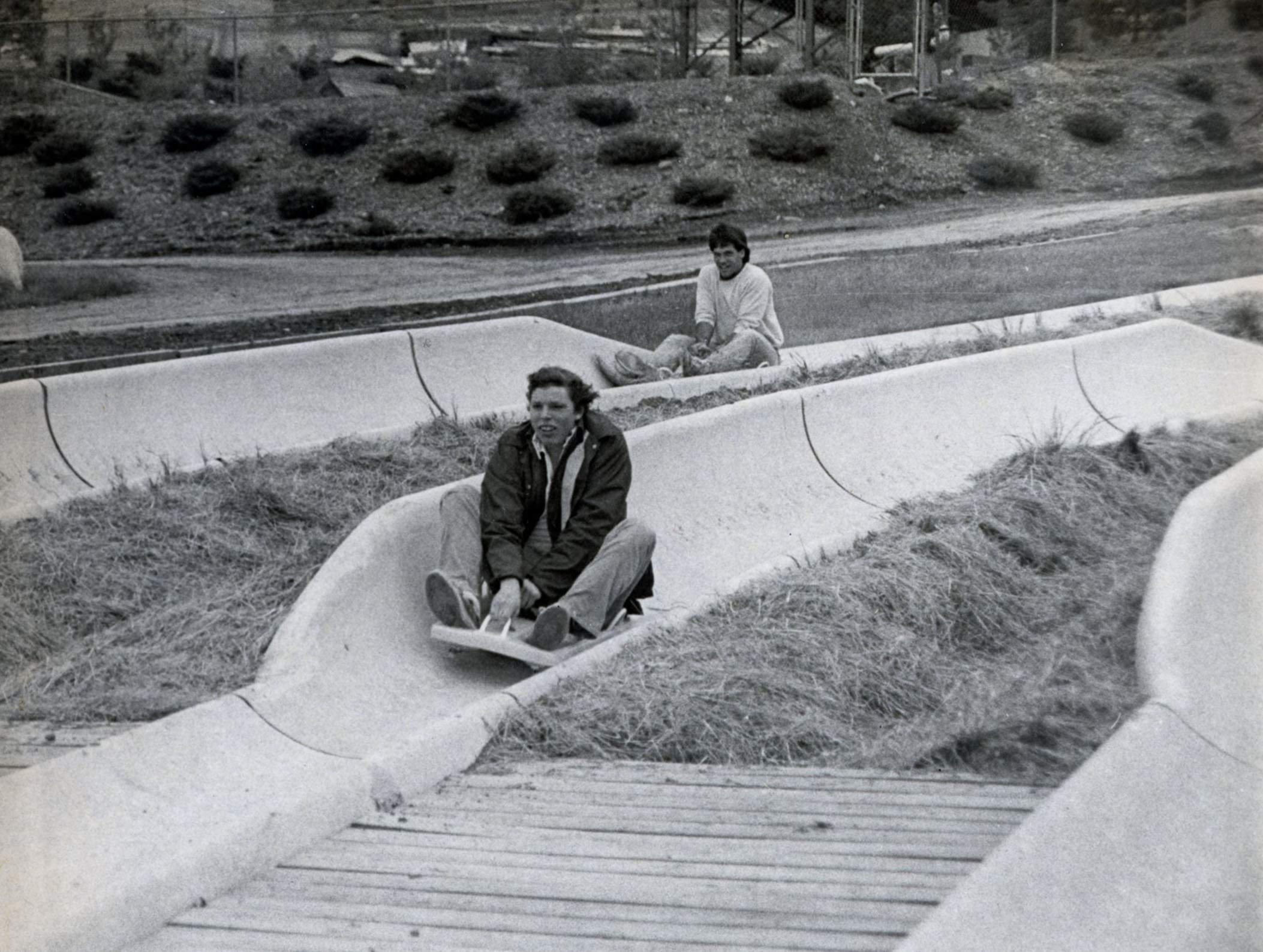 Action Park's infamous Cannonball Loop Slide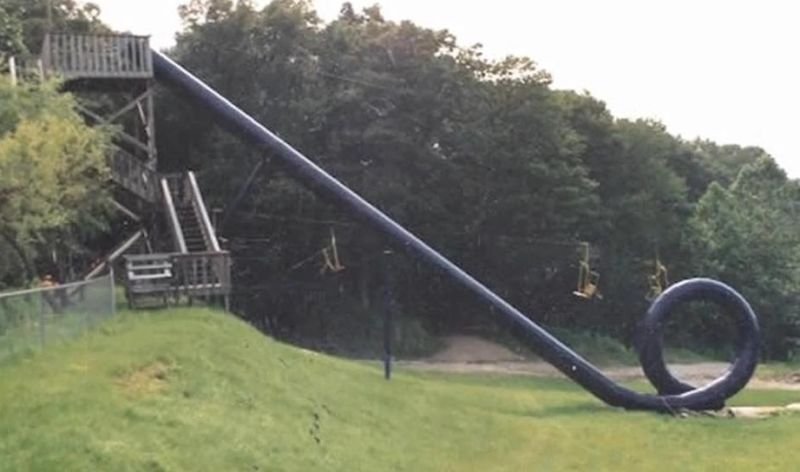 A map of Action Park during its last season in 1996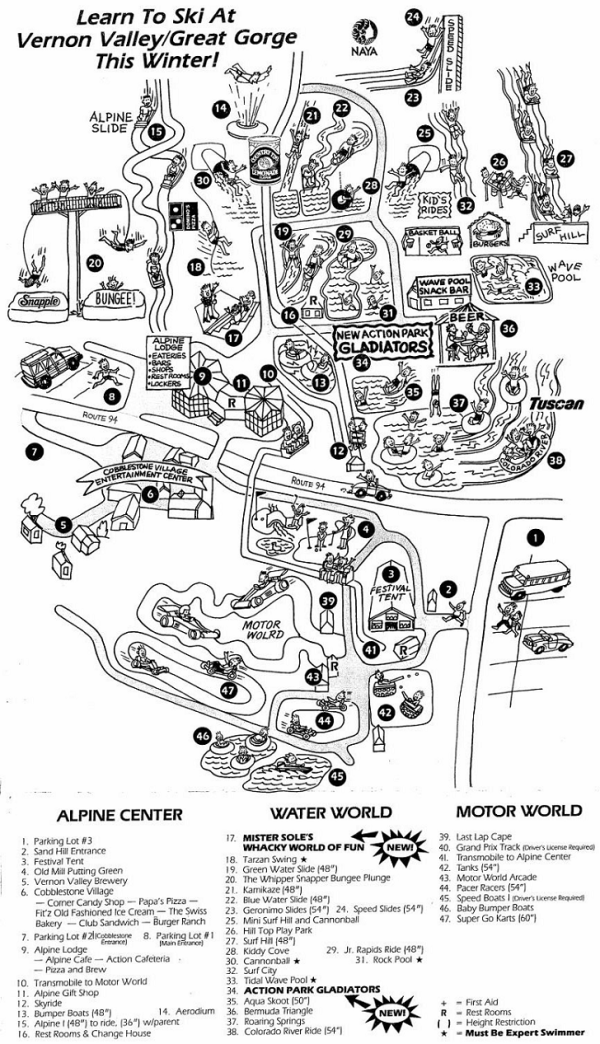 Backstory and Context
The action began during Labor Day weekend of 1976 when Gene Mulvihill, the owner of the Vernon Valley/Great Gorge Ski Resort in Vernon, NJ and a company called Great American Recreation (GAR) responded to the question of how to make money at the attraction during the off-season. The answer was a pair of 2,700-foot-long slides made from concrete and fiberglass, known as Alpine Slides. A person rode down the slide on a plastic sled with a lever that was used to control how fast or slow they were going. Over the next years, Mulvihill and GAR expanded what was originally called the "Vernon Valley Summer Park" to include other new attractions, such as a go-cart track, water slides, a wave pool, and many more to form what became known as Action Park. By 1982, the park had 50 rides and attractions, and by 1988, the number increased to 75.
Action Park had three main areas---the Alpine Center, Motorworld, which was located on one side of the park and Waterworld, which was located on the other. The Alpine Center was the smallest and included the Alpine Slides, the gift shop, and Cobblestone Village where guests could buy concessions. Motorworld, as the name implies, included motor-related attractions such as go-karts, race cars, tanks that guest could ride in and shoot tennis balls out of, and motorized boats. Waterworld was the area in which Action Park was the most known for as it made up half of the rides and attractions there. This area included various water slides, diving cliffs, the wave pool, raft and innertube-based rides, and kiddie rides for smaller children. In the 1990's, the park had a bungee jump and an American Gladiator Challenge (which consisted of obstacles and jousting based on the popular show at the time). During the park's final season in '96, it had a drop tower ride known as the Space Shot.
Perhaps the most famous attraction at the park was the Cannonball Loop slide. Built in 1985, this enclosed slide consisted of a 360° loop. When test dummies were placed into the slide, they came out with no heads. Employees who tested it came in with their feet first and came out with their head first. This ride was open for only one month that summer before it was closed down by the New Jersey Carnival and Amusement Ride Safety Advisory Board, and during its run, a hatch had to be built to assist people who got stuck in the ride. The people who rode it ended up with nosebleeds, headaches, and concussions.
What set Action Park apart from any other amusement parks at the time was that the riders were in control of the action. In other words, instead of just casually sitting on a ride and letting it take the riders at their own speed, park visitors could decide how slow or fast they wanted to go. While many visitors enjoyed this thrill-seeking experience, this setup would often cause injuries that the park officials repeatedly said that the guests were responsible for. Injuries would result from guests and employees treating the motor rides as bumper cars or too many people riding a water ride all at once at varying speeds. Another important factor in this was that many of the employees were teenagers, some who as young as fourteen who were illegally hired, operating the rides, which the park got in trouble for. Both employees and guests would often be under the influence as Action Park earned nicknames such as "Accident Park", "Traction Park", and "Class-Action Park." In fact, the injury rate was so frequent that by 1987 that the park bought the town of Vernon their own ambulances as about 5-10 people would be taken to the hospital per day. So, it is no surprise that this park was responsible for claiming the lives of six people.
 Action Park's first death occurred in 1980 wile a 19-year-old park employee was riding the Alpine Slides when his sled flew off the track. The employee suffered a fatal injury after being thrown from the sled and hitting his head on a rock. Unfortunately, the sleds for this ride were not very well-maintained because the brakes were either stuck in place, causing them to go very slow, or they would not work at all, causing them to go at a high speed. This frequently caused collisions when riders slid down the track, and to make matters worse, they were often in their bathing suits, so when their skin hit the concrete track, it would cause them to have burns and lacerations. Between 1984 and 1985, there were at least 14 fractures and 26 head injuries reported that were caused by the Alpine Slides.
Another death at the park was caused by a short-lived ride in Waterworld known as the Kayak Experience. In it, riders would paddle in kayaks in a pool of water that had underwater fans to simulate white water rafting. In 1982, a 27-year-old man's kayak tipped over while on the ride. While trying to re-enter it, he was electrocuted by stepping on an exposed wire from one of the underwater fans. He was taken to a nearby hospital in New York where he was pronounced dead due to cardiac arrest caused by an electric shock, which the park officials were in denial of. Two of his family members were also electrocuted, but they survived. The ride was them drained for investigation and never opened again.
A ride known as the Tarzan Swing took another person's life in 1984. The ride involved swinging on a beam that was attached to a 20-foot long cable and swing into a pool of spring-fed water, which was much colder than water from a regular pool. The person supposedly died from a heart attack due to the shock of the cold water.
The Tidal Wave Pool was a freshwater wave pool that was one of the very first of its kind. Its waves, that could reach heights of up to 40 inches tall, were created by four fans and generated for increments of 20 minutes with 10-minute pauses in between. The main problems with the Tidal Wave Pool were that swimmers did not realize that they would not float like they would in an ocean at the beach and were oblivious to the fact that the pool got deeper the further you went in it (it went up to eight feet deep). Also, many visitors were from urban areas, so they did not know how to swim in water, let alone in a dangerous wave pool. The Tidal Wave pool had anywhere from 12-20 lifeguards on duty, and about 30 saves had to be made per day compared to one or two saves per season. It often got crowded at the wave pool, so the many lifeguards that were there often failed to notice if someone was drowning. Three young people were reported to have died by drowning in the Tidal Wave Pool, a 15-year old in 1982, a 20-year-old in 1984, and an 18-year-old in 1987, earning it the nickname "The Grave Pool."
In 1984, Mulvihill and GAR pleaded guilty to setting up a fraudulent company in the Cayman Islands in order to insure the park. They paid heavy fines and were supposed to sell the park but Mulvihill somehow hung onto it until GAR filed for bankruptcy in 1996 and sold it to a resort company called Intrawest, that renovated the park, removing or remodeling the rides that were considered unsafe. The new park, known as Mountain Creek Waterpark, opened in 1998. Mulvihill and his family re-purchased the park from Intrawest in 2010, two years before he passed away in 2012. In 2014, his son, Andrew Mulvihill, changed the name back to Action Park, hoping to capitalize on nostalgia after a video about the legendary park went viral the previous year. But in 2016, the president of the Mountain Creek Resort decided to drop the name and once again change it back to Mountain Creek Waterpark as the Action Park name didn't really do anything significant in terms of the park.
Today, Mountain Creek Waterpark is more family-oriented and much safer than Action Park was. Yet, it still has some water slides and rides for thrill seekers, such as the Zero-G, the world's tallest double-looping slide that a person goes down by being sent through a trap door, and the H2-OH-NO!, that allows a person to feel the g-forces as they are sent 99 feet down to the ground.
Sources
Strauss, Michael. "So What If There's No Snow, Go Sliding Downhill Anyway." Ocala Star Banner November 05, 1976. .
Town Topics (Princeton) September 13, 1978. . 
"Brooklyn Man Drowns In Pool At Jersey Amusement Park." The New York Times August 27, 1984. .
"18-Year-Old Drowns At Amusement Park." The New York Times July 20, 1987. . 
Kraft, Randy. "Plunge, If You Dare, Into The Watery Fun At New Jersey Park." The Morning Call July 29, 1990. .
 Rice, Bill. ""Action" Fitting Name for Northern New Jersey Amusement Park." The Daily Gazette July 26, 1992. . 
Kraft, Randy. "Developer Gushing About New Mountain Creek Water Park." The Morning Call June 21, 1998.
"Blood Sport: Revisiting Traction… Er, Action, Park." Weird N.J.. Weird N.J. October 2005. , 20-24. 
Reyes, Jessica M. "Visionary' Developer Eugene Mulvihill Dies." New Jersey Herald October 31, 2012.
Petchesky, Barry. Rare Video of People Actually Riding Action Park's Infamous Water Slide. The Concourse. April 16, 2014. Accessed December 07, 2018. https://theconcourse.deadspin.com/rare-video-of-people-actually-riding-action-parks-infam-1563953390. 
Donnelly, Tim. "The Dangerous Return of the World's Most Insane Theme Park." New York Post June 28, 2014. .
Tabor, Nick. "A Brief History Of New Jersey's Deadly Action Park." New York Magazine. June 18, 2015. .
Jennings, Rob. "Vernon Waterpark Drops Nostalgic "Action Park" Name." New Jersey Herald May 27, 2016. . 
 .
Additional Information