Winston-Salem Black Panther Party Historical Marker
Introduction
Dedicated in 2012, this historical marker commemorates the Winston-Salem chapter of the Black Panther Party for Self-Defense. The local chapter of the Panthers was established in 1969 by Larry Little and Nelson Malloy for two purposes: confronting racism and meeting the needs of the poorest in the Winston-Salem community. The Panthers were established and grew nationally as a reaction to police brutality against African Americans and disparities in public funding for social services. The Winston-Salem Chapter offered many community service programs that connected seniors with needed medical services as well as free breakfast programs for children similar to the Panthers in other cities.
Images
The marker was dedicated in 2012. Photo By Michael C. Wilcox, October 20, 2016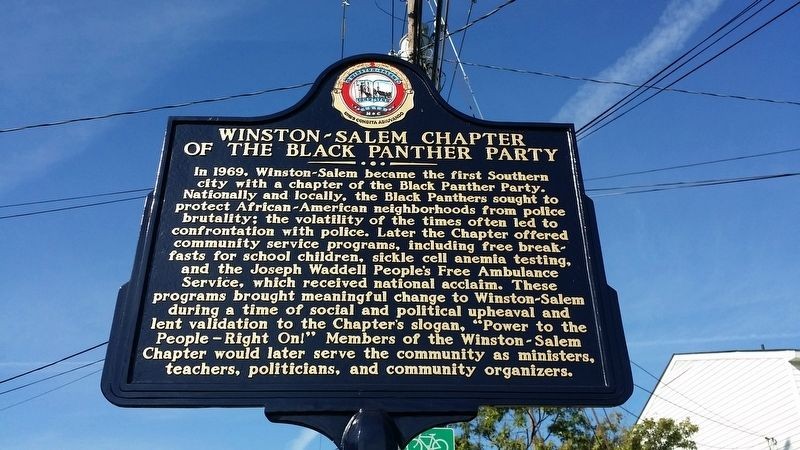 Backstory and Context
The Black Panther Party for Self Defense was established by Huey Newton and Bobby Seale in Oakland as a means of protection against police brutality. The first chapter was located in West Oakland, California on October 15, 1966. The Black Panther Party tried to set itself apart from other African American organizations of the time by taking a more militant stance against those who discriminated against African Americans.
As the party grew and began to offer more social services, they faced an increasingly hostile reaction by many white politicians. The Panthers attracted the ire of conservative white politicians as their views became more Marxist, but the greatest opposition came when the Panthers exercised open carry of firearms and announced their goal became to arm all African American in the United States.
The first Black Panther Party in North Carolina was formed when Larry Little created a local chapter in Winston-Salem at the age of 19. Little traveled to California and was trained as a leader in the growing Black Panther Party. After his return to North Carolina, Little recruited members, with many recruits coming from local universities.
The Winston-Salem Chapter recorded instances of police brutality and created several community service programs. The most famous of these programs in Winston-Salem was Joseph Waddell People's Free Ambulance Service. This medical transport service was named after a Panther killed in prison by his captors. Other services offered were free breakfasts for school children, giving away clothes to those in need, spraying homes for pest control, screening for sickle cell anemia, and registering people to vote.
Sources
1. Duncan, Garrett Albert. "Black Panther Party." Encyclopædia Britannica, Encyclopædia Britannica, Inc., 21 Aug. 2018, www.britannica.com/topic/Black-Panther-Party.

2. Davis, Joshua Clark. "The Black Panther Party of the South: An Interview with Larry Little." AAIHS, www.aaihs.org/the-Black-panther-party-of-the-south-an-interview-with-larry-little/.

3. Historic Marker Program. Winston-Salem Chapter of Black Panther Party. Winston-Salem Chapter of Black Panther Party. Forsyth County Historic Resources Commission
Additional Information