Wilkes-Barre Station
Introduction
This historic train station was built in 1868 by the Central Railroad of New Jersey. Not only was the station important for its passenger service, the railroad directed its coal freight operations from its offices here. The station was designed in the Victorian style, featuring a cupola and numerous ornate embellishments. Unfortunately, since it officially closed in 1972 (passenger service ended in 1963), the station has fallen into disrepair. Despite its poor state, the station is listed on the National Register of Historic Places and as of the fall of 2018, its current owner is attempting to restore it.
Images
The Wilkes-Barre Station was built in 1868 and operated until 1972. It is currently undergoing renovation.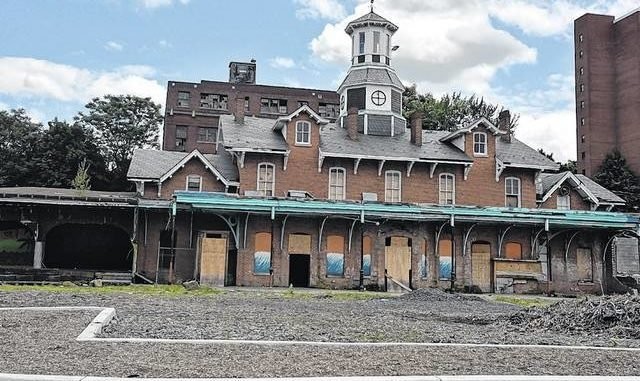 Backstory and Context
The local investor who bought the station in 2016. Renovation work has been stalled due to legal challenges from the person who owns adjacent property. Nonetheless, the developer hopes to finish renovation in 2018.

The demise of the station coincided with the decrease in demand for coal (coal mines began to close), which had historically been an economic driving force in Pennsylvania for decades. Attempts to reuse the station over the years failed to materialize, except for a time when it was a cocktail bar and a club.
Sources
Kramer, Richard. "Central Railroad of New Jersey Station." May 12, 1975. http://www.dot7.state.pa.us/CRGIS_Attachments/SiteResource/H000740_01H.pdf.

Learn-Andes, Jennifer. "Multiple suits stalling development of downtown Wilkes-Barre site."Times Leader. June 9, 2018. https://www.timesleader.com/news/707270/multiple-suits-stalling-development-of-downtown-wilkes-barre-site.

Spencer, Luke. "Wilkes-Barre Abandoned Train Station." Atlas Obscura. Accessed October 2018. https://www.atlasobscura.com/places/wilkes-barre-abandoned-train-station.

Photo: Times Leader