Schine's Wooster Theater (1912-1999)
Introduction
The Wooster Theater, originally called the Lyric Theater, was opened by Ed and Zella Mott in 1912. It featured gray-white bricks, a large lobby, faux box-seat balconies, and uniformed ushers. It became a part of the Schine's Theater chain in 1931 and was sold to the Panther chain in 1967. Henry and Chell Bishop ran the Wooster Theater in the 1970s until 1981 when high operating costs led them to close it. The theater's last showing was "The Jazz Singer." The Wooster Theater was later demolished in 1999.
Images
Schine's Wooster Theater, circa 1933.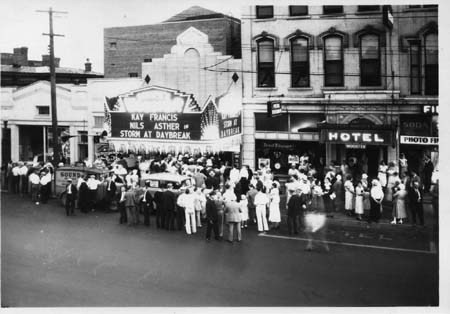 Backstory and Context
The Wooster Theater opened in 1912 as the Lyric Theater. At that time, tickets were ten cents for adults and five cents for kids, and the movies were operated by a hand crank. In 1914, the theater had to close temporarily as a result of a scarlet fever outbreak. Three years later, the 300-seat theater was renovated to fit 700 seats. The theater closed again due to the flu epidemic in 1918. The Lyric became Schine's Wooster Theater in 1931 after it became associated with the Schine's Theater chain and was remodeled to include 1,100 seats.
In 1967, the theater's owner, Ed Mott, sold it to the Panther chain of theaters. Locals Henry and Chell Bishop bought and renovated the Wooster Theater in the 1970s and kept it open until operating costs forced them to close it in 1981. From 1982 to 1988, the building was used as the Theatrical Lounge nightclub, which eventually went bankrupt. The structure was then left vacant until it was demolished in 1999.
Sources
Flickering Memories Of Wooster Theater. The Daily Record. February 23, 1999. Accessed October 08, 2018. https://www.the-daily-record.com/article/19990223/NEWS/302239979.

Schine's Wooster Theater. Cinema Treasures. Accessed October 08, 2018. http://cinematreasures.org/theaters/1172. Photo source.


Additional Information