United States Customshouse
Introduction
Built between 1855 and 1857, the U.S. Customshouse has been home to numerous federal offices for a century and a half. When erected, with the purpose to function as a customs house coincided with Providence's emergence as the financial and trade hub for the state. Even as the economy changed to one based on industry and manufacturing, Providence remained vital to the economy because banks, insurance companies, and other financial institutions -- as well as the customs house -- supported the industry that developed throughout the state.
Images
1868 Photo of the U.S. Customshouse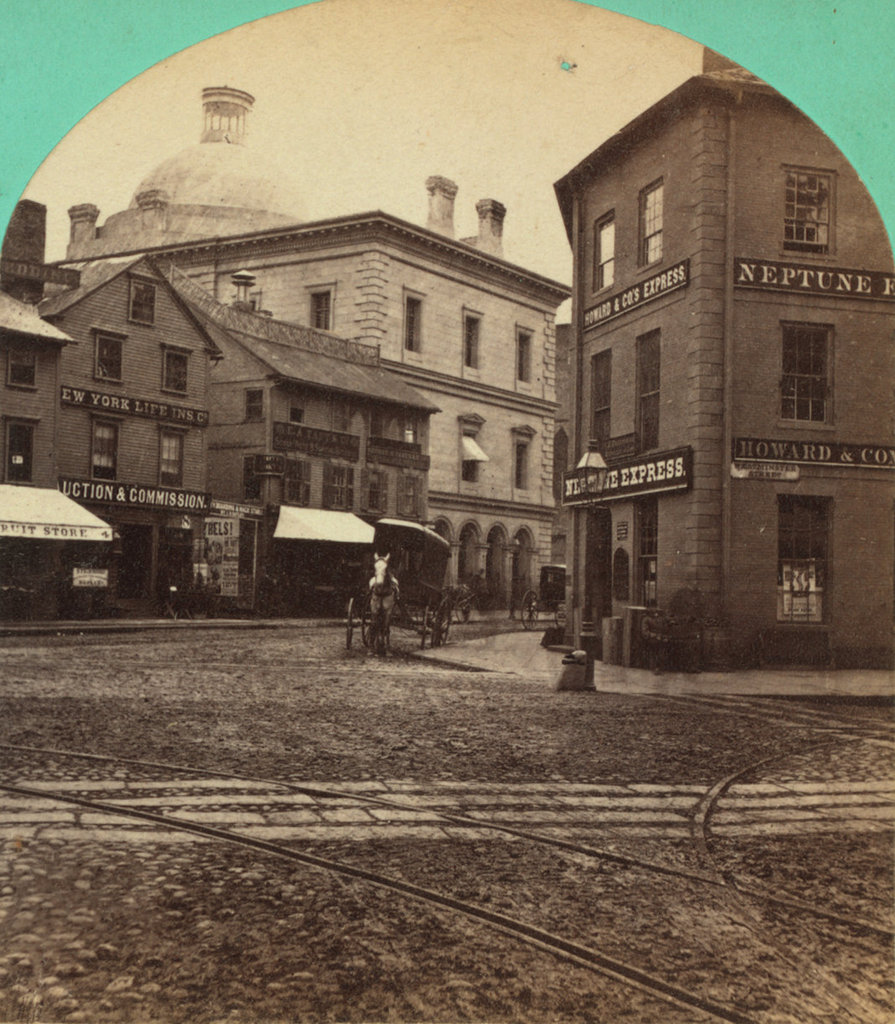 2016 Photo of the U.S. Customshouse, now dwarfed by taller buildings.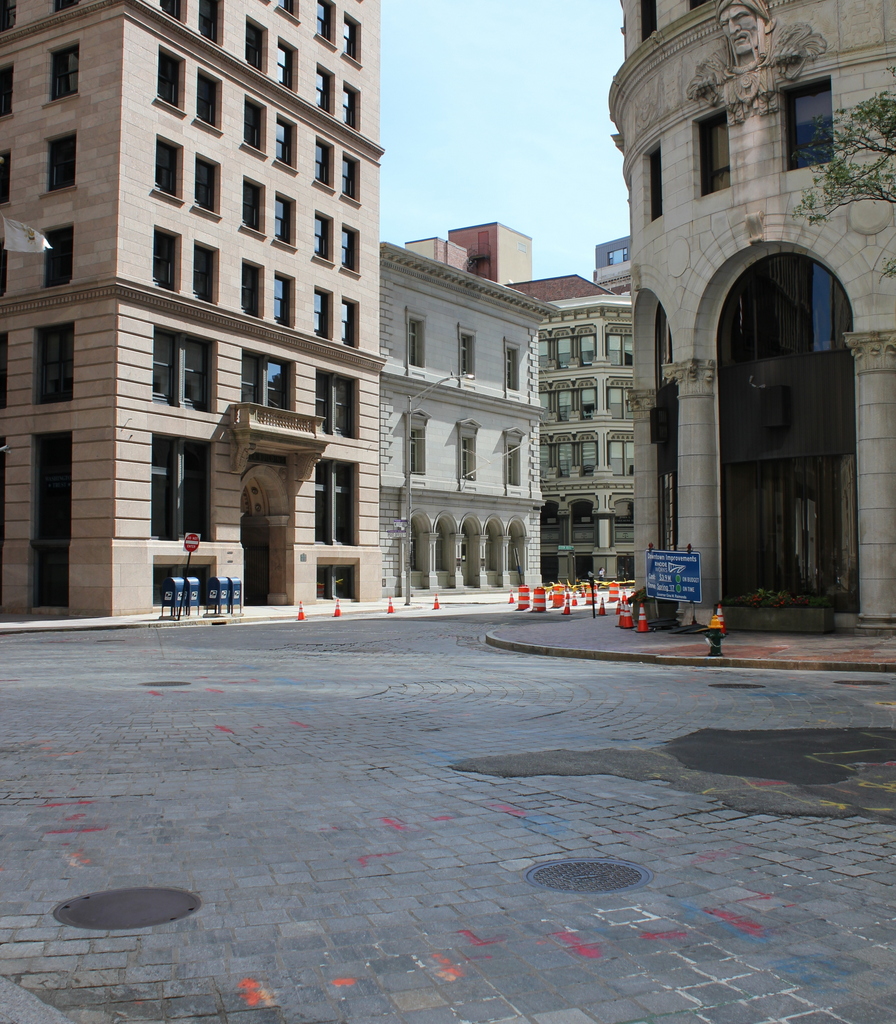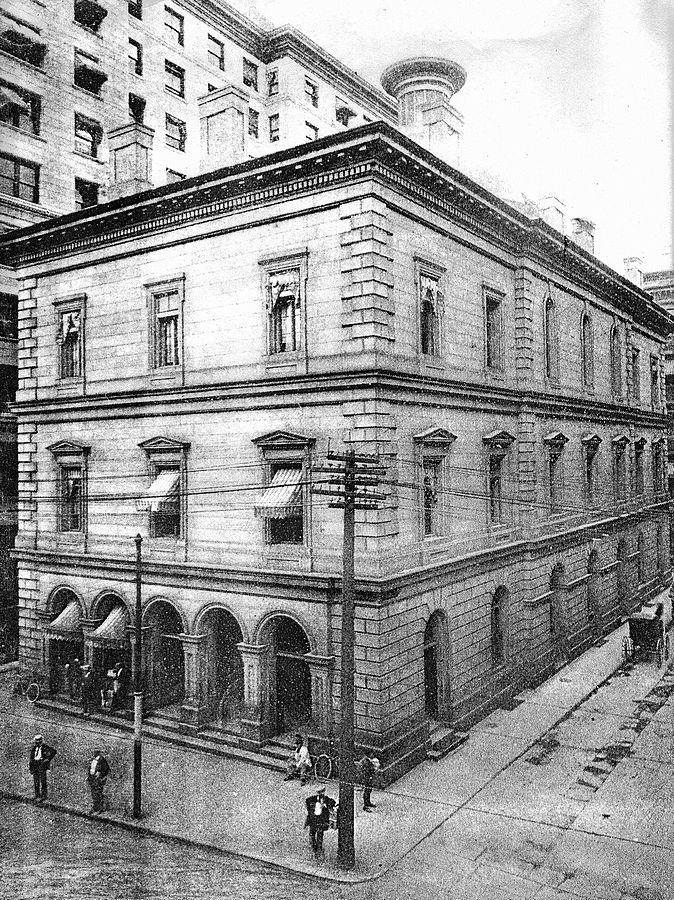 2007 Photo of the U.S. Customshouse, with the dome top visible.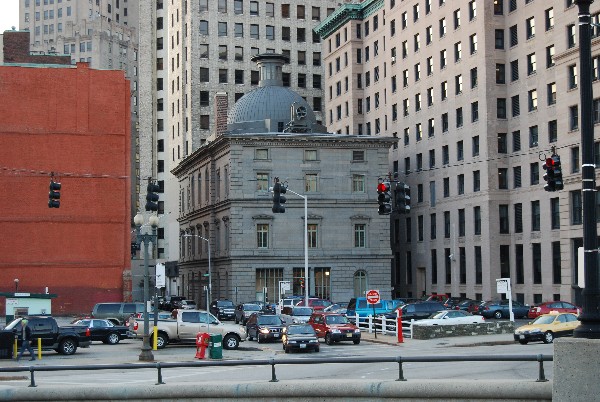 Backstory and Context
The United States Customshouse in Providence Historic District symbolizes the period of local history where the city was becoming the economic hub of Rhode Island, mostly because of its success regarding In maritime commerce, which proved to be the primary factor in Rhode Island's financial prosperity during the eighteenth century.
Although industrialism supplanted trade as the principal economic driver in Rhode Island during the nineteenth century, the port of Providence remained a vital transportation center. Providence trade centers received and raw materials brought into the city and prepared manufactured goods earmarked for trade to locations outside Rhode Island. Furthermore, although Rhode Island's nineteenth-century industrial activity was distributed throughout the state, the epicenter remained in Providence because banks, law firms, insurance companies, brokers, warehouses, and utilities operated in the city. In other words, the money flowed through Providence, no matter what drove the economy.
Thus, the Customshouse represents an era when urbanization and a centralized downtown proved significant to an economy, be it for the city or an entire state or region.
The Customshouse opened its doors in 1857, designed by Amrni B. Young who worked from 1852 to 1862 as the first Supervising Architect of the United States Treasury Department. The bold, granite building rose three stories high, and it was placed in a part of Providence that allowed it exists prominently among other structures. In addition to housing the offices of the Collector of Customs, the building also served as home to Steamboat Inspector, functioned as the city's main post office and was home to the District Attorney, a federal courtroom and (in later years) the Internal Revenue Service.
The completion of a much larger Federal Building in 1909 resulted in the Customshouse sitting vacant until 1921 when the U.S. Customs office and other federal agencies needing additional space returned. The Federal Government occupied the building until 1989. Extensive renovations to the building took place roughly from 1990-1992. When the renovations were completed, the state re-opened the building as the John E. Fogarty Judicial Complex.
Sources
Chase, David. "Nomination Form: Custom House Historic District." National Register of Historic Places. January, 1975. http://www.preservation.ri.gov/pdfs_zips_downloads/national_pdfs/providence/prov_custom-house-hd.pdf

Harrington, Richard B. "Nomination Form: Customs House." National Register of Historic Places. August 23, 1971. http://www.preservation.ri.gov/pdfs_zips_downloads/national_pdfs/providence/prov_weybosset-street-24_us-customs-house.pdf

Photo Sources

1868 Photo of the U.S. Customshouse, via the New York Public Library and located at "Lost New England," http://lostnewengland.com/tag/ammi-b-young/.

2016 Photo of the U.S. Customshouse, now dwarfed by taller buildings located at "Lost New England," http://lostnewengland.com/tag/ammi-b-young/.

1901 Photo: By U, S. Treasury Department, Washington, DC - A History of Public Buildings under the control of the Treasury Department. Published 1901 by United States. Dept. of the Treasury., Public Domain, https://commons.wikimedia.org/w/index.php?curid=44811162

2007 Photo of the U.S. Customshouse, with the dome top visible: By Marcbela - Own work, Public Domain, https://commons.wikimedia.org/w/index.php?curid=4405434
Additional Information