Wendell Phillips Statue
Introduction
This is an eight-foot bronze statue of Wendell Phillips, an abolitionist who lived from 1811-1884. He was moved to the cause by one of the most famous abolitionists in US history, William Lloyd Garrison. Phillips was also one of the first women's rights activists, having championed the cause of property rights for women in 1846. He is memorialized by an 8-foot bronze statue in the Boston Public Gardens that was crafted by Daniel Chester French in 1915.
Images
The Wendell Phillips Statue during summertime in the Boston Public Gardens.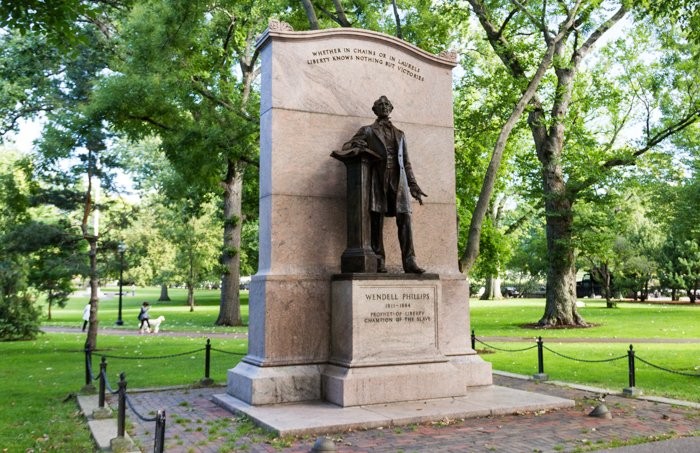 Inscribed on the statue are his famous words "Whether in chains or laurels liberty knows nothing but victories".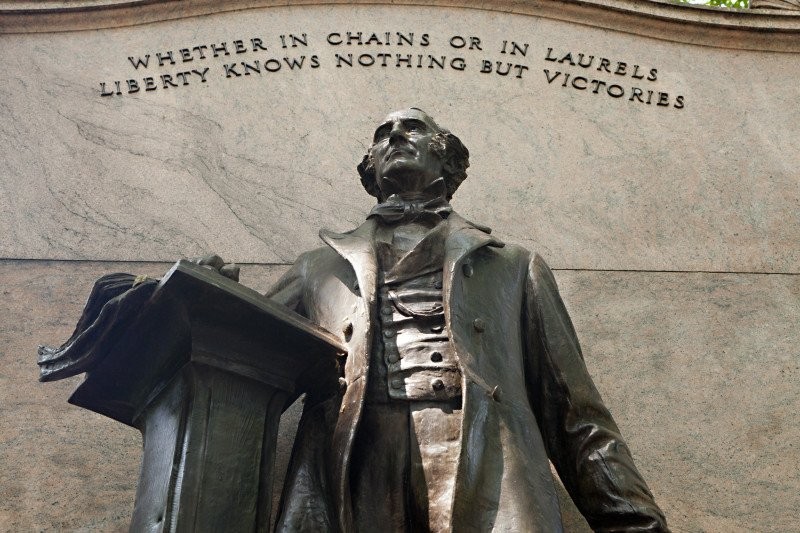 Backstory and Context
Wendell Phillips was a Boston native, born on November 29, 1811. His father, John Phillips, was the first mayor of Boston and thus Wendell Phillips grew up in a wealthy family. He graduated from Harvard Law and opened his own law practice.

Phillips did not become an activist for many years. After graduation, Phillips took the bar exam and began a law practice. As an attorney, he was fairly successful. During the time he was getting his practice off of the ground, William Lloyd Garrison was making himself known as a leader of the abolitionist movement. In 1835 Garrison spoke for the Boston Female Anti-Slavery Society but was mobbed and almost lynched in the streets of Boston. Phillips saw this violence from his office and was moved to join the abolitionist cause.

Thanks to his education at Harvard, Phillips was a skilled orator and in 1836 stopped practicing law in order to work for the American Anto-Slavery Society. His passion to end slavery was fueled by Ann Greene, who would become Phillips' wife within the year. Greene was also born and raised in Boston, but lived with her aunt and uncle after the death of both her parents. Her new guardians renounced slavery early in Greene's life, which inspired her to join the movement towards abolition. Together Greene and Phillips fought for the freedom of African Americans in the United States.

Phillips and Greene travelled abroad to the United Kingdom shortly after their marriage. When they were in London, Greene was scheduled to speak at the World Anti-Slavery Convention but was turned away along with all of the other female delegates. Enraged at the belittlement of women, Phillips gave an impassioned speech that resulted in the women's admission to the event. While he did not succeed in moving the Convention to allow his wife to speak, his was a small step in the right direction. Six years later, in 1846 when they were back in the States, Phillips made his name known again to the people of New England but this time for another reason. In this instance, Phillips declared in a local magazine the Liberator that women should have property and voting rights. He was one of the first of his time to begin the fight for women's suffrage. Phillips and his wife fought for their entire lives for suffrage and abolition. He passed away in his home from heart disease in 1884.

Phillips is remembered in a few different ways. In academic settings, Tufts University and Harvard University both have awards named after Phillips. There are also a handful of elementary schools named after him. His legacy is most famously honored by the Wendell Phillips statue in the Boston Public Garden. It was dedicated on July 4, 1915 (fitting for an American icon) and designed by Daniel Chester French, the same man who created the Lincoln Memorial. The bronze statue is poised on top of a granite base in front of a granite wall. Phillips most famous quote, "Whether in chains or in laurels, liberty knows nothing but victories" is engraved on the granite wall behind him.


Sources
"Clippix ETC: An Online Picture Service of Florida's Educational Technology Clearinghouse." Adventure 1: "A Scandal in Bohemia" | The Adventures of Sherlock Holmes | Sir Arthur Conan Doyle | Lit2Go ETC, etc.usf.edu/clippix/picture/close-up-of-the-wendell-phillips-statue-at-the-boston-public-garden.html.

"Wendell Phillips." YourDictionary, n.d. Web. 09 November 2018. <http://biography.yourdictionary.com/wendell-phillips>.

"Wendell Phillips." Wikiwand, Wikipedia, www.wikiwand.com/en/Wendell_Phillips.
Mamie. Ann Terry Greene Phillips. Phillips DNA Project. December 13, 2010. Accessed November 29, 2018. https://phillipsdnaproject.com/forum/15-obituaries/105-ann-terry-greene-phillips-w-o-wendell-phillips.

Mamie. Ann Terry Greene Phillips. Phillips DNA Project. December 13, 2010. Accessed November 29, 2018. https://phillipsdnaproject.com/forum/15-obituaries/105-ann-terry-greene-phillips-w-o-wendell-phillips.


Additional Information