Jay Pritzker Pavilion
Introduction
Jay Pritzker Pavilion in Millennium Park opened in 2004 and is home to the Grant Park Music Festival and many other events throughout the year. The pavilion includes seating for four thousand with a capacity of another 7,000 in the lawn section. The stage of the pavilion is made up of complete stainless steel and also holds a loading dock and backstage facilities. The Jay Pritzker Pavilion is known to be the home of the Grant Park Symphony Orchestra and the Grant Park Music Festival. Chicago Park District and the Chicago Department of Cultural Affairs presents this festival every year.
Images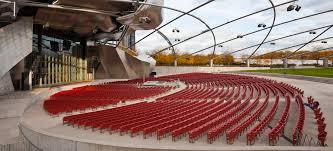 view of the top of The Jay Pritzker Paviliov
Night life at the pavilion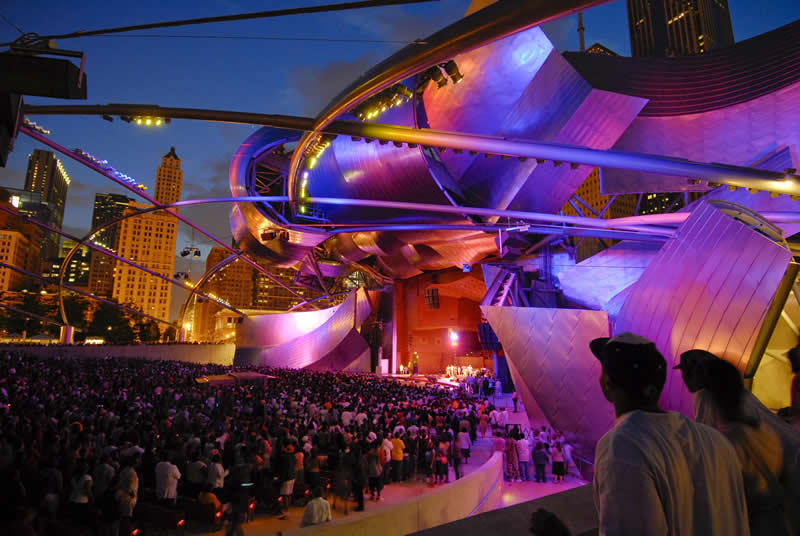 Backstory and Context
The pavilion was named in honor of Hyatt hotel owner Jay Pritzker who contributed to the construction of this facility. Despite the donation, many residents opposed the naming of the facility because it replaced a previous bandshell that had been named in honor of labor leader James Petrillo. The Petrillo Music Shell had a long tradition of offering free performances, a tradition that has encouraged the city to offer many free events at the Jay Pritzker Pavillion.
The pavilion was designed by Frank Gehry and is classified as a work of art in order to get around the city's height restrictions for structures within Grant Park. The pavilion was redesigned several times as part of the effort to demonstrate that it was more of a work of art than a building. This redesign led to a budget increase and new features to the layout that caused the pavilion to be finished four years behind schedule and opened July 16, 2004, with a celebration that filled the park and was attended by hundreds of thousands of Chicagoans.
The pavilion is known for acoustics that come close to the sound of an indoor theater and is home to the Grant Park Orchestra and Chorus and home to special events throughout the year. To celebrate the new pavilion, tickets were free for all concerts held in the pavilion's first year. This lasted until Tori Amos held the first rock concert here; August 31, 2005. The pavilion is located next to Harris Theater, an indoor theater that is mostly underground within the park.

Sources
"Cultural Affairs and Special Events." City of Chicago :: Chicago Blues Festival, www.cityofchicago.org/city/en/depts/dca/supp_info/millennium_park_-jaypritzkerpavilionfactsandfigures.html.
"Jay Pritzker Pavilion." Millennium Park Foundation, millenniumparkfoundation.org/art-architecture/pritzker-pavilion/.
"Jay Pritzker Pavilion." Enjoy Illinois, www.enjoyillinois.com/explore/listing/jay-pritzker-pavilion-1.
Additional Information