Griffith & Feil
Introduction
Griffith & Feil is a historic pharmacy and soda fountain in Kenova, West Virginia. It is one of the oldest continuing businesses in town. The pharmacy was established in 1892 and has been in its current location since 1914. After a lengthy restoration Griffith & Feil has been returned to its classic soda fountain appearance. It remains owned and operated by the Griffith family. Enjoy a stroll into older days and take in some of the area's history depicted within the store for an interesting and fun time.
Images
The outside of Griffith & Feil.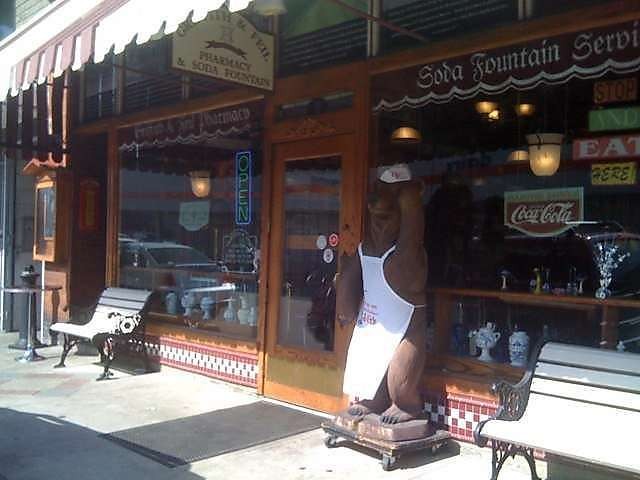 Here you can see the soda fountain and inside of Griffith & Feil.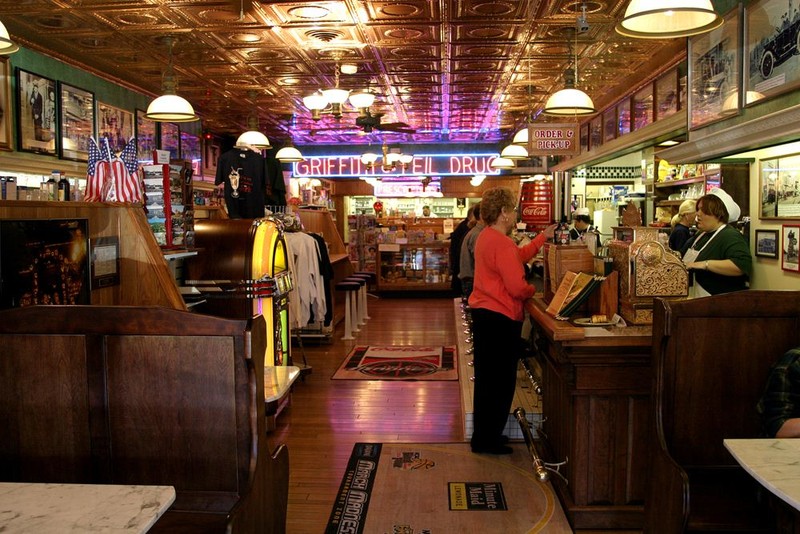 Here you can see the counter and up along the wall you can see pictures of events from our local history.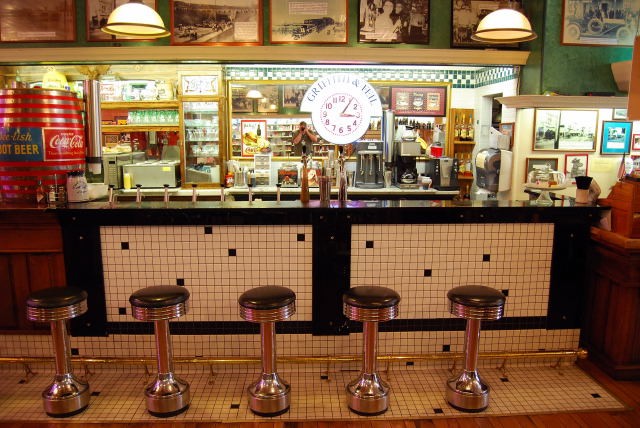 A postcard of the Glenwood Hotel on Chestnut St. from the R. Ney Williams Drugstore. The original drugstore can be seen on the right attatched to the building. Courtesy of the Kenova Historical Commission.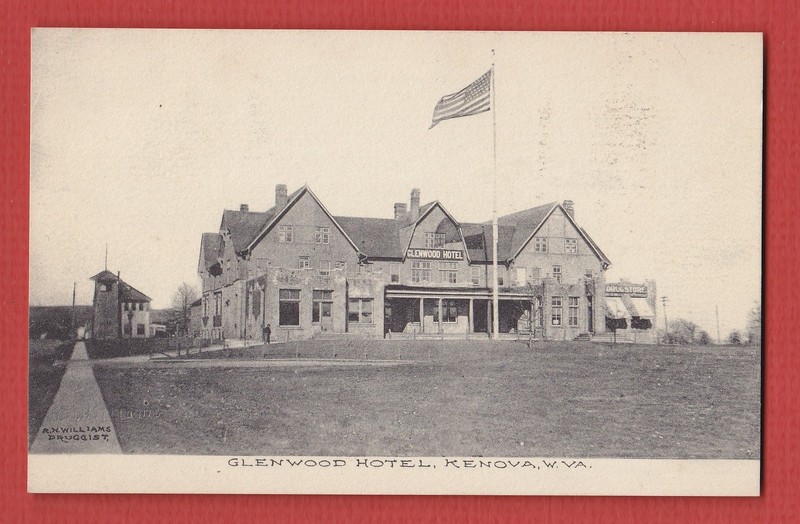 Backstory and Context
Carbonated water, known as soda, began being offered in drugstores in the 1800s because it was believed to have medicinal properties including curing headaches and stomachaches. As soda moved from being considered a medication to a recreational drink, the pharmacies began offering food as well. Popularity of these businesses skyrocketed in the first half of the twentieth century, especially following Prohibition in the 1920s. They served a variety of new beverages such as milkshakes, egg creams, malts, and many flavors of sodas. Soda fountains sprang up in nearly every neighborhood and became popular social centers. They began to decline in popularity towards the end of the 1950s, and today very few original soda fountains remain in business.
Griffith & Feil began as the R. Ney Williams Drugstore in 1892. Williams was a pharmacist from Blacksburg, Virginia who came to capitalize on the N&W Railroad's construction of Kenova and the potential business it presented. For several years he operated his pharmacy out of the Glenwood Hotel on Chestnut Street. In 1914 he moved to a new building just across the street, where it remains today. In the 1930's Simpson Griffith, his nephew Dick Griffith, and Glen Feil joined Williams in running the pharmacy together. In 1943 Williams passed away and ownership fell to Dick and Glen. Around 1953 the pharmacy was officially renamed to Griffith & Feil. In 1959 Dick Griffith had the pharmacy's soda fountain removed due to its decline in popularity.
In 2001 Dick Griffith's son Ric Griffith began a lengthy project to restore the pharmacy back to its classic 1920s appearance. He and his wife Sandi installed copper fixtures, period lighting, and new floor tiles. The original tin ceiling was refurbished, and the bathroom was remodeled to look vintage. The most significant addition was the reintroduction of the soda fountain. Griffith and Sandi searched throughout four different states seeking an authentic soda fountain to be reinstated in the restaurant. Finally in 2004 they were able to acquire a 1929 soda fountain from nearby Huntington. Today Griffith & Feil remains owned and operated by the Griffith family. The business is decorated with antiques, a jukebox, and pictures of Kenova's history, such as the 1937 flood. The soda fountain offers a variety of food including burgers, sandwiches, and salads as well as classics such as ice cream, milkshakes, malts, and phosphates. Griffith & Feil also continues to sell pharmaceutical products and fill prescription drugs.
Sources
Casto, James E. "The Charm of Ceredo-Kenova." Huntington Quarterly, Summer 2008.

Counts, Leslie. "Griffith and Feil continues family drug store tradition." The Herald-Dispatch, July 27, 2008. Accessed February 23, 2017.


"Griffith & Feil Soda Fountain, Kenova, WV." Griffith & Feil Soda Fountain, Kenova, WV. Chopped Onion, 2009. Web. 04 Dec. 2014.
"Griffith And Feil Pharmacy." WCHS. WCHS-TV8, 27 Aug. 2014. Web. 04 Dec. 2014.
Sebert, Paul. "Griffith & Feil a Kenova mainstay." The Herald-Dispatch, January 02, 2013. Accessed February 23, 2017.
Additional Information