The New Public House
Introduction
Formerly known as the Sunshine Inn, The New Public House has been catering to Blowing Rock tourists since the Great Depression. In response to the emergence of luxury resort Victorian hotels like the Green Park Inn and Mayview Manor, local merchant William Holshouser constructed the Sunshine Inn. His daughter, Ethel Burns, soon took over for her father. Insistent on not charging "fabulous prices," she maintained William's vision until she retired in 1969. By offering a modest accommodation option, the Sunshine Inn provided an opportunity for the traveler of moderate means to seek a summer community in the North Carolina mountains. As of 2013, 239 Sunset Drive has been operating as The New Public House, offering a restaurant, bar, and a boutique hotel.
Images
Using local materials, the aesthetic of the Sunshine Inn blends with the vegetation, similar to other buildings in Blowing Rock at the time. Photo credit: Blowing Rock Revisited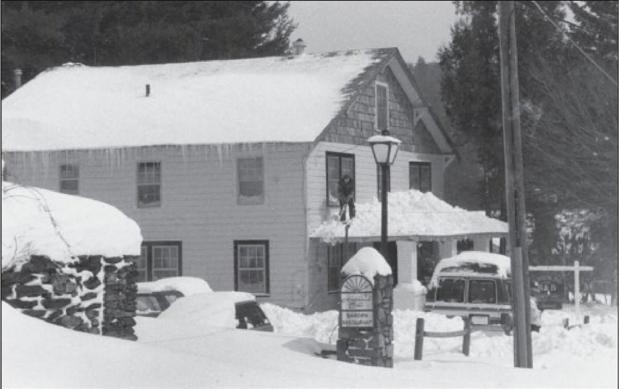 The front porch showcases original brick pillars, front door with sidelights, and flagstone flooring. Photo credit: Jesse Wood, HCPress.com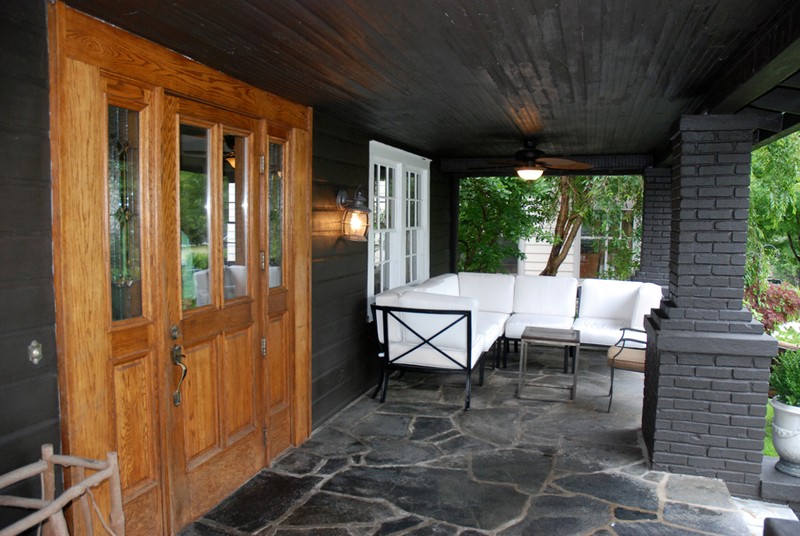 The New Public House exterior. Photo credit: The New Public House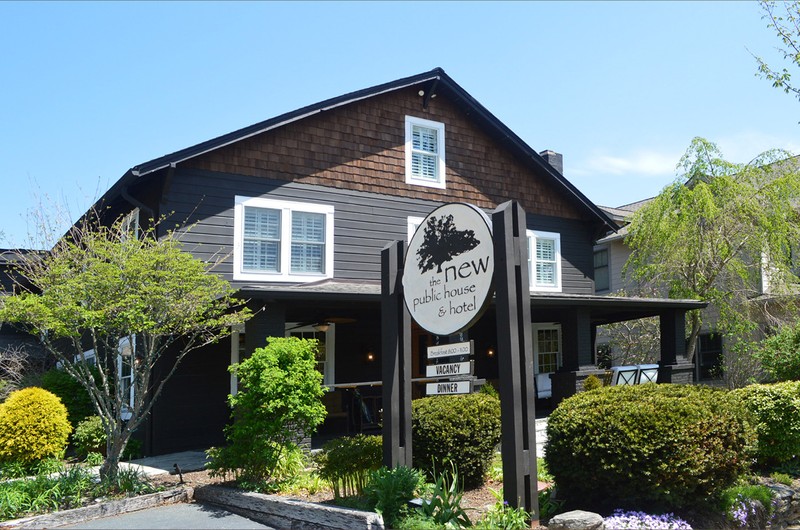 Backstory and Context
The New Public House & Hotel, named for traditional pubs of the past and after the New River, is a gathering place not only for Blowing Rock visitors, but also for the community.1 Since construction, the building has retained its original function as both a restaurant and an inn. When Ethel Burns retired, she sold the property to Kathryn Lawrence who later sold it to Sue and Jim Byrne.2 It remained the Sunshine Inn until 1994 when Jimmy Crippen bought the building from the Byrnes and renamed it Crippen's Country Inn and Restaurant.3 In 2013 it was purchased by Cobb and Cindy Milner who renovated the building and renamed it The New Public House.4

Sources vary as to the date of completion, but construction likely began in 1928.5 Blowing Rock saw a tourism boom in the 1930s due to the construction of the Blue Ridge Parkway, the development of local tourist attraction "The Blowing Rock," and promotion of the area by both the neighboring town of Boone and the town of Blowing Rock.6 Anticipating an influx of visitors with the Parkway's completion, town improvements included resurfacing Sunset Drive, Sunshine Inn's street, with crushed stone.6 Completed no later than 1931 by local Blowing Rock merchant William L. Holshouser, the Sunshine Inn was built in the bungalow style, complete with German siding, fieldstone, and brick pillars framing the front porch entrance.7

Ethel Burns, Holshouser's daughter, recalls in a 1975 interview that her life always involved the "summer people." Before the influx of local hotels and boarding houses, she often slept on the floor when her family offered her room to a tourist. Her father later decided to build an inn that would provide "summer residents" of more moderate means with an accommodation option so they could enjoy the famous climate and scenery. Ethel officially came into the tourist business in 1929 when she began work at the Sunshine Inn, a career that lasted forty years. Holding to these principles passed down to her by her father, Ethel kept her prices down despite the increase at neighboring establishments.8

Most visitors came in July and August and stayed for at least two weeks. For $15 per week, visitors were provided with a room, shared bathroom, and three full meals a day. Famous for the "family style" dining with one long table and shared platters of meats and vegetables, the Sunshine Inn did not provide a menu but simply put food out so the guests could help themselves to all they could eat. The large kitchen did not have cabinets for storage, they never used canned food, and they killed and dressed their own chickens. At the time, there was no organized entertainment in Blowing Rock. Visitors enjoyed their days by walking and taking hikes. On rainy days the visitors could be found in conversation, playing parlor games, and dancing. Having created a summer family home, the same visitors returned year after year.8

The Sunshine Inn offered employment to the local community. For thirty years the same couple cooked in the kitchen throughout the summer season while living in an adjacent room. For $5 a week, local girls would serve as waitresses and assisted with extra work including cleaning the rooms. Ethel was no stranger to hard work and remembers cooking, cleaning, and serving tables, in addition to managing her staff. In the long off-season, she and her husband, Jesse, worked on projects such as painting and repairs. They did not keep books, had no cash register, and only advertised by word of mouth.8

Notably, Ethel and Jesse's son, Jerry Burns, became a local figure. Jerry was responsible for the local newspaper, the Blowing Rocket. For 44 years, Jerry served as the editor, chief writer, and photographer.9 The Blowing Rock Art and History Museum exhibited several of his newspaper photographs in their exhibit "Jerry Burns: Through the Lens," celebrating the man known as "Mr. Blowing Rock" and "Mr. Sunshine" as a community symbol of the ideal Blowing Rock citizen.10 Every year the Blowing Rock Historical Society celebrates Jerry Burns Day in June by inviting a descendent of a local Blowing Rock family to recount stories from their family and upbringing.11 The Sunshine Inn was a symbol of the good old days. The epitome of a local family business, this inn remained a stronghold of small town values and southern hospitality at a time of unprecedented expansion in Blowing Rock. It is not surprising that out of this environment developed a local hero.
Today, The New Public House offers seven unique weathered guest rooms varying in size. The hotel has upgraded from the shared bath of the Sunshine Inn era as each room now has a private bath. All guest rooms include luxurious modern amenities such as king-size beds and upscale linens. All hotel guests receive a traditional breakfast entree in the attached restaurant that also serves lunch and dinner (see hours) and has an impressive bar selection. The New Public House strives to be an inviting location for a relaxed yet flavorful dining experience complemented by "conversation, laughter, and companionship."1
Sources
1. Winch, Chelsea. The New Public House & Hotel. 2014. Accessed October 4, 2018. http://www.thenewpublichouse.com/

2. Eason, Jeff. "A Mayview Manor Mystery." BlowingRocket.com. July 30, 2015. Accessed October 13, 2018. https://www.wataugademocrat.com/blowingrocket/a-mayview-manor-mystery/article_dad31618-1114-5271-bfe8-3d6965f6aad0.html

3. "The Height of High Country Cooking." Our State Magazine. September 26, 2013. Accessed October 13, 2018. https://www.ourstate.com/the-height-of-high-country-cooking/

4. Wood, Jesse. "Familiar Faces Open The New Public House in Blowing Rock, Southern-Inspired Small Plates, Full Meals." HCPress.com. August 7, 2013. Accessed October 13, 2018. https://www.hcpress.com/business/familiar-faces-open-the-new-public-house-in-blowing-rock-southern-inspired-dishes-at-heart-of-modern-american-cuisine.html

5. "Property Records." Watauga County North Carolina. Accessed October 4, 2018. http://tax.watgov.org/WataugaNC/Datalets/Datalet.aspx?sIndex=0&idx=1

6. Margrif, Trent. Blowing Rock Revisited. Charleston, SC: Arcadia Publishing, 2015.

7. Sunshine Inn, 1989. Box 8. Folder 67. AC.112: Watauga County Historical Site Survey Records. W. L. Eury Appalachian Collection. Appalachian State University. Boone, North Carolina, USA.

8. Morgan, Pat and Burns, Ethel. "Interview with Ethel Burns [January 5, 1975]." Appalachian State University Digital Collections. Accessed October 4, 2018. http://omeka.library.appstate.edu/items/show/37317.

9. "Jerry W. Burns / 1940-2010 / Obituary." Hampton Funeral Services. Accessed October 4, 2018. http://www.hamptonfuneralnc.com/obituary/583748

10. "Past Exhibitions." Blowing Rock Art & History Museum. Accessed October 4, 2018. http://blowingrockmuseum.org/see-do/exhibitions/past-exhibitions.html/title/jerry-burns-through-the-lens

11. Rogers, David. "On Jerry Burns Day, a few Robbins (Sellers) family stories." Blowing Rock News. June 19, 2018. Accessed October 4, 2018. http://blowingrocknews.com/on-jerry-burns-day-a-few-robbins-sellers-family-stories/
Additional Information