South Boston High School (1901-1990) Excel High School
Introduction
This school opened in 1901 and was the first high school constructed in the South Boston neighborhood of Dorchester Heights. The school is best known as the epicenter of the Boston Busing Crisis of the 1970s. In response to a decision by federal judge W. Arthur Garrity who found systematic efforts to exclude African American children, students were to be bused from their neighborhoods to nearby schools in a deliberate attempt to create racial balance. The school buiding was renamed the South Boston Education Complex in 1990. Today, the historic building is home to the diverse student body of Excel High School.
Images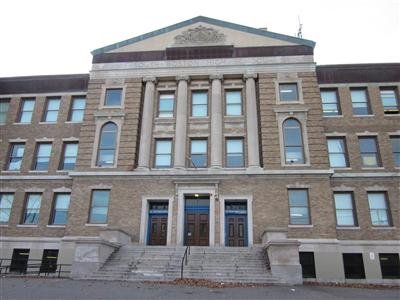 Backstory and Context
During the summer of 1974, District Court Judge W. Arthur Garrity ruled that The Boston School Committee had been systematically segregating the students of Boston by their race. This, he decided, was unconstitutional and violated the rights of Black students because it is unequal. The solution to this problem was to bus nearly 18,000 Black and white students to schools beyond the normal catchment area of their neighborhood. However, this plan did not include the suburbs of Boston as Princeton researcher Jennifer Hochschild believed it should, "the message is clear: the suburbs must be brought into the "desegregation" fantasy if that fantasy is to work at all." (Brudnoy) As a result of the absence of the suburbs in this ruling white flight happened in Boston, as wealthier white families moved out of the cities to the suburbs to escape the court ruling or sent their children to private schools if they could afford it.
Judge Garrity's ruling was not without resistance, with criticism and protest coming from all echelons of society. The superintendent of the Boston public school system made his opinion quite well known publicly. Robert R. Spillane accused Garrity of playing god with the school system and it wasn't hard to see why. Opponents of his decision claimed that because he lived in a white suburb his children would not be affected by his own ruling. A staunch member of the resistance party is a woman named Louise Day Hicks, remembered not favorably by history, as the founder of Restore Our Alienated Rights (ROAR). ROAR consisted strongly of white women who claimed they were acting as a caring mother should and that the court ruling of Garrity was infringing on their right to get the best for their children. However, by using tactics of the civil rights movement that preceded them, they made "their case for segregation in a most virulently racist and class-specific way." [Nutter]
All this discontent had to manifest somewhere and so it did. South Boston High School (SBHS) "was ground zero for anti-busing rage." [Gellerman] On the first day of school no white children attended SBHS, not for education at any rate because there were plenty of white protesters, throwing bricks at the buses that were taking the Black children to school. "People felt it was alright to attack children," said Jean McGuire. [Gellerman] The atmosphere in the school didn't improve in the months after, with racially fuelled attacks coming from both sides until the school was closed after a student was stabbed. SBHS reopened a month later with metal detectors at the doors and 500 policemen assigned to guard 400 students
Sources
Brudnoy, David. "Garrity's Busing Still Plagues Boston." Human Events, vol. 45, no. 8, 11-11. Published 23rd February 1985. ProQuest.

Nutter, Kathleen Banks. ""Militant mothers": Boston, busing, and the bicentennial of 1976." Historical Journal of Massachusetts, vol. 38, no. 2. Published 2010. Gale Academic Onefile.

Gellerman, Bruce. 'It was like a warzone': Busing in Boston. WBUR news. September 05, 2014. Accessed October 03, 2018. http://www.wbur.org/news/2014/09/05/boston-busing-anniversary.


Additional Information