Chetola
Introduction
Originally built in 1846, Chetola has served as a private getaway for most of its existence. The resort's current name dates back to 1892, when William Stringfellow, a wealthy man from Alabama, bought the property, then called Silverlake, and renamed it Chetola, a Cherokee word meaning "haven of rest." Noteworthy visitors have included North Carolina Governor Zebulon Vance, former Confederate general Matt Ransom, as well as the local Coca-Cola mogul J. Luther Snyder, who bought the property in 1926. Though Chetola was not opened to the general public until 1982, it has long held a reputation as one of Blowing Rock's finest manors.
Images
Now the Bob Timberlake Inn, this building served as the manor house and primary residence for Chetola's permanent residents.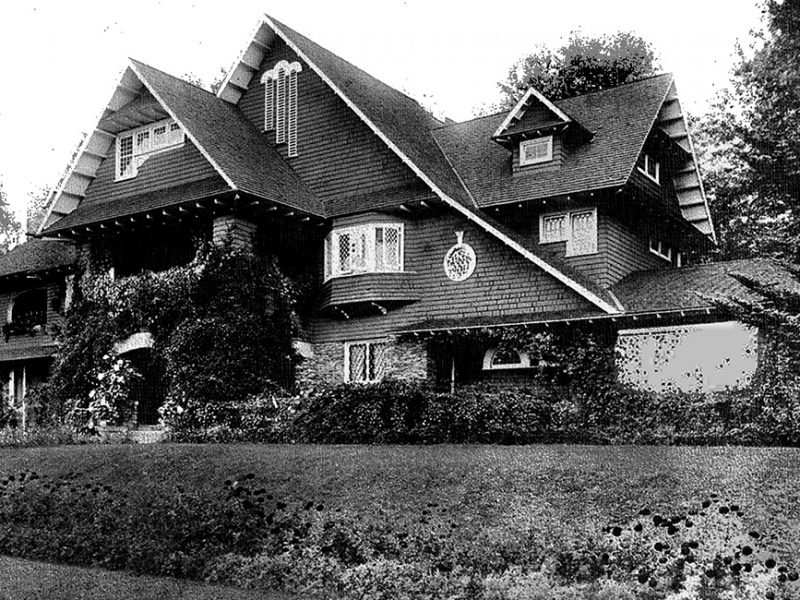 Chetola's manor house overlooking the lake served as a permanent residence, though it also was used as a boarding house by Lot Estes and some of the estate's other owners.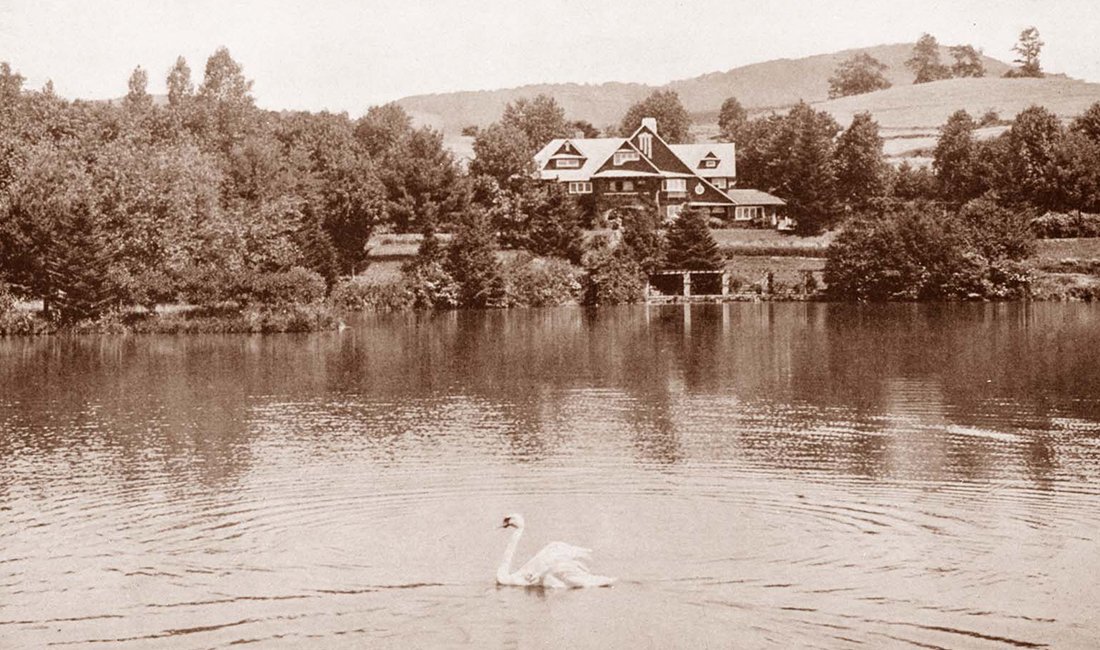 The building on the right is one of a number of buildings added as part of the 1982 expansion, which converted the private estate into a public resort.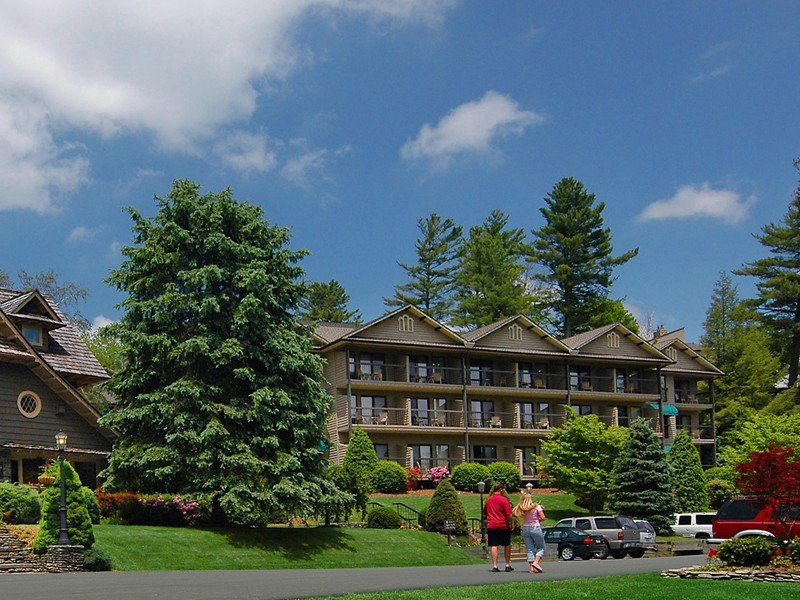 Backstory and Context
Originally a private residence owned by Lot Estes, this estate was later repurposed to serve as a boarding house. The beautiful location has changed hands a number of times, and held two different names since it was first purchased by Lot Estes for $5 in 1846. Lot Estes built a home on the property in the years following the Civil War for his family to live in.2 Though the original structure built by the lake remains visible, the building has received numerous renovations and expansions, which have been added with the intent of preserving the natural beauty of the estate as well as the historical legacy of the manor.
Chetola's history as a resort began not long after Lot Estes bought 100 acres of land, which he named Silver Lake, to build a private residence for his family. Eventually, he decided to expand and renovate the original house, adding more rooms and building cottages along the property.3 In doing so, he constructed what would become the second-largest boarding house in Blowing Rock. The estate hosted a number of prominent individuals, including Governor Zebulon Vance and Confederate general and former post-war senator Matt Ransom. The estate remained in the Estes family's possession until 1892, when William W. Stringfellow, a wealthy Alabamian with failing health, purchased it to serve as a summer home for his family in the hopes the mountain air would ease his tuberculosis.4 Stringfellow gave the property the name Chetola, which is a Cherokee word meaning "haven of rest."
He also renovated the original structure and added a number of other buildings to the estate. The original structure, which had been slightly expanded from a four-room house under Lot Estes' renovations grew to be a massive, eight-bedroom mansion. The renovations included a billiards room, a ballroom, a library, and a large kitchen with a walk-in fireplace for cooking. The new manor also became one of the first buildings in Blowing Rock to have electrical wiring and running water. The Stringfellows also made improvements to the estate property, expanding the lake and stocking it with trout, as well as building stables and servants' quarters.3
Eventually, once his health improved, Stringfellow sold the estate in 1919. Chetola changed hands several times until self-made mogul and "Coca-Cola King of the Carolinas" J. Luther Snyder purchased the property in 1926.5 Snyder made a number of lavish additions to the estate, including a bowling alley and outdoor swimming pool. By this time, the original 100 acres had been reduced to only 36. Nonetheless, Snyder and his heirs enjoyed the estate for decades, frequently throwing lavish parties for the community, before they finally sold it in 1972.1 Chetola remained a private home until 1982, when the Reynar family converted it into the Chetola Resort, which now encompasses 87 acres.
Though Chetola has changed hands many times over its long history, it has always been a place of relaxation and comfort. This historic estate has long been an important fixture in Blowing Rock, hosting a number of famous guests and prominent residents of the town. Today, the resort hosts hundreds of guests each year, both for day trips and overnight stays. In addition to the resort's hotel facilities and cottages, there are a number of attractions for day guests. Chetola hosts a number of outdoor activities for the adventurous, and offers spa packages for those in search of relaxation. The Bob Timberlake Restaurant, located in the original manor house, is also open to visitors looking to dine in style. For the hundreds of guests who visit each year, Chetola remains as it always has been: a "haven of rest."

Sources
1 "Blowing Rock Historical Markers." Blowing Rock Art & History Museum : Home. Accessed October 02, 2018. http://blowingrockmuseum.org/see-do/blowing-rock-historical-marker-program.html.

2 "Chetola's History." Chetola Resort at Blowing Rock. Accessed October 01, 2018. https://chetola.com/chetolas-history/.

3 Buxton, Barry M. A Village Tapestry: The History of Blowing Rock. Boone, NC: Appalachian State University, 2017.

4 Asheville Daily Citizen. (Asheville, N.C.), 08 Sept. 1892. Chronicling America: Historic American Newspapers. Library of Congress <http://chroniclingamerica.loc.gov/lccn/sn91068076/1892-09-08/ed-1/seq-2/>

5 Hardy, Michael C. A Short History of Old Watauga County. Boone, NC: Parkway Publishers, 2005.

6. "Photos & Videos." Chetola Resort at Blowing Rock. Accessed October 03, 2018. https://chetola.com/photos-videos/.

Additional Information