Berkley Square
Introduction
Berkley Square, located in what was at the time the far northern side of the Las Vegas metropolitan area, is a cluster of ranch-style homes built and designed by world-renowned African American architect Paul R. Williams. The first group of homes in this neighborhood was were constructed between the years of 1954 and 1955. The housing development marked the first Black-owned subdivision in the state and provided homes to many of the Black families who had moved to the city during the boom years of the late 1940s and 1950s. The neighborhood expanded and the name of the community is derived from the financier, Thomas L. Berkley, a very influential African American attorney and business leader in Oakland who was also a leading voice for civil rights. Berkley Square was added to the National Register of Historic Places in 2009.
Images
Thanks to the FHA and Black business and community leaders, African American families were able to purchase homes in this area in the 1950s. Image from the Nevada State Historic Preservation Office.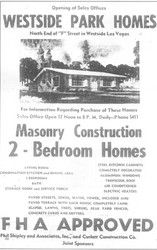 Backstory and Context
The African American population of Las Vegas was small prior to the growth of the city as a tourist destination in the 1940s and 1950s. With the housing market boom in the late 40's and the early 50's, Black families came to the city in larger numbers but were unable to find housing beyond the segregated neighborhoods on the city's west side. In an era of intense residential segregation, this residential neighborhood was one of the few places where Black families could find decent homes. Most of the city's African American residents prior to this time had no option other than the overpriced and often dilapidated housing on the city's west side. Thanks to the Federal Housing Administration's planning and the efforts of Black entrepreneurs, architects, and builders, this neighborhood grew quickly in the 1950s.
Sources
Berkley Square, Las Vegas, Nevada. National Park Service. Accessed January 21, 2018. https://www.nps.gov/nr/feature/afam/2011/Berkley_Square.htm.


Additional Information