Columbus RiverWalk
Introduction
The Columbus RiverWalk is a staple to the city of Columbus. There are many sites to explore along the RiverWalk. As you peruse around you will see many different things such as Battle Sites, Museums, Old Mills, and so much more! You can hang out on Cutbait island and watch people raft or you can go out and raft yourself. Since built-in 1992, the RiverWalk has expanded North and South, any day you will come out and see many people biking, running, walking, fishing, etc. It's a place that will keep you coming back for more, whether it be the historical features, the water features, or nature in general.
Images
This is the gate on the south side of the RiverWalk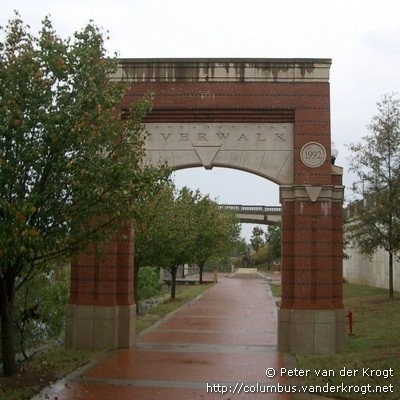 This fountain bench combo was given to the people of Columbus, Georgia from their sister city, Kiryu, Japan, during the 1992 quincentennial celebration.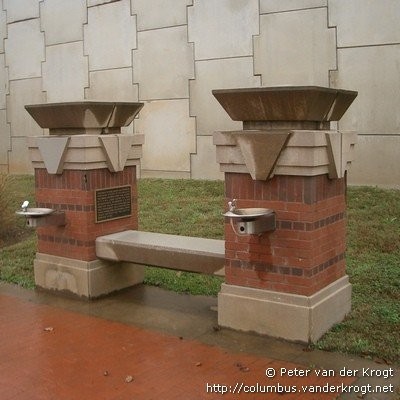 Backstory and Context
The Columbus RiverWalk or the Chattahoochee RiverWalk is a 22-mile walking and biking area along the Chattahoochee River in Columbus, Georgia. Construction began for this project in 1989. The first phase was completed on October 12, 1992, which was, in fact, Columbus Day! Just south of the Dillingham Street Bridge you will find a cluster of four statues. These are all depictions of Christopher Columbus in different stages of his life. The four phases that are being displayed are Vision, Persuasion, Discovery, and Chains. Now after closely examining the statue you will see that each one is posed to represent those different stages. Now although this statue was placed when the first phase of the RiverWalk was completed it was not until the following year that the statue had been dedicated.

The second phase of the RiverWalk expanded the walk from the Columbus Convention and Trade Center in Downtown to Oxbow Meadows in South Columbus. Shortly before the city expanded the North end of the walk it was extended to Fort Benning where the Infantry Center is located.

The third phase dealt with the stretch from the TSYS building to the Bibb Mill.

The fourth and final phase extended the RiverWalk from Bibb Mill to the Lake Oliver Dam. Construction began in 2009 to connect the RiverWalk from the 14th Street bridge to the piece at Eagle & Phenix Dam. This section opened in early 2011 and has since been open for all to enjoy.

Along the RiverWalk there are 11 designated access points, some which include Woodruff Park, Eagle and Phenix Mills, etc.





Sources
1. Christopher Columbus - Columbus, GA, USA - Statues of Historic Figures. Waymarking.com. December 03, 2010. Accessed October 24, 2018. http://www.waymarking.com/waymarks/WMA8N9_Christopher_Columbus_Columbus_GA_USA.

2. Accessed October 24, 2018. http://vanderkrogt.net/statues/object.php?webpage=CO&record=usga01.

3. Accessed October 24, 2018. https://visitcolumbusga.com/visit/things-to-do/chattahoochee_riverwalk.

4 Accessed October 24, 2018. https://parks.columbusga.gov/parks/Riverwalk.

5. Accessed October 24, 2018. http://www.waymarking.com/waymarks/WMA8N9_Christopher_Columbus_Columbus_GA_USA.

6.


Additional Information