Berry Hill Plantation
Introduction
Berry Hill Plantation, was once one of Virginia's largest and most productive plantations. Built utilizing slave labor, it's main house was completed in 1842, and is one of the South's most famous examples of Greek Revival Architecture. Berry Hill plantation also has one of the largest slave cemeteries in Virginia with over 200 grave-sites, each with an individual headstone/foot-stone. Berry Hill is now an award winning resort, spa, and conference center.
Images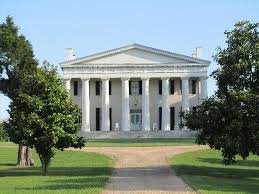 Berry Hill slave quarters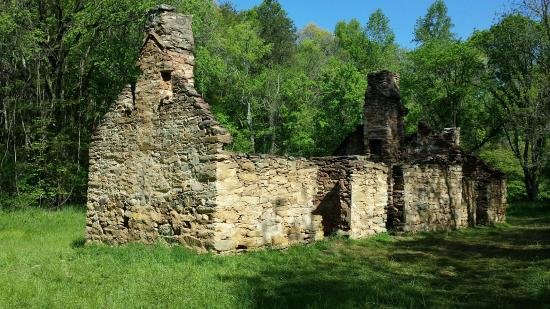 floating staircase designed by Thomas Day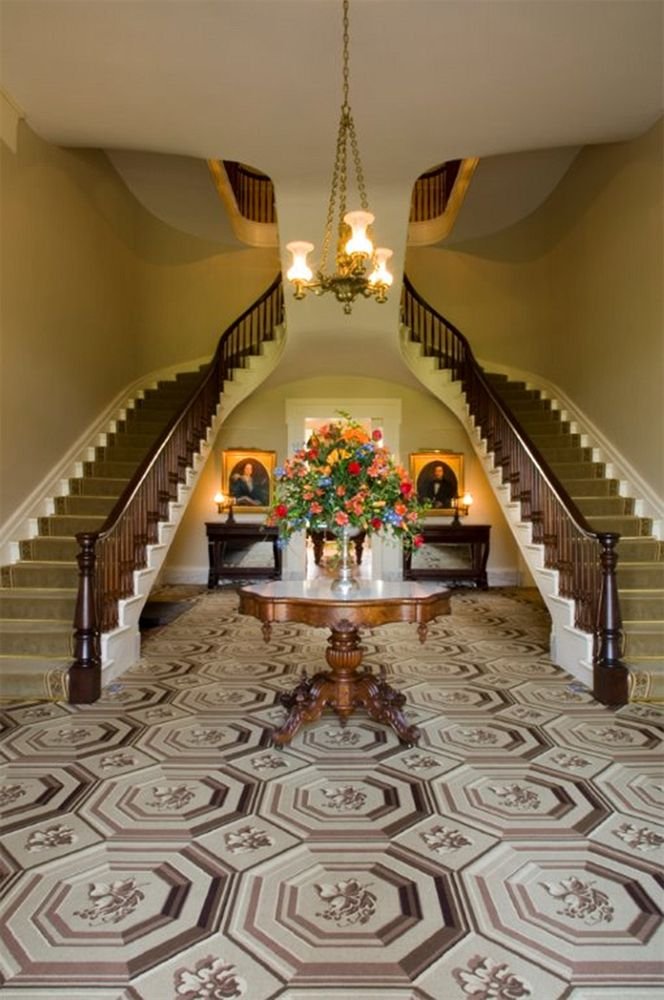 Backstory and Context
Berry Hill plantation was once one of Virginia's biggest and most successful plantations starting out as an initial land grant of 105,000 acres from the British Crown in 1728. Berry Hill Plantation's main house was built in the style of Greek Revival Architecture and was modeled after the Second Bank of the United States in Philadelphia. Berry Hill plantation was once owned by Benjamin Harrison, the 4th Governor of Virginia, and a signer of the Declaration of Independence.

Berry Hill Mansion was completed in 1842 and was built at a cost of $100,000, utilizing almost entirely slave labor. One of the few exceptions to this was the grand "floating" staircase in the main entry way. This staircase was built by a freed Black craftsman named Thomas Day. The staircase still stands today and it's beauty and longevity are a testament to it's craftsmanship. Berry Hill's exterior walls are constructed from locally made brick and are 3 feet thick at it's base. It's 8 pillars on the main portico were inspired and made to resemble the Greek Parthenon.

Berry Hill still stands today much in the same way it was originally constructed, along with 2 remaining slave quarters, as well as a 3rd partially in ruins. Berry Hill is also home to one of Virginia's largest slave cemeteries, Diamond Hill Cemetery. Diamond Hill Cemetery has over 200 individually headstone/foot-stone marked grave sites.

Berry Hill Plantation is now an award winning resort, spar, and conference center with over 92 rooms and 2 restaurants on site. Berry Hill is open 24 hours a day, 365 days a year.
Sources
. Accessed September 11, 2018. www.berryhillresort.com.

. Accessed September 13, 2018. http://www.aahistoricsitesva.org/items/show/44.

Cook, Kenneth. Berry Hill Plantation. The Record Advertiser. . Accessed September 13, 2018. http://www.oldhalifax.com/county/berry6.htm.


Additional Information