San Diego Stadium, Jack Murphy Stadium, Qualcomm Stadium, SDCCU Stadium
Introduction
Opening in 1967 as San Diego Stadium and known as SDCCU Stadium beginning in 2017, this stadium was home to the San Diego Chargers from 1967 to 2016 when the team moved to Los Angeles. The stadium is also home to San Diego State and the Holiday Bowl. The stadium was also home to the San Diego Padres from 1969 to 2003 prior to the completion of Petco Park.
Images
San Diego County Credit Union Stadium, most commonly known as Qualcomm Stadium.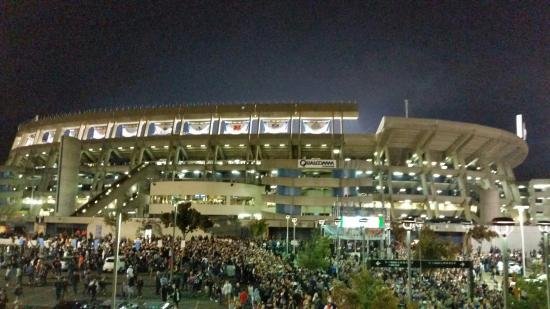 Backstory and Context
Qualcomm Stadium is the location where 49ers quarterback Colin Kaepernick took a knee during the singing of the National Anthem to protest police brutality against African Americans and other minorities on September 1st, 2016. Prior to that decision, Colin Kaepernick had sat during the anthem rather than kneeling. In the weeks that followed, a few other players joined Kaepernick or expressed solidarity with his protest against police brutality. Others claimed that the protest was tantamount to disrespecting the members of the military. Kaepernick explained his protest was not against the symbols of America or the people or soldiers that represent the government, but rather an attempt to bring attention to a vital issue. "I love America..." Kaepernick explained. "That's why I'm doing this. I want to help make America better."

After a spree of incidents when African Americans were killed by police officers under circumstances that led to numerous investigations, African American activists launched a movement known as Black Lives Matter. Nearly every protest was peaceful although some, such as actions to block traffic, were disrupted. Kaepernick's protests were part of that movement and led to severe criticism by Republican politicians and backlash by many NFL officials. Despite leading his team to the Super Bowl, Kaepernick was not resigned by the 49ers or signed by any other NFL team as a result of his protest.

In September of 2017, a little over a year after Colin Kaepernick took a knee at Qualcomm Stadium, over 200 players across the country knelt during the national anthem in direct response to statements made by reality Donald Trump against black athletes and other players who chose to protest police brutality in any manner during the national anthem.

Colin Kaepernick has not yet been offered a contract by any NFL team, but the winds of change may be evident in the decision of sports apparel company Nike. For the company's 30th anniversary of the 'Just Do It' campaign, Nike made Colin Kaepernick the face of their company with an image of Kaepernick and the "Believe in something. Even if it means sacrificing everything." The image also went up on Billboards across the United States of America, followed by a two-minute video. The video, "Dream Crazy" was narrated by Colin Kaepernick, urging the audience to make their mark in the world. Colin Kaepernick gained a much greater following since the campaign launch, however, he still remains a free agent and has not been signed by an NFL team as of the end of the 2018-2019 season.
Sources
Witz, Billy. This Time, Colin Kaepernick Takes a Stand by Kneeling. New York Times. September 01, 2016. Accessed October 01, 2018. https://www.nytimes.com/2016/09/02/sports/football/colin-kaepernick-kneels-national-anthem-protest.html.

Krasovic, Tom. Colin Kaepernick takes a knee during national anthem in San Diego and is booed. September 01, 2016. Accessed October 01, 2018. http://www.latimes.com/sports/nfl/la-sp-chargers-kaepernick-20160901-snap-story.html#.
Stapleton, Arnie. More than 200 NFL players sit or kneel during national anthem. The Chicago Tribune. September 24, 2017. Accessed October 01, 2018. http://www.chicagotribune.com/sports/football/ct-nfl-national-anthem-kneeling-20170924-story.html.
Additional Information