Oakland–Alameda County Coliseum
Introduction
The Alameda County Coliseum has a history dating back to 1966 when it first opened up. It is a stadium that shares professional baseball and professional football players on the stadium. It is located at Oakland, California in Alameda County. The project to create this stadium took place in 1962 and this when they started to build the stadium. Over the years, the stadium had many different names. There have been records that have been broken and history that have been made in the stadium. The Alameda County Coliseum, home of both the Oakland Athletics and the Oakland Raiders (at the moment), is where the all time great "Man of Steal" Rickey Henderson broke Lou Brock's all time stolen base record. Henderson stole base number 939 against the New York Yankees. Henderson spent the majority of his baseball career with The Oakland A's playing at the Coliseum. The Oakland Athletics honored Rickey in 2009 when he was inducted to the Baseball Hall of Fame by retiring his number (#24), along with naming the infield after him. Rickey Henderson will go down as the greatest Oakland A's player of all time and arguably the greatest lead off hitter of all time.
Images
This is a picture of the stadium in 2015.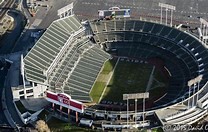 This is a picture of the stadium in 1967.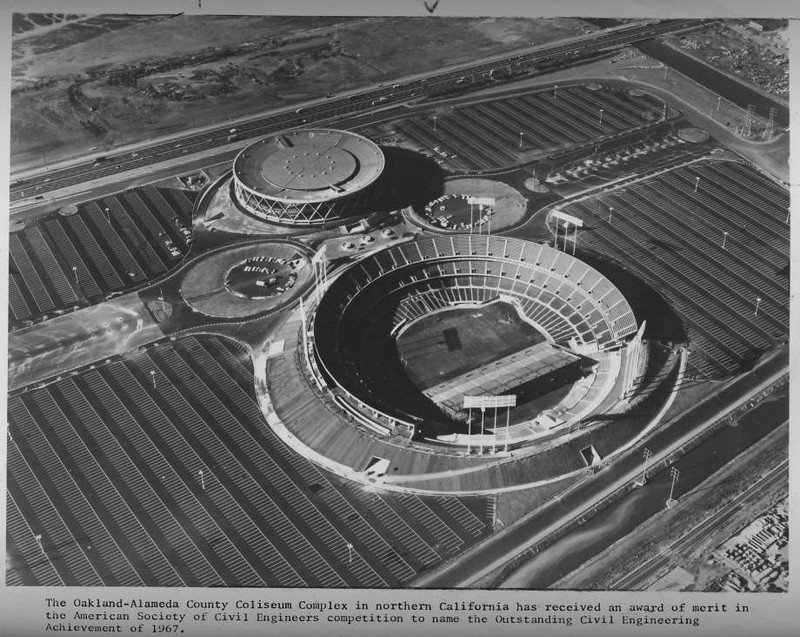 This picture shows a layout of the stadium.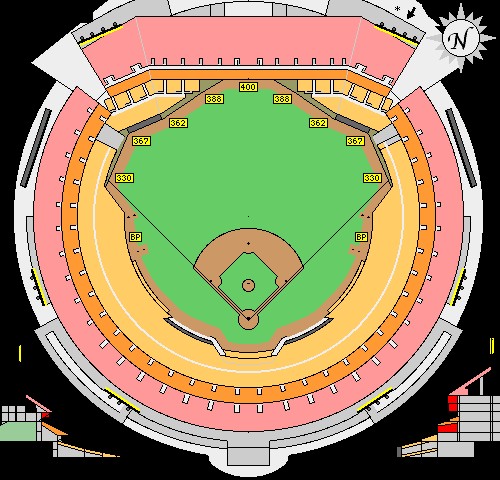 This picture took place when the Raiders was a having a game.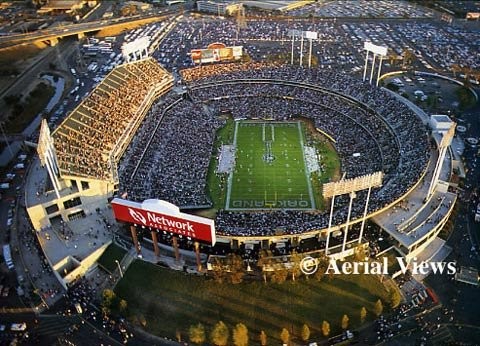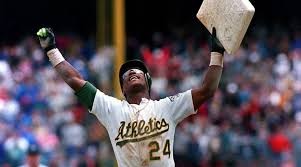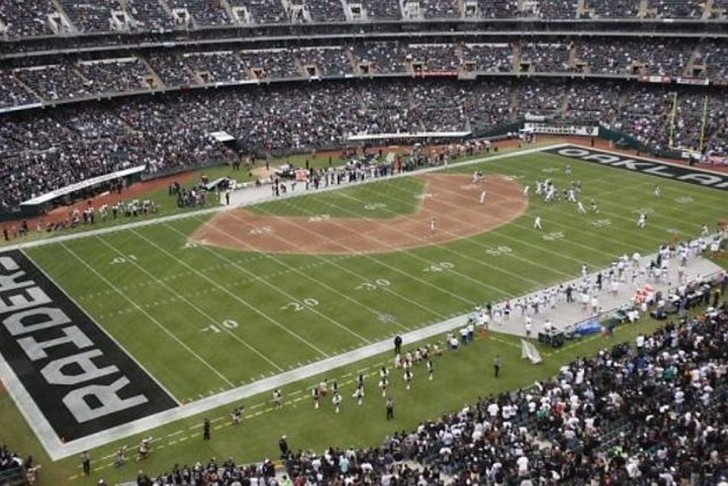 Backstory and Context
   The Coliseum is a very big stadium that seats a lot of people such as 56,057 football fans and 47,170 soccer fans. This stadium is known as the second smallest NFL stadium and the eight largest MLB stadium. It is considered the home of the Oakland Athletics and Oakland Raiders. The Oakland Athletics is the baseball team and the Oakland Raiders is the football team. This stadium is located beside of the Oracle Arena.  
    There is a lot of history that has taken place at the stadium such as the 2009 CONCACAF Gold Cup. This stadium was built starting in 1962 and it took four years to build. It was created deep under ground so when the fans came in they were on upper level. The first game was played on September 16, 1962. There are two diamond vision scoreboards. 
   The Raiders knows this as their home stadium but they moved back and forth between stadiums too. They moved away in 1981 and they came back in 1995. The stadium was expanded when they moved back which was part of their agreement. They put in four tier section of 22,000 seats which took the place of the bleachers. The Raiders are planning on moving again to Las Vegas where a new stadium will be built in 2020. They will play some more games at the Oakland Coliseum until then. The Raiders head coach is Jon Gruden. Some players include Marshawn Lynch, Derek Carr, and more. 
   The Coliseum has had issues throughout the years such as plumbing. In 2016, the water started to leak in the visitors dugout and the smell was stinky. In 2013 and 2014, there were problems with the sewer that caused problems in the clubhouse. Another problem beside plumbing is no one wants to stay with the stadium and the teams are trying to find other stadiums to call home. 
Rickey Henderson of The Oakland Athletics was and still is to this day, baseball's greatest base stealer of all time. Over time he was given the appropriate nickname "Man of Steal". Rickey Henderson had changed the ways of aggressive base running in the game of baseball. No one will ever come close to his stats ever again. He also brought a new type of swagger to the game. He was cocky but confident on the base path. His love for the game of baseball was like no other.
Rickey signed with Oakland in 1976. Rickey played for 9 teams in his Major League career including teams like the Yankees, Mets, Dodgers, and Padres, but his primary team was the Oakland A's. He wasn't known for his power, or glove, but his speed was like no other. He was stealing bases one after another. It was very rare to see Rickey get caught stealing on the base path. He was changing the game as baseball with his incredible speed.
Henderson won a World Series with Oakland in 1989. Henderson stole 130 bases in the 1982 season which was an all time record. He ended up stealing 100 bases in three different seasons. Not only does he hold the single season record for steals but he also holds the all time record of 1,406 career steals, passing former record holder Lou Brock who had 938.
Henderson was inducted into the Baseball Hall of Fame in 2009 along with the Oakland A's retiring his jersey #24. The same day, The Oakland Athletics stadium The Coliseum, named the actual playing field "Rickey Henderson Field". The Coliseum was Rickey Henderson's home away from home. He loved the organization and the field itself.
Sources
1. Draper, Kevin. The Oakland A's Are Trying to Solve Their Stadium Problem. Still. The New York Times. September 12, 2017. Accessed October 01, 2018. https://www.nytimes.com/2017/09/12/sports/baseball/oakland-athletics-ballpark.html.
2. Oakland Coliseum City Facts History & Future. January 02, 2018. Accessed October 01, 2018. https://oaklandmofo.com/blog/oakland-coliseum-stadium.
3.Oakland Coliseum. Ball Park Softbase ball. October 02, 2018. Accessed October 01, 2018. https://www.ballparksofbaseball.com/ballparks/oakland-coliseum/. 
. Accessed October 29th 2019. Rickey Henderson. (n.d.). Retrieved from https://baseballhall.org/hall-of-famers/henderson-rickey..
4.Rickey Henderson. (n.d.). Retrieved from https://baseballhall.org/hall-of-famers/henderson-rickey.
5.Hall, A. (2017, February 6). A's will now play on 'Rickey Henderson Field'. Retrieved from https://www.athleticsnation.com/2017/2/6/14527462/oakland-as-rickey-henderson-field-coliseum.
6.Rickey Henderson - Broke Records In Steals, Runs, And Walks. (n.d.). Retrieved from https://sports.jrank.org/pages/2025/Henderson-Rickey-Broke-Records-in-Steals-Runs-Walks.html.
7.Rickey Henderson Stats, Fantasy & News. (n.d.). Retrieved from https://www.mlb.com/player/rickey-henderson-115749.
Goldberg, Jeff. "MLB Ballparks, From Oldest to Newest." Ballpark Digest, September 29, 2019. https://ballparkdigest.com/2017/03/31/mlb-ballparks-from-oldest-to-newest/.
Nicas, Jack. "The Beauty of America's Ugliest Ballpark." The New York Times. The New York Times, October 2, 2019. https://www.nytimes.com/2019/10/02/sports/baseball/oakland-coliseum.html.
"RingCentral Coliseum, Oakland A's Ballpark - Ballparks of Baseball." Ballparks of Baseball - Your Guide to Major League Baseball Stadiums. Accessed December 2, 2019. https://www.ballparksofbaseball.com/ballparks/ringcentral-coliseum/.
Additional Information