John Cooke
Introduction
John Cooke, who was not born in the United States, was the first settler in Wyoming County, West Virgina. Cooke came to America when he was sold as a servant. He was a Revolutionary War soldier and fought in many battles. In return for his service to the army, Cooke was granted land, which is known as today as Wyoming County, West Virginia.
Images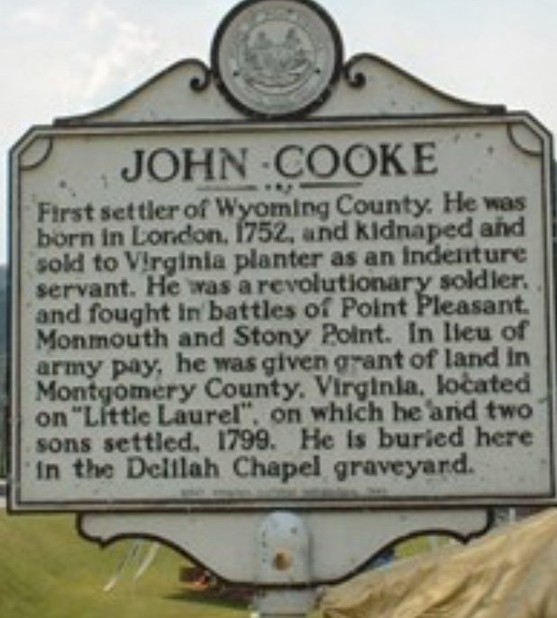 Backstory and Context
In 1934, a historical marker was created in Oceana, WV to honor John Cooke. Cooke was originally from London, and was brought to the United States as an indentured servant. John Cooke's first wife, Nellie, was also kidnapped from London and was also brought over as an indentured servant. Both John and Nellie completed their service as indentured servants around the year 1733.They began their family in the Shenandoah Valley of Virginia.
In 1777, John joined the Continental Army, and fought in battles at Pt. Pleasant, Monmouth, and Stony Point. During this time, instead of paying them with money, soldiers would sometimes receive a grant of land. This was the case for John Cooke. In recognition of his service in the Revolutionary war, he received a land grant and became the first settler of Wyoming County in 1799.
Cooke filed for his pension for his service in the Revolutionary War on September 17, 1832. However, he died on November 21, 1832 at the age of 80, before his request was approved. His second wife, Annie Hendrix, eventually received the pension payments. The Col. Andrew Donally Chapter of the Daughters of the American Revolution was responsible for creating the monument. John and his first wife Nellie, are both buried in the town next to each other. While the life of John Cooke began with unfortunate circumstances, he became a known man around Wyoming County, West Virginia.
Sources
Lyons, William W.. John Cooke A Biography. . . http://freepages.rootsweb.com/~richmond/genealogy/biographies/john_cooke_a_biography.htm.

John Cooke. Maksim's Family History. . . https://maksimsfamilyhistory.weebly.com/john-cooke.html.

Hager, Joel. Joel Hager's Southern West Virginia Research. Roots Web. . . https://wc.rootsweb.com/cgi-bin/igm.cgi?op=GET&db=hagerj&id=I5912.