Charles Eastman Plaque, Boston University Medical School
Introduction
This photograph and plaque inside the Instructional Building of the Boston University's Medical School honors Native American activist and doctor Charles Eastman. In the late nineteenth century Eastman, a Sioux who was also known as Ohiyesa, was a prominent and important advocate for Native American civil and educational rights. Dr Eastman was the first Native American graduate of an American medical school.
Images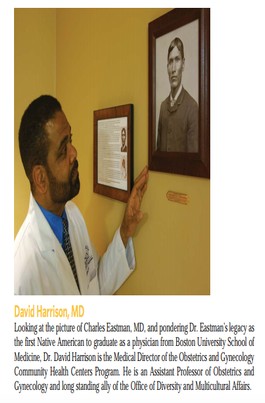 Backstory and Context
The plaque and photograph of Eastman are located on a wall dedicated to honoring diversity in the history of the BU Medical School. In the same areas are photos and biographies of other early graduates of color from the BU Medical School, such as Dr. Rebecca Lee Crumpler, who in 1864 became the first African American women to receive a medical degree. Though most would agree that it is fitting to place a commemoration to Charles Eastman at the Medical School, some believe that more needs to be done to promote awareness of Dr. Eastman's life and his significant contributions on behalf of Native American rights.