The Murder of Willie Brewster Historical Marker
Introduction
Following a meeting of the National States Rights Party, a white supremacist organization, attendees were encouraged to "take action" against African Americans. Willie Brewster was murdered by an attendee on his way home from work on July 15, 1965. While Brewster was one of many African Americans who were killed by whites in the early 1960s, he was the first Black man in Alabama to have his murderer taken to trial and penalized for the crime. However, Brewster's murderer never spent any time in prison. This marker was dedicated by the city of Anniston's Historic Trails Program in 2016.
Images
Historical marker that tells the story of Mr. Brewster's death.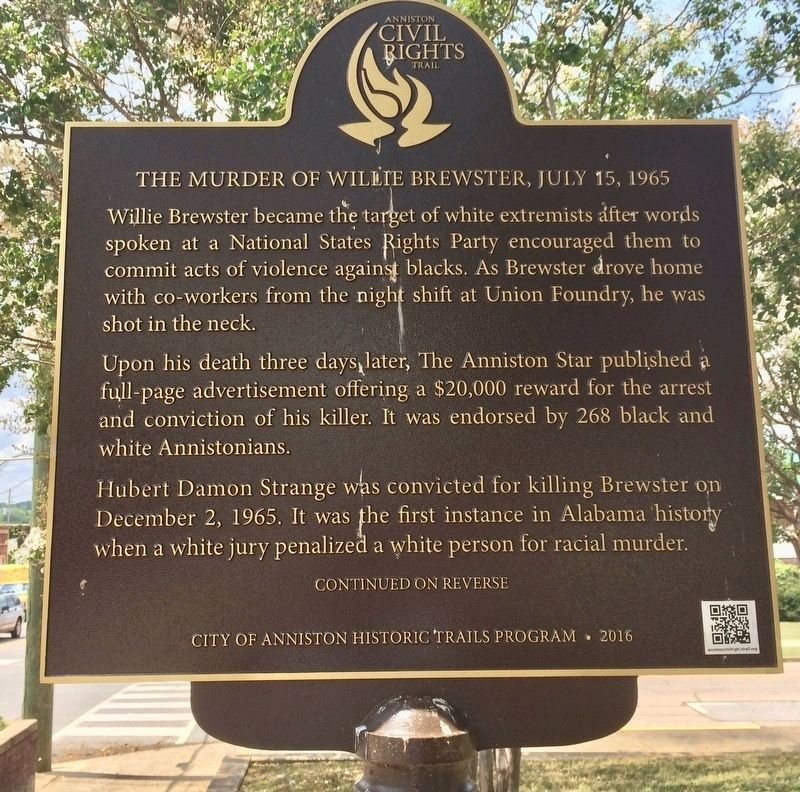 This was a recent picture of Willie Brewster before his death.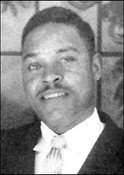 Backstory and Context
On July 15, 1965 the National States Rights Party held a meeting. This organization was led by white supremacists in Alabama who organized as a response to the Civil Rights Movement. During the meeting held that night, the group decided to begin violent acts against their African American neighbors. Willie Brewster was driving home from working his night shift that night and became a victim of these white men, simply because they saw Willie driving and decided to shoot at the car. Mr. Brewster being shot in the neck and dying three days later in the hospital. There was a $20,000 reward offered by 268 citizens of the town for anyone could find Willie's murderer, which was posted in the town's local newspaper, the Anniston Star.
Hubert Strange was convicted of the murder nearly five months later on December 2, 1965. This was the first time a white man was convicted and penalized for a racial murder by a white jury in the state of Alabama. Strange was sentenced to ten years in prison. Even after months of uproars and trials, Hubert Damon Strange never served a day in prison. He was shot and killed in a bar fight after the trial days before he was supposed to go to prison. 
Prior to this event, white men murdered African Americans on a regular basis and they often went unpunished and even unnoticed. For example, in August of 1955, Lamar Smith was murdered in front of dozens for speaking about the right of all Americans vote. There was never a trial. Willie Edwards, a 14 year old boy, was murdered in January of 1957 for flirting with a white girl. Herbert Lee was murdered by a state legislator in September 1961. The legislator walked free because he claimed self-defense. As a result, the trial of Hubert Strange's killer was historically significant.
Sources
Hilton, M. (2018). The Murder of Willie Brewster, July 15, 1965 Historical Marker. [online] Hmdb.org. Available at: https://www.hmdb.org/marker.asp?marker=106626&Result=1 [Accessed 7 Dec. 2018].
Southern Poverty Law Center. (2018). Civil Rights Martyrs. [online] Available at: https://www.splcenter.org/what-we-do/civil-rights-memorial/civil-rights-martyrs [Accessed 7 Dec. 2018].
Additional Information