Hamburg Strand Theater
Introduction
This local theater opened in 1920 and was located in a building that dates back to 1799. Since 2013, the theater has been operated by the Our Town Foundation, a local community organization dedicated to preservation and revitalization of historic Hamburg. In addition to showing movies on weekends, the theater hosts community events and meetings.
Images
The Strand has been preserved thanks to local community organizations and continues to show movies as it did when it opened in 1920.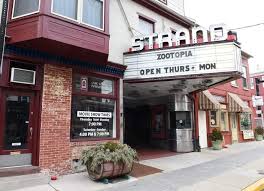 Backstory and Context
The Strand opened on Christmas Day in 1920 and was operated by David and Ella Schlear during its first fifteen years of operation. During this era, the Strand kept up with new technologies in motion pictures, including the innovation of movies that included dialogue and other sounds within the feature known as "talkies." Innovation almost led to the end of the Strand's capacity to show movies when Hollywood studios discontinued the practice of creating film-based movies in favor of completely digital formats. However, local community members and organizations supported a fundraising campaign to "Save Our Strand" in 2013 and raised the needed funds so that the theater could continue to show first-run movies.
Sources
Our Past and Future. Hamburg Strand website. . Accessed September 30, 2018. http://hamburgstrand.org/our-past-and-future/.


Additional Information