Jesse Owens 75th Anniversary Memorial Statue
Introduction
This monument commemorates the 75th anniversary of Jesse Owens' historic performance at the Berlin Olympics. The statue was unveiled April 21st, 2011 outside of the stadium that also bears Jesse Owens's name. Ohio State University recruited Owens, a star athlete who broke many records during his collegiate career. Owens is best remembered for his multiple gold-medal-winning performances at the 1936 at the Berlin Olympics that demonstrated the bankruptcy of Adolf Hitler's beliefs. During the era of Jim Crow, Jesse Owens was hailed as a hero among nearly all Americans in his time. However, Owens still faced threats of violence and limited employment opportunities owing to his race.
Images
1. Jesse standing victorious while the National Anthem of the United States is played after winning gold. (Encyclopaedia Britannica).
1. Jesse as he competes in one of his events for the United States. (Encyclopaedia Britannica).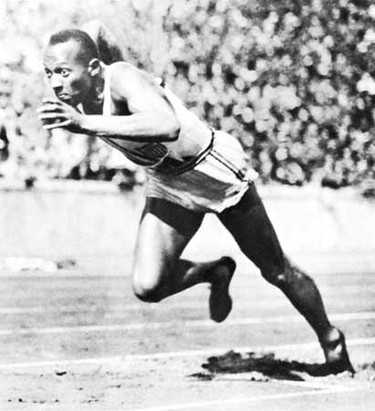 A photograph of the monument by Jim Davidson.
One of Jesse's 1936 Olympic gold medals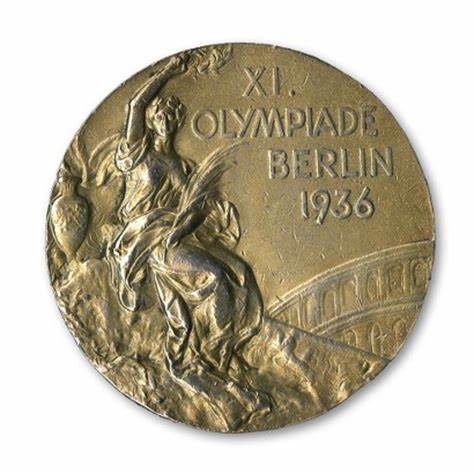 Jesse in the 1950s with all four of his Olympic medals.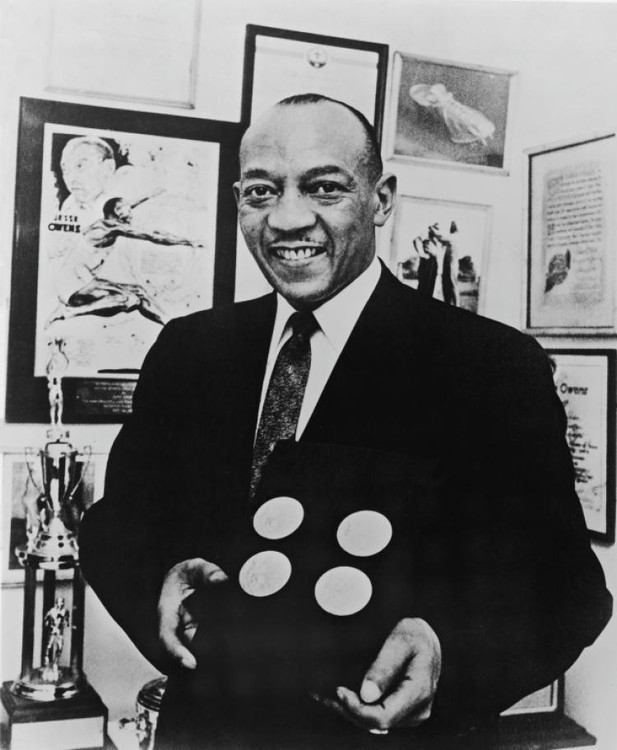 Owens, Martinus Osendarp of Holland and Ralph Metcalf standing on the podium after earning their medals in the 100m sprint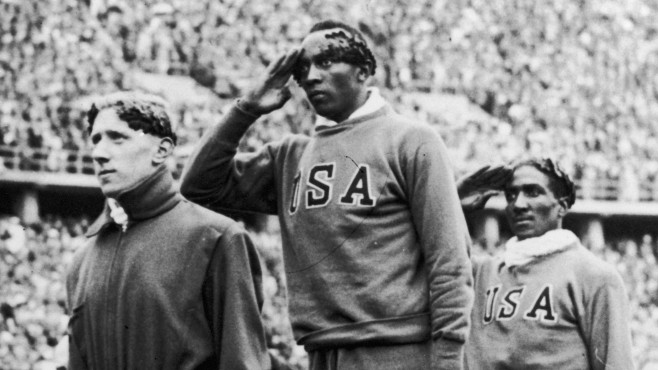 Backstory and Context
Jesse Owens set numerous Big Ten Conference records in track in May of 1935. He even set a world record while in college despite an injury to his back. Owens' record in the long jump stood for 25 years. This memorial is located outside the new track facility, which was named in his honor, quite a change from his years as a student where he could rarely walk on campus due to the color of his skin. Jesse Owens did not receive a scholarship and had to work different jobs for the university to pay his way through school. 
Jesse Owens was born in Alabama and moved to Cleveland, Ohio at a young age. After he graduated high school, he was recruited by The Ohio State University to be a student-athlete and managed to break several conference records in the time he spent there. Jesse also competed in the 1936 Olympic games that were hosted in Berlin and his performance was widely regarded as one of the most direct challenges to Nazi ideology in that year.  
Hitler believed that Jewish and Black people were genetically inferior to Germans, meaning that there was no way an African-American could compete at the same level as Germans. Obviously, that was proven to be wrong due to Jesse's dominance in the Olympics in front of Hitler's very eyes. Jesse went on to win four gold metals in his events. The events include 100m, long jump, 200m, and the 4x100m.
Even after winning four gold metals in Berlin, it didn't make Jesse's life any better socially and economically. In an interview, Jesse said that "I have four gold metals, but you can't eat four gold metals". After returning from Berlin, Jesse competed against armature athletes for money, and reportedly raced against horses. Being the world's best athlete didn't take away from the fact that he was a Black man in the United States.
The monument was unveiled on April 21st, 2011, and transcends sport as Owens faced adversity his entire life. The monument includes quotes from Owens, including his belief that ". . . in order to make dreams come into reality, it takes an awful lot of determination, dedication, self-discipline, and effort." 
James Cleveland Owens, who was better known as "Jesse," was so revered for his class and performance in the 1936 games that some of the German people began to see him as a symbol of greatness at a time when their nation was falling to Nazism. Jesse won four gold medals while competing against the best athletes in the world during those games and was the first American athlete to do so. This record of winning four golds stood for 48 years.  
Sources
1. Jesse Owens: American Athlete. Encyclopaedia Britannica. . September 30, 2018. https://www.britannica.com/biography/Jesse-Owens.
2. Jesse Owens. Ohio History Connection. . September 30, 2018. http://www.ohiohistorycentral.org/w/Jesse_Owens.
3. Jesse Owens Became a Sporting Legend For His Achievements at the 1936 Berlin Games. The Olympics. . September 30, 2018. https://www.olympic.org/jesse-owens.
4. Davidson, Jim. Jesse Owens Statue Unveiling. The-Ozone.net. April 21, 2011. September 30, 2018. http://photo.the-ozone.net/details.aspx?SeasonID=9&SportID=11&OrganizationID=0&PhotographerID=0&SortType=0&EventTypeID=0&MediaEventID=00000000-0000-0000-0000-000000000000&TeamPlayerID=00000000-0000-0000-0000-000000000000&PhotoNumber=39&ReturnRowCount=12&ReturnPageNumber=4.
Ioc. "From Horse-Racer to Speech Writer: Jesse Owens' Life after the Olympic Games." International Olympic Committee, IOC, 1 Dec. 2018, www.olympic.org/news/from-horse-racer-to-speech-writer-jesse-owens-life-after-the-olympic-games.
ESPN, ESPN Internet Ventures, www.espn.com/sportscentury/features/00016393.html.
Image Sources
Fox News

The Associated Press

National Public Radio

Additional Information