Ray Charles Memorial ( Albany Georgia)
Introduction
The Ray Charles memorial was placed in the heart of Downtown Albany Georgia. It was funded by the city of Albany to honor one of the most recognizable faces in music history. Ray Charles was an influential entertainer who brought together the different races in America by singing the blues. He also proved that being handicapped could not stop a person from chasing their dreams. The memorial was sculpted by Andy Davis in 2006, and is made out of bronze. It also features a music system that plays throughout the day, and the statue lights up at night.
Images
Ray Charles Plaza at night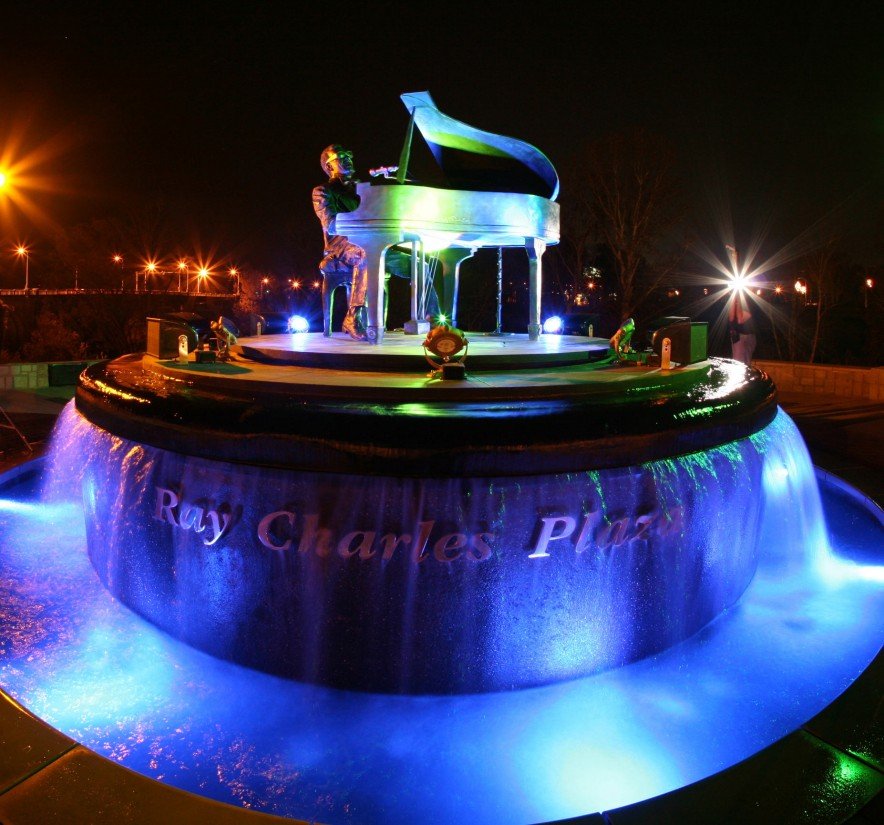 Ray Charles Plaza in throughout the day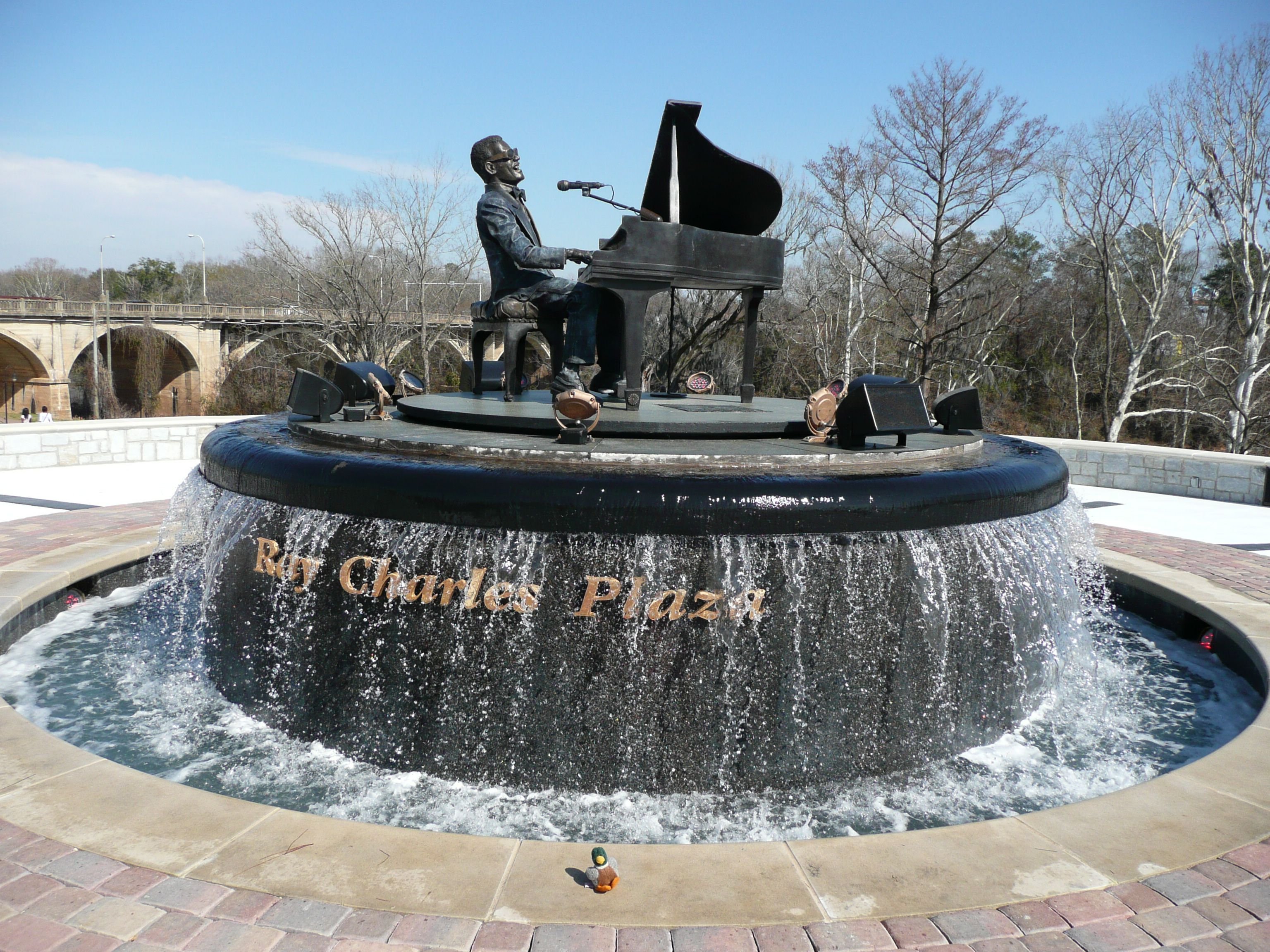 Backstory and Context
Ray Charles Robinson, who went by the stage name Ray Charles, was born in Albany, Georgia on September 23, 1930. He died on June 10, 2004. Charles grew up in Gainsville, FL. Before the age of five, he was taught how to play the piano. When Charles was seven, he lost his sight in one eye due to glaucoma which later spread to his other eye, causing him to go completely blind. His father was rarely around and his mother soon died, and he was therefore left orphaned by the age of 15, necessitating the move to Gainsville.

Although his mother had passed away, the phrase "use what you have" stuck with him throughout his life. He continued to pursue his dreams of becoming a blues musician because he refused to become "just a handicap negro." Charles soon attended St. Augustine School for the Deaf and Blind, where he continued to play the piano, and other instruments using the Braille system. Charles attended the school from 1937-1945. When he left the school, he decided to drop his last name, and he became known as Ray Charles.
What led them to build the memorial in 2006 was the dispute of Charles being from Albany and not Gainsville. Once the argument was finally over, they came to the conclusion that he was born in Albany, but many people will argue that he was from Florida. To the people of Albany, he is the native face to their small city.
Ray Charles had over 40 Top Hits, received 12 Grammy Awards and the Kennedy Center Honor, and he also became one of the first inductees into the Rock and Roll Hall Of Fame. in 1979 John White, a former Albany politician in the Georgia House of Representatives, co-authored state legislation which resulted in Charles' 1960 Hit " Georgia On My Mind" becoming the state's anthem.
Despite all the success Charles had, he was incarcerated over possession of an illegal substance and he struggled with drug abuse throughout his life. Taking time off, he attended a rehabilitation center in order to get clean. Although it set him back, it did not stop him from making even more hit records. It also altered his music, and he would continue to work with more musicians.
In 2001, Charles gave back to the city of Albany and donated one million dollars to Albany State University. He came back to the University as a Commencement Speaker and was awarded Doctorate of Philosophy. He then donated another two million dollars to the University which resulted in the Fine Art Building, which was named after him. He later requested that the building be named after his mother, Aretha Robinson.
Ray Charles contributed so much to the city of Albany that they built the monument to honor him. Not only did he influence the people in the states of Georgia and Florida, but he influenced people all over the world through his music and perseverance. He is also applauded for starting the Robinson Foundation of Hearing Disorder in 1987.
Sources

. . http://www.albanygeorgia.biz/raycharles/plaza.html.
. . https://www.amazon.com/Brother-Ray-Charles-Own-Story/dp/0306814315.
Charles, Ray. Ritz, David. Brother Ray: Ray Charles' Own Story. Boston, MA. De Capo Press, 2004.
Ray Charles Opening. December 12, 2007. . https://www.youtube.com/watch?v=UHARFyLEOQI.


Additional Information