Williamson Field House
Introduction
The Williamson Field house was built from 1950 to 1951 in Williamson, West Virginia. The structure serves as both a recreational center and a venue for community and sporting events. Famous entertainers from the Harlem Globetrotters to Oprah Winfrey have performed here. On December 15, 2011, the structure was added to the National Register of Historic Places.
Images
Aerial view of the inside of the stadium during a sporting event.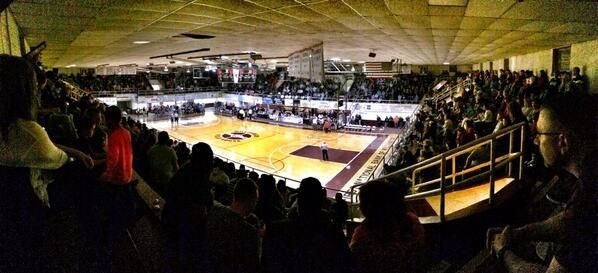 Currently, this is what the front view of the Williamson Field House looks like.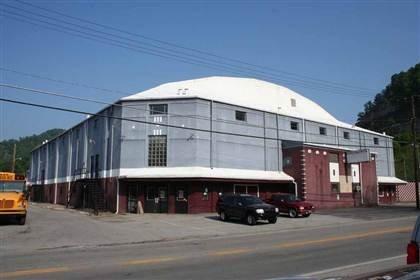 Backstory and Context
Williamson Field House has been used as a venue to hold a variety of community and sporting events since its opening on December 15, 1951. On that evening, area residents attended a high school basketball game between Wayne High School and Williamson High School. Boxing, state basketball tournaments, wrestling, circuses, concerts, and car shows have also been held here throughout the years. The building is the largest of its kind in the region and can hold as many as 6,000 spectators. On average, 30,000 people attend events at the field house yearly. T
The land for the field house was purchased in 1946 by the City of Williamson for $11,500. Lewis Stettler, a Huntington architect, designed the layout of the field house. Originally, the area was intended to be a World War II veteran's memorial and recreational center. The original opening date was postponed due to a steel shortage stemming from an ongoing coal strike. The field house was due to be opened in Fall of 1950, but the strike caused a work stoppage which delayed the opening until December of 1951. However, the dedication plaque on the front of the building reads "Dedicated to the youth of Williamson West Virginia 1950."
The National Guard has used the field house during several emergencies including floods. In 1953, the field house was used as a FEMA emergency distribution center. In 1977 and 1984, floods damaged the interior. In 1986, wooden seats were replaced with theater seats from the Williamson High School Theater. Other parts of the field house were replaced due to damage from the floods and from ordinary use. Due to the floods, the Army Corps of Engineers decided to construct a concrete flood wall surrounding the community.
Sources
Canfield, Bethany. September 01, 2011. http://www.wvculture.org/shpo/nr/pdf/mingo/11000930.pdf.
Williamson Area Heritage Book 1996: Williamson, West Virginia: Walsworth Inc, 1996
Dilger, Dr. Robert Jay and Melissa Brodsky. "Mingo County History." http://www.polsci.wvu.edu/wv/Mingo/minghistory.html


Additional Information