316 main street station
Introduction
This site is now a bar located on the Main Street in Daytona Beach Florida. The building layout is an old service station/garage with the 3 original gas pumps run by Bill France Sr., the father of NASCAR. It was also the last stop to get gas before the racers could finish the race. It is also at the heart of the modern Daytona Beach Event, Biketoberfest.
Images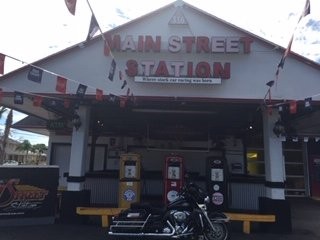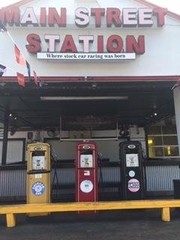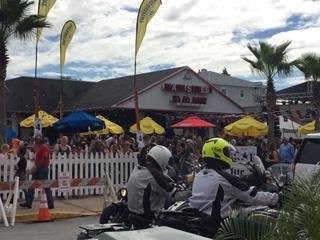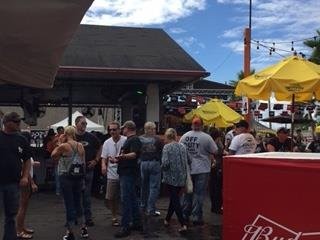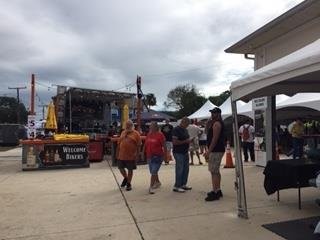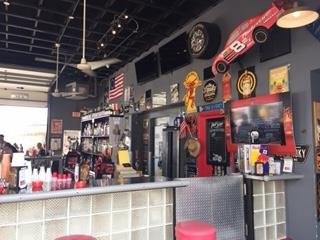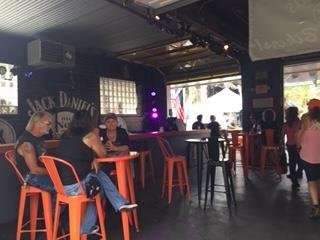 Backstory and Context
The History of 316 Main Street Station starts way back in 1937. Around the 1930s, Bill France Sr. decided to move his family down to Daytona Beach Florida. He came to Florida mainly for the reason anyone comes down to Florida for vacation for the warm weather and the beach. France then opened his very own service station after working a few years at Daytona Motors. Bill France Sr. as a young man ran as service station called Amoco Station located at 316 main street in Daytona Beach, Florida. (Cardwell Sr.) A service station is a business that sells gas for vehicles and can-do minor repairs on vehicles. It is now a bar on main street with a building style of an old service station.
Bill France is a big influence of today's racing world and as well as the bike events. Bill France Sr. or as some people call him "Big Bill" is not only the reason for NASCAR but also the reason of the two big race tracks one located in Daytona Beach Florida and the other in Talladega Alabama. His gas station still stands today but serves not only the racing crowd of fans but also is a part of one of the nation's biggest bike events, Bike Week and Biketoberfest. Bill France Sr. is considered "The Father of NASCAR". (Cardwell Sr.) Beach racing had been the birthplace where one of the most popular sports worlds would have such a big influence today, NASCAR. Races started on the Daytona Beach, and then with all the problems from the race cars not being able to drive on the beach Bill France Sr. would then be moved to South of Ponce Inlet. Eventually, Bill starting to speak to different people pulling strings in trying to get his idea for the Daytona Beach International Speedway to be built. In my findings, the last automobile race took place in 1958 on the beach, and the very first race at Daytona international speedway took place in 1956. (Smith).
Not only does this building mainly associated with NASCAR it also is a part of the World's largest Motorcycle event Bike Week and Biketoberfest. These events take place on main street in Daytona beach and as well the Daytona Beach International Speedway. Biketoberfest takes place October and Bike Week takes in March. Bike week started way back on January 24, 1937.
These bike events bring people from all over the United States and even the world with one of the big same interests: MOTORCYCLES. During these events, they are many concerts, not so much motorcycle races anymore and well as bike shows and raffles and don't forget the many different types of people at these events. Police and many others estimate that at least half of million annual visitors and main heard the claim that Daytona Beach is the world's largest bike rally. (Page, 84)
Everyone is welcomed even if people don't own a bike, so don't be scared to come to join the fun however people will stand out if not wearing the so-called "proper gear". In personal experiences bikers are always welcoming to these events, it seems like everyone wants people from everywhere to come and admire their bikes and see all the work and money they have put into their hogs. It's basically a giant bike show instead of a car show and no bikers are not all in gangs they have some holy bikers up in here and bikers that are here to help spread awareness for fallen bikers in car accidents as well as many other things. Bikers seem to want to spread the safety for not only the biker themselves but for the surrounding people on the roads. Please watch out for motorcycle, it's also the motorcyclist's job to look out for you.
This site is significant today because it was owned by "The Father of NASCAR" himself Bill France Sr (Cardwell Sr.). To think this is where it all started and decades later it is still standing, not a gas station but as a local bar on Main Street. Main Street, in Daytona Beach itself, is the place to be certain times of the year, mainly for Bike Week and Biketoberfest. Most bars on main street are not open 49 weeks out of the year, however, when its off-season for Florida this bar is always booming, someone is always there. Also, during the spring around February main street station also has one of its biggest events Back to the Roots. ( http://www.mainstreetlive.com/historic-garage-bar-1.html)
Not only is this the place to be but also when its NASCAR season it's also very popular with the locals back then and now. It seems no matter what time of the year it is there is always something going on and someone is always keeping the seats warm. This bar on main street is a hidden gem that not very many people know about so if you are visiting the Daytona Beach area you defiantly need to stop by and check it out. This is also one of the places you want to be during any time of the year. Make sure you mark your calendars to be able to attend this big event and you can't make it, it's still a pretty cool place to check out.
Sources
Cardwell Sr., Harold. Daytona Beach 100 years of Racing. Arcadia Publishing, 2002

Page, Roby. Bike Week at Daytona Beach Bad Boys and Fancy Toys. University Press of Mississippi, 2005.
Smith, Dan. The World's Greatest Beach. Dolphin Printing and Design Inc, 2012.
Weaver, Paul. Historic Survey Update Report for the Surfside Historic District, The City of Daytona Beach Florida. 9 Feb. 2011, https://www.codb.us/DocumentCenter/Home/View/532. Accessed 9 Sept. 2018.
Wheeler, Humpy and Golenbock Peter. Growing up NASCAR: Racings most outrageous promoter Tells all. MBI Publishing Company LLC and Motorbooks, 2010.
Biketoberfest and Daytona Beach Bike Week. Daytona Beach Area Convention and Visitors Bureau. 2018, https://www.daytonabeach.com/events/motorcycle-rallies/, Accessed 15 Oct. 2018.
Additional Information