Louisville Water Company
Introduction
The Location of Louisville's water filtration plant and reservoir. The walking path on top of the reservoir is open for public use. Unfortunately, the gatehouse at the reservoir is only open on select days during the summer. Across Frankfurt Avenue, you can see the rest of the Water Company's facility filled with notable architecture. Along the reservoir, posts tell a brief history of the reservoir and surrounding facility.
Images
Interior of the gatehouse. Via Water Company website.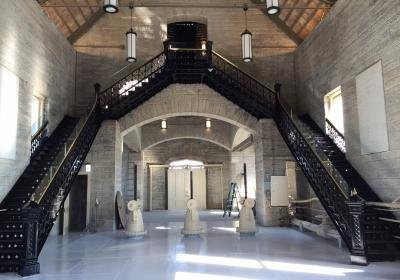 Reservoir and gatehouse at sunset. Photo by me.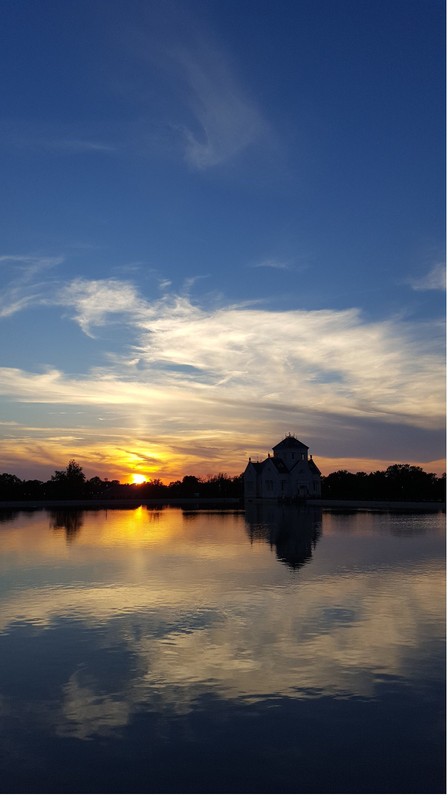 Backstory and Context
Designated a Kentucky Historic Site in 2010, the reservoir first opened in 1879. It immediately became a popular attraction for visitors of the area. Charles Hermany was the architect of the project, designing both the reservoir and the gothic styled gatehouse. Crescent Hill was the chosen area due to it being largely farmland, meaning there was space available. The reservoir itself has a 100 million gallon capacity which is just short of enough to last a day. The gatehouse underwent renovation in 1974 after a tornado and again in 2015. The gatehouse can be entered on select days during the summer season. Via The Louisville Water Company: "Visitors may tour the inside of the newly restored gatehouse from 11:00 a.m. - 7:00 p.m. the second Wednesday of every month, June - September, during our Walking Wednesdays series."Louisville Water

Visitors of the reservoir should be made aware to see it they must be able to climb the stairs up to it. The gate surrounding it closes at sundown so visits should be planned accordingly. Fans of walking can enjoy the tranquil atmosphere of the reservoir learning a bit of history along the way. If one doesn't want to partake in a lap around the reservoir, they can always stay at the front and appreciate the unique architecture of the gatehouse. There is an iron fence between the path and the water, but children should of course be supervised near the water.
Sources
Crescent Hill Reservoir and Gatehouse. Louisville Water. May 06, 2015. Accessed October 16, 2018. http://www.louisvillewater.com/newsroom/crescent-hill-reservoir-and-gatehouse.


Additional Information