Forest Home Cemetery
Introduction
Consecrated in the 1880s, the Petersburg / Newburg Cemetery—formerly known as the Forest Home Cemetery—is one of the oldest dedicated African-American burial grounds in Kentucky. Forest Home Cemetery was originally a slave burial ground. The cemetery is the final resting place of Eliza Curtis Hundley Tevis (ca. 1802-84). Born a slave, Eliza became a significant African-American landowner in antebellum Kentucky. The Tevis property, and adjacent forty acres, formed the free African-American community of Petersburg.
Images
"Gallery | Newburg neighborhood." USA Today. Accessed September 25, 2018. https://www.usatoday.com/picture-gallery/news/local/neighborhoods/2015/10/09/gallery--newburg-neighborhood/73647422/.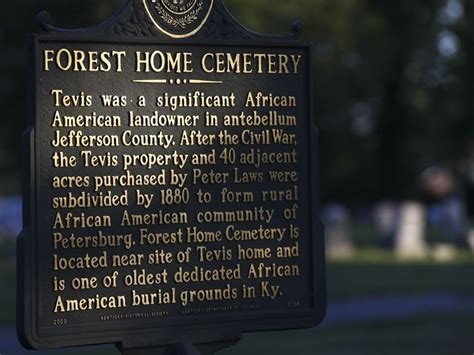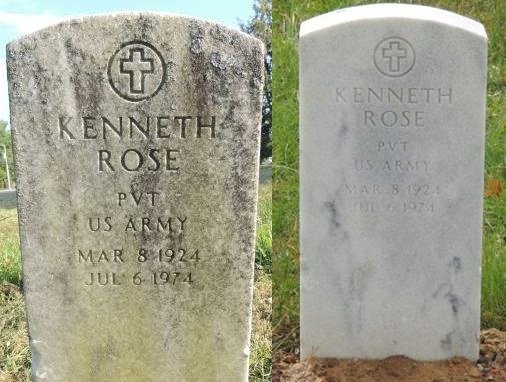 Backstory and Context
Forest Home Cemetery exists because of the birth of Eliza Curtis Hundley Tevis. Eliza was born into slavery in 1802. Slave-owners John B. And Thomas C. Hundley brought Eliza to Kentucky. She was freed in 1833 when John B. Hundley died. Hundley's will provided the "yellow woman" Eliza with his plantation home, a lot on Green Street, and $2000. It is believed Eliza purchased her sister, Mary, from the Hundley family using her inheritance.
Eliza married Henry Tavis—a free man of color—in 1843. In 1851, the couple purchased 40 acres in Wet Woods. The Tavis property included two additional lots and six enslaved people. It is unknown if the enslaved individuals were relatives like Eliza's sister Mary.
After the civil war, the couple sold and rented their property to newly freed African-Americans. Their rural community was named Petersburg after an early settler and former slave. Eliza Tevis established Forest Baptist Church in 1867 as Petersburg's house of worship. When Henry Tevis passed away in 1869, he left their farm to Eliza, adding to her personal wealth. Eliza's death date is unknown. However, she was laid to rest in the 1880s near her home.
A cemetery committee was formed in 1975 to revitalize Forest Home which had fallen into disarray. In October 2002, the African American Heritage Foundation dedicated a marker to the cemetery. Finally, in 2014, "The Eagles at Rest" program was organized by the Kentucky Chapters of the National Association for Black Veterans (NABVETS), sponsored by the Department of Veterans Affairs and Evans Monument Company. The project aims to restore veteran's tombstones. The program will spread to the Greenwood Cemetery in West Louisville. The NABVETS National Convention passed a resolution in August 2014 to make the program national for all affiliated chapters.
Sources
"Forest Home Cemetery." Historical Marker Database Search. Accessed September 25, 2018. http://migration.kentucky.gov/kyhs/hmdb/MarkerSearch.aspx?mode=Subject&subject=40.
Forest Home Cemetery. Accessed September 25, 2018. http://sempai.myiglou.com/Rock/ForestHome/CemeteryHome.html.
Maria Ansari, "Veteran organization helps restore local cemetery" Wave3 News, Accessed September 25, 2018. http://www.wave3.com/story/25255836/veteran-organization-helps-restore-local-cemetery/.
Tim Talbott, "Forest Home Cemetery," ExploreKYHistory, accessed October 5, 2018, http://explorekyhistory.ky.gov/items/show/272.