Bedford Springs and Hotel
Introduction
This marker shares the story of a 19th-century hotel that made Bedford, Kentucky a destination for tourists from hundreds of miles away. The natural spring around the hotel was thought to have medicinal value and could cure a number of ailments. The owners, Mr. and Mrs. Noah Parker, built a thriving business that attracted visitors from all over the United States. However, after a local cholera outbreak in 1851, fewer visitors came to the area and the hotel eventually closed. The building was destroyed by a fire in 1967, and this marker is all that remains of the former hotel.
Images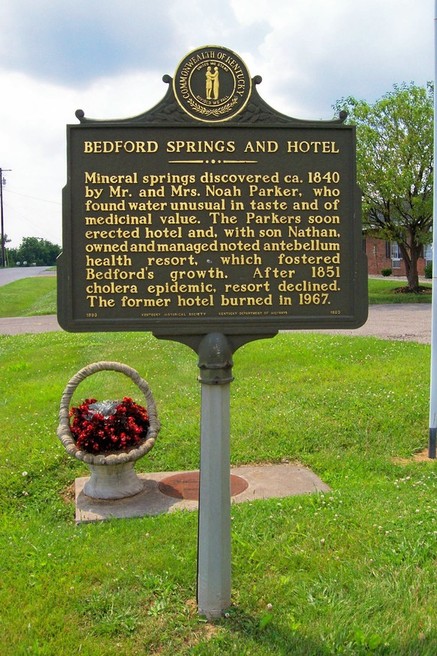 Backstory and Context
The Bedford Springs Hotel attracted many customers in its heyday owing to the belief in the medicinal power of the water from the nearby natural springs. The boom of customers caused the surrounding area of Trimble County to grow to accommodate the influx of population. However, disaster would strike the hotel in multiple forms over the years. For example, an outbreak of cholera forced the hotel to shut down. Later, a fire destroyed the building. Today, only a few people in the Trimble County area have any knowledge of its existence. Oral traditions and stories have helped to pass down its story.

Additional Information