Pat Summitt Plaza and Monument
Introduction
This statue was dedicated in 2013 to honor Pat Summitt, a legendary women's basketball coach who led the University of Tennessee to eight national championships. Summitt's coaching career spanned from 1974 to 2012. During these years, Summitt was one of the most influential coaches of any sport whose extended winning streaks and advocacy for female athletes helped bring positive attention to the role of sports in the lives of women. The statue stands at 8 feet and 7 inches and was designed by Houston sculptor David Adickes. The monument was made possible by the support of over 600 donors and was created after Summitt stepped down from coaching following her diagnosis with Alzheimer's Disease. This monument was created to show appreciation for all of her accomplishments as a player, coach, and feminist advocate in women's sports.
Images
Pat Summitt leads the University of Tennessee to eight national championships.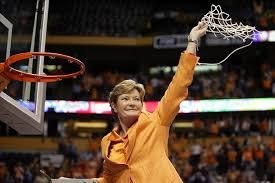 Upon her retirement, Summitt had the most college basketball wins of anyone in the country, male or female.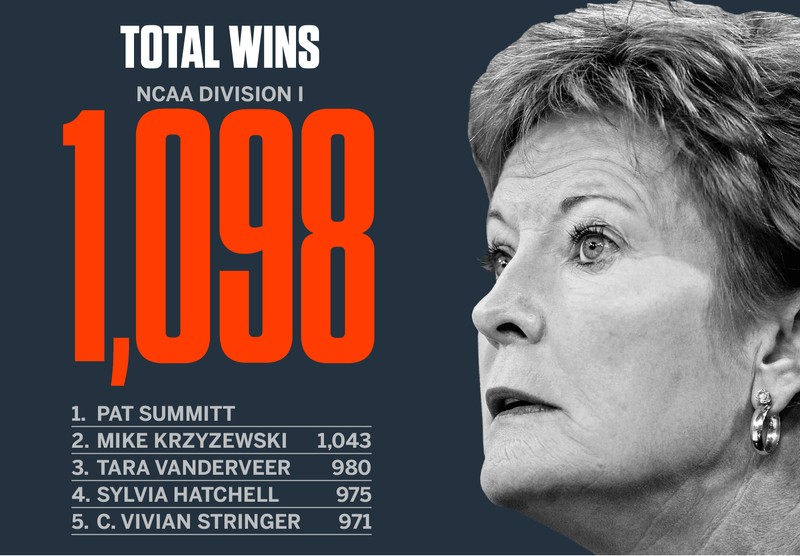 In November 2013, the University of Tennessee opened the Pat Summitt Plaza and Monument.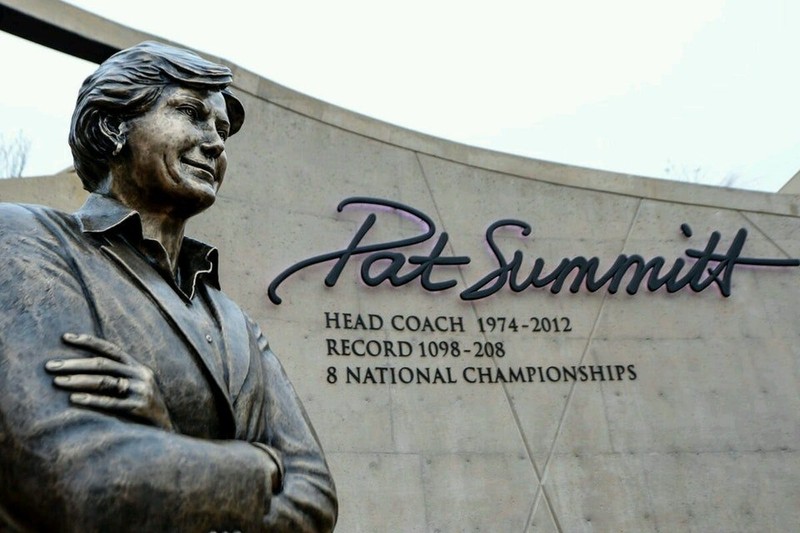 Summitt celebrating her teams national championship win at the2008 NCAA tournament final.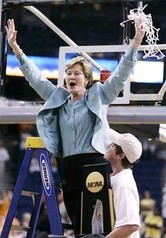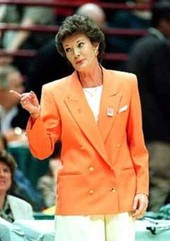 Backstory and Context
The statue was dedicated to honor Summitt's efforts in leading the University of Tennessee to multiple championships while also bringing greater attention and respect for women's basketball and other competitive team sports played by women. Pat Summitt retired with more wins and championships than any other Division I coach. Summitt began her career at the University of Tennessee as a player from the years of 1970-1974, and she also played on a World University team in 1973.
The following year, she was named head coach of the University of Tennessee Women's basketball team at the age of 22. She would eventually coach a World Championship team, help them earn a silver medal in 1983, and from there she would coach the Women's Olympic basketball team and lead them to their first gold medal in 1984. But her success wouldn't stop there, as she went on to lead the Lady Vols to 6 NCAA titles in 1987, 1989, 1991, 1996, and 1998.
In 2003, Summitt became the first women's coach to have achieved over 800 wins. 
Pat Summitt's success attracted national attention in ways that gained valuable attention and advocacy to inequalities in women's sports. In 1997, she became the first women's coach to appear on the cover of Sports Illustrated. In 2000, she became only the fourth woman to be inducted into the Naismith Basketball Hall of Fame. Before she retired, Summitt had a combined total of 1,098 wins- more than any coach in basketball history. In 2012, Summitt was awarded the Presidential Medal of Freedom by President Obama. She will forever be known as one of the greatest coaches that ever lived, and many people look up to her to this day. This monument will commemorate her impressive legacy in sports and as a trailblazer for women in her field.
Sources
Early Life. (n.d.). Retrieved from https://summitt-smith.weebly.com/early-life.html
Pat Summitt Biography. Retrieved from https://www.notablebiographies.com/newsmakers2/2004-Q-Z/Summitt-Pat.html
Pat Summitt through the years, USA Today. June 26th 2016. Accessed October 23rd 2020. https://www.usatoday.com/picture-gallery/sports/ncaaw/2016/06/25/pat-summitt-through-the-years/86398734/.
Smith, Chris . Pat Head Summitt statue, legacy park unveiled in Clarksville, Leaf Chronicle . June 15th 2018. Accessed October 22nd 2020. https://www.theleafchronicle.com/story/news/local/clarksville/2018/06/15/pat-summitt-statue-legacy-park-unveiled-clarksville/705021002/.
"Summitt, P. H. (2018). Summitt, Patricia Head. Retrieved from https://www.encyclopedia.com/people/sports-and-games/sports-biographies/pat-summitt
Image Sources
https://www.google.com/url?sa=i&url=https%3A%2F%2Fwww.knoxmercury.com%2F2016%2F07%2F06%2Ffarewell-notes-fond-remembrances-knoxvillians-inspired-pat-summitt%2F&psig=AOvVaw0pU6ahNpMYIOxR_uYiERR9&ust=1603511631340000&source=images&cd=vfe&ved=2ahUKEwj4iNq66MnsAhUJ_qwKHYNLBq0Qr4kDegUIARCLAQ

https://www.google.com/url?sa=i&url=https%3A%2F%2Ftwitter.com%2Fsportscenter%2Fstatus%2F747762534871080960&psig=AOvVaw2r9NtUulCVFs2ZK3OvtQEM&ust=1603511695888000&source=images&cd=vfe&ved=2ahUKEwi35r3Z6MnsAhUO06wKHeTpDs0Qr4kDegQIARAb

https://www.theleafchronicle.com/story/news/local/clarksville/2018/06/15/pat-summitt-statue-legacy-park-unveiled-clarksville/705021002/

https://www.google.com/url?sa=i&url=https%3A%2F%2Fwww.usatoday.com%2Fpicture-gallery%2Fsports%2Fncaaw%2F2016%2F06%2F25%2Fpat-summitt-through-the-years%2F86398734%2F&psig=AOvVaw2J4GCVGkJu9tRdX3fnDdOs&ust=1603511780047000&source=images&cd=vfe&ved=2ahUKEwjWt86B6cnsAhUBvKwKHaHLDggQr4kDegQIARAX

https://www.si.com/college/2016/06/27/pat-summitt-death-obituary-tennessee-inspiration

Additional Information