Penns Cave
Introduction
Penn's Cave is the only cavern found in America that is solely accessible by water and the only cavern in Pennsylvania on the National Register of Historic Places. Distant relatives of Edgar Allen Poe took possession of the cavern land through warrants granted through the Commonwealth of Pennsylvania in 1773. The Campell family has operated and owned the cave since 1908, and it has continued to be passed down in the family. Penn's Cave is known for not only its water cavern but also its wildlife park, miner's maze, and mountain tour.
Images
This picture, taken by an employee, shows the numerous stalactites and stalagmites found in Penn's Cave along with the "Statue of Liberty".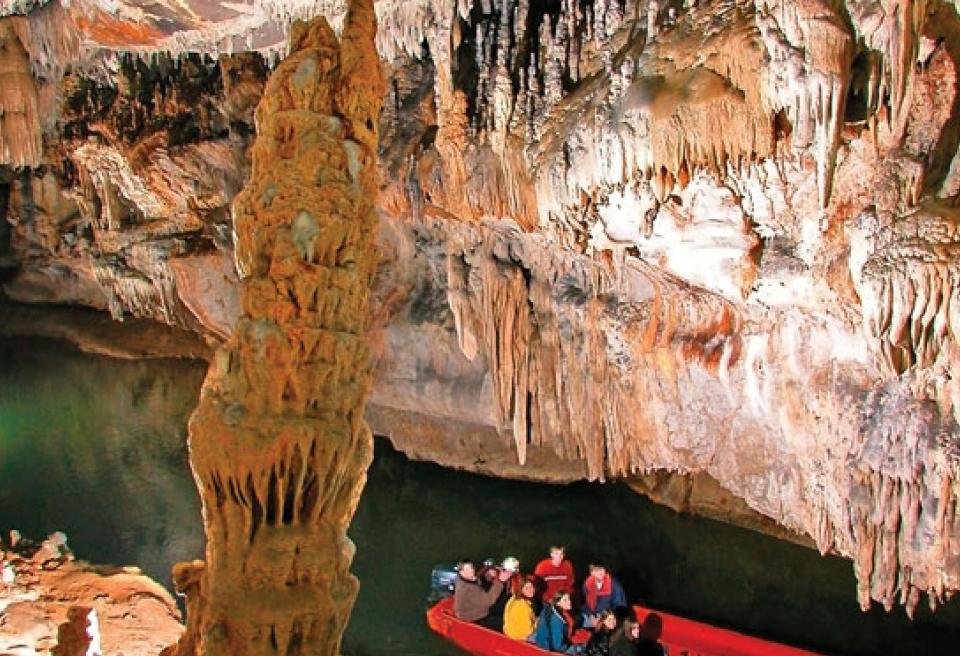 The Penn's Cave House was formerly known as the Penn's Cave Hotel and was built in 1885. It is no longer open to the public, but the grounds are open for walking. This photo is from Visit Penn State.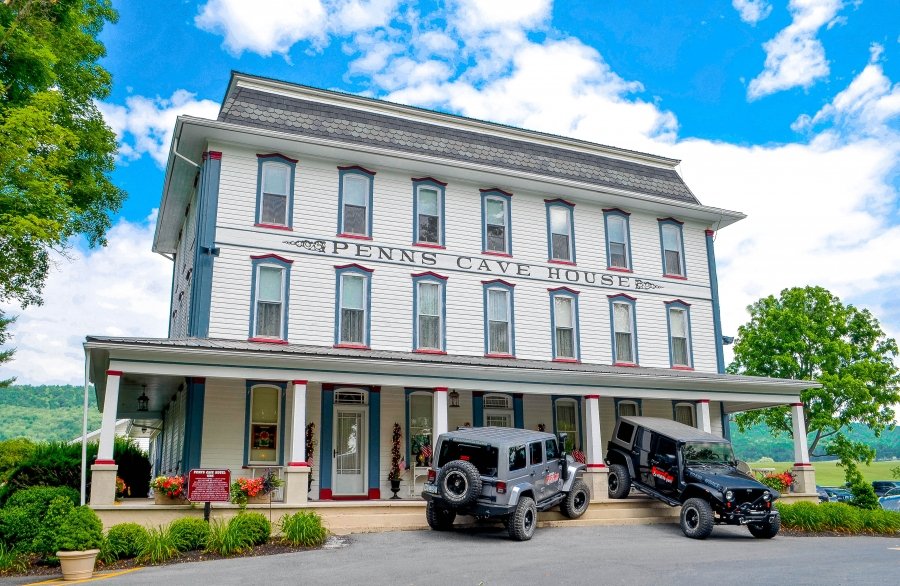 Backstory and Context
Penn's Cave is one of the largest attractions in the region due to its unique caverns and a legend which has historical ties to the university. The land was originally discovered by the Seneca Indians, but has gone through many different ownerships including once by relatives of Edgar Allen Poe. The cave opened for commercial use in 1885, and over the years, more attractions have been added to the cave to bring in more tourists. There is now a wildlife park, miner's maze, and mountain tour which bring in thousands of people each year. Penn's cave is well known by its legend which connects it to the university.

The legend of Malachi and the Indian, Nita-nee, is how the Nittany Mountain and Nittany Valley all got their name, and the story has been told for centuries. After Nittany Mountain was named came the Nittany Lion mascot. Harrison D. "Joe" Mason created the name during a baseball game against Princeton in 1904. It gained tremendous support from students, but the name was never officially voted on.

Legend has it that Malachi, a Frenchman, was camping near the cavern when he saw Nita-nee. They fell in love but were forbidden to be together, so they decided to run away. The chief of the tribe, O-Ko-Cho, who was also Nita-nee's father, had them captured. Malachi was thrown into the cavern where he met his death. Nita-nee's brothers then weighed his body down, and threw him into the deepest part of the waters.

Within the cavern, there are numerous things to see including stalactites and stalagmites. Among the most popular are the "Statue of Liberty" and "The Garden of Gods." These attractions can be seen because of lights that were installed by Robert P. Campbell in the nineteen twenties. The cavern used to be completely dark, in fact if the lights are turned off, tourists can't see their hand in front of their face. This is great for business and for tourists, but changing lightbulbs is quite a task. It takes two to three employees with a boat and ladder to change a bulb, and they have to do it all without harming the natural formations of the cave.

Penn's Cave and the Penn's Cave House were added to the National Register of Historical Places in 1976, but the house has since been closed. The hotel was built in 1855 and was used to house overnight guests until 1919 and between 1920 and 1929 the building was used to serve meals to cavern guests. During this time it was also used for the gift shop and the ticket center, but it is now only used for corporate offices. The building is no longer open to the public, but you are able to walk on the grounds to observe the nineteenth century architecture.

Penn's Cavern has become one of Pennsylvania's largest attractions, and has offered commercial tourism since it first opened . It offers a tremendous amount of activities including the cavern tour, mining maze, mountain tour, and wildlife park. It is unlike anything other cavern in America.

Sources
Crawford, Robin. Penn's Cave offers portal to the past. Centre Daily Times. September 15, 2009. Accessed September 29, 2018. https://www.centredaily.com/living/article42800955.html.

Esposito, Jackie. All Things Nittany. Penn State University. . Accessed October 09, 2018. https://www.psu.edu/ur/about/nittanymascot.html.

History. Historic Penn's Cave and Wildlife Park. . Accessed September 29, 2018. https://pennscave.com/history-geology/.

Kehnemui, Sharon. Penn's Cave marks history in Centre County. Daily Collegian. April 19, 1989. Accessed September 29, 2018. https://www.collegian.psu.edu/archives/article_d047de1d-e508-5359-a415-7dc9b9301877.html.

Penn's Cave and Wildlife Park. Visit PA. . Accessed September 29, 2018. https://visitpa.com/pa-family-fun/penns-cave-wildlife-park.

Shoemaker, Henry W. Penn's Grandest Caver; the history, legends, and description of Penn's Cave in Centre County, Pennsylvania. Archive. . Accessed September 29, 2018. https://archive.org/details/pennsgrandestcav00sho/page/n9.

The Legend of Penn's Cave. Historic Penn's Cave and Wild Life Park. . Accessed September 29, 2018. https://pennscave.com/history-geology/legend/.

Additional Information