Washington County Historical Society
Introduction
The Washington County Historical Society is headquartered in an 1853 home built by antebellum Judge Jonas Tebbetts. The home is called Headquarters House because it was used as such by both the Union and Confederates during the Civil War. When you walk into the small museum and gift shop, you can see the damage of a miniball that was fired during the Civil War Battle of Fayetteville. The Society offers group tours of the house and grounds as well as tours of the 1830s Archibald Yell Law Office, which was relocated here in the 1990s. In addition to the tours, the Society publishes a quarterly historical publication called Flashback and regularly conducts research using facilities in the region (it itself is not a research facility). The Society hosts a number of events throughout the year as well as public programming such as lectures.
Images
Headquarters House was built in 1853 and was occupied by both the Union and Confederates in 1863.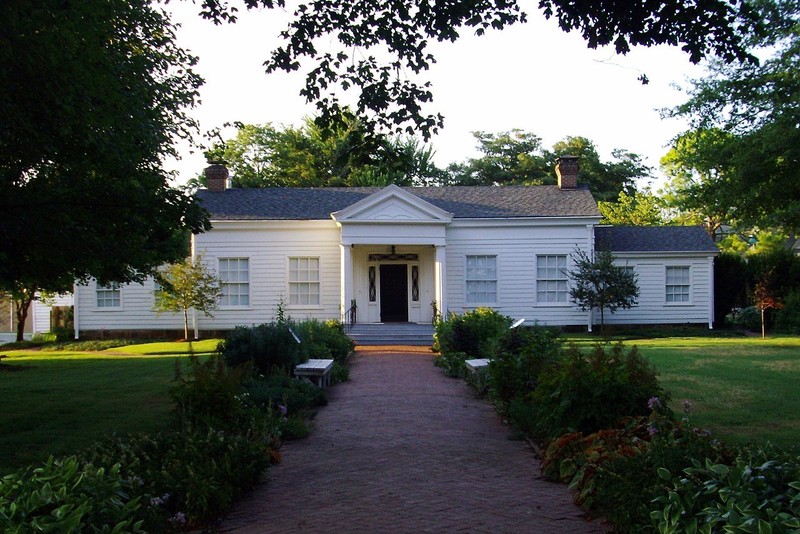 Backstory and Context
Jonas Tebbetts was born in New Hampshire and made his way to Arkansas in 1840. A lawyer, he opened a practice in Van Buren and represented Creek, Cherokee, and Choctaw Indians; he also became a judge around this time. He got married in 1847 and had three girls, all of whom were born in the Headquarters House. Tebbetts also served as a member of the General Assembly, a lawyer for State Bank, and owned land in the city.

Tebbetts was an ardent supporter of the Union during the Civil War which, understandably, did not sit well with many Fayetteville residents. He was arrested, jailed in Fort Smith, and threatened to be executed by hanging. Confederate General Ben McCullough ordered him to be protected until after the Battle of Pea Ridge (March7-8, 1862), which occurred just northeast of the town. The Union won and McCullough was killed by a sharpshooter. His death allowed Tebbetts to be freed. Apparently, Tebbetts somehow acquired the bullet that killed McCullough and kept it for the rest of his life; it has been lost, however. Tebbetts and his family fled to Kentucky. One of his daughters later married a man from Pittsburgh. He and his wife eventually moved there as well.

The house was occupied by Union Colonel M. LaRue Harrison before the Battle of Fayetteville. After he and his troops were ordered to return to Springfield, Confederate General W. L. Cabell occupied the house.
Sources
"Our Properties." Washington County Historical Society. Accessed November 5, 2018. http://www.washcohistoricalsociety.org/our-properties.

Porter, Jack E. "Headquarters House." National Park Service - National Register of Historic Places Nomination Form. June 24, 1971.
http://www.arkansaspreservation.com/National-Register-Listings/PDF/WA0394.nr.pdf.

Photo: Wikimedia Commons
Additional Information